Ms. Xiang Lijie Sentenced to 11 Years and Brutally Tortured in Prison (Photos)
January 08, 2014 | By a Minghui correspondent from Jilin Province, China
(Minghui.org) Ms. Xiang Lijie, 48, from Liaoyuan City, Jilin Province, was sentenced to an 11-year prison term in 2006. She has been brutally tortured because she refuses to renounce her belief in Falun Gong.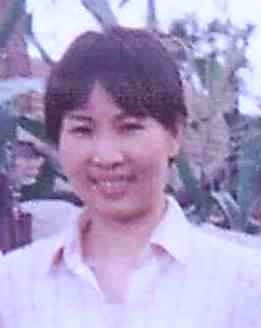 Ms. Xiang Lijie
While held at a detention center prior to her imprisonment, Ms. Xiang and other practitioners went on hunger strikes to protest the persecution. Ms. Xiang was force-fed, tortured on a tiger bench and had her four limbs bound to the ends of a bed. She was tortured to the point of vomiting blood and became incontinent.
Ms. Xiang is now detained in the second unit of the "education" ward in Jilin Women's Prison. She has been tortured there as well. For example, her four limbs were tied to the walls, so that her body was suspended in the air. While her arms were stretched out, inmate Shen Lihui and another person stepped on her arm and tightened the fastening, dislocating the joint and stopping blood circulation.
The muscle of her arm withered, and her right arm became disabled. The prison guards then told her family to pay 2,000 yuan for hospital treatments.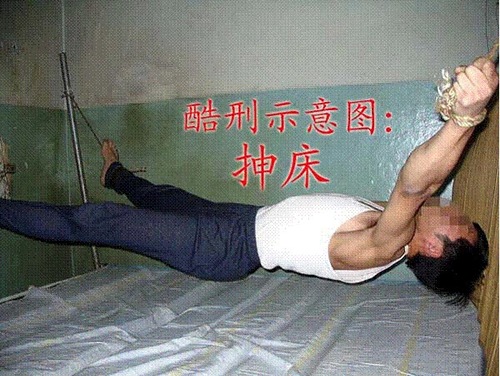 Torture re-enactment: Stretched and suspended over bed
Ms. Xiang has been harmed both physically and mentally. She is only allowed to sleep for two hours a day.
Ms. Xiang's parents are over 70 years old. The prison guards gave them a hard time when they went to the prison to see Ms. Xiang. The guards also stole the 1,000 yuan her sister had mailed to her.
Ms. Xiang's family tried to bail her out on medical parole, but the guards refused to release her. They are afraid that Ms. Xiang would expose their crimes if they released her.
People involved in the persecution:
Ni Xiaohong (倪笑虹), guard at Jilin Women's Prison, in charge of monitoring Ms. Xiang: +86-437-85375089 Han Dong (韩冬), chief of Longshan Police Department in Liaoyuan City: +86-437-3225471 Lian Weihua (连伟华), deputy chief of Longshan Police Department in Liaoyuan City: +86-437-3225683, +86-437-3228649 Pi Fuguo (皮富国), director of Liaoyuan City 610 Office: +86-437-3311714 Zheng Lizhong (郑立忠), director of Liaoyuan City Detention Center: +86- 13180956777 (Cell) Hou Changzhou (侯长舟), chief of Liaoyuan City Police Department: +86-13351560007 He Kun (贺昆), head of Liaoyuan Domestic Security Division: +86-13351560111