Germany: Locals Learn About and Voice Support for Falun Gong over the New Year
(Minghui.org) Citizens in many areas of Germany's State of North Rhine-Westphalia learned about the persecution of Falun Gong as 2013 drew to a close and the new year was ushered in.
It is common in Europe for people to set up tables displaying flyers and other materials in public areas as a way to raise awareness of particular issues. Called "infotage" in German, practitioners set up "information day" tables in busy pedestrian areas of central Cologne, Duisburg, Bochum, Dortmund and Düsseldorf.
They did so to raise awareness about the persecution of Falun Gong in China. Among other materials, they distributed copies of a European Parliament resolution that was passed in December 2013.
The resolution expressed "deep concern over the persistent and credible reports of systematic, state-sanctioned organ harvesting from non-consenting prisoners of conscience in the People's Republic of China, including from large numbers of Falun Gong practitioners imprisoned for their religious beliefs" and called for "an immediate end to the 14-year persecution of the Falun Gong spiritual practice by the Communist Party of China."
Many people stopped by to sign a petition condemning the persecution and calling on China to immediately cease harvesting organs from living Falun Gong practitioners. Several young people said they would post the information on their Facebook pages to help spread the word about the persecution.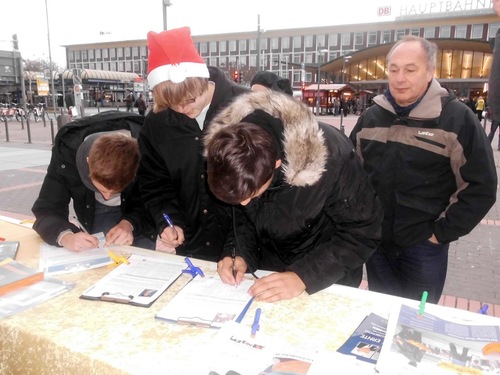 German residents sign petition to call for an end to forced organ harvesting from living Falun Gong practitioners in China.
The International Society for Human Rights (ISHR/IGFM) recently launched a rescue campaign for Mr. Lu Kaili, a Falun Gong practitioner currently imprisoned in China. Many German residents expressed empathy for Mr. Lu and his family, expressing hope that he would be released.
A Poignant Plea for Lawyer's Release
Mr. Lu Kaili, a Chinese lawyer from Dalian City, Liaoning Province, went to Beijing to appeal for the right to practice Falun Gong in 2000. He has been imprisoned ever since.
Detained in forced labor camps and prisons, Mr. Lu has been subjected to unimaginable torture. He was shocked with electric batons for several hours in one day and sustained injuries over his entire body. He is now paralyzed and incontinent, after one of his lower vertebrae was fractured.
Mr. Lu was sentenced to 10 years in prison in 2006, following detention in a forced labor camp. He was initially imprisoned in Yongkou Prison and later transferred to Panjin Prison. In May 2012, he was sent to Jinzhou Prison. His friends and family are not allowed to visit him because he refuses to give up his belief in Falun Gong.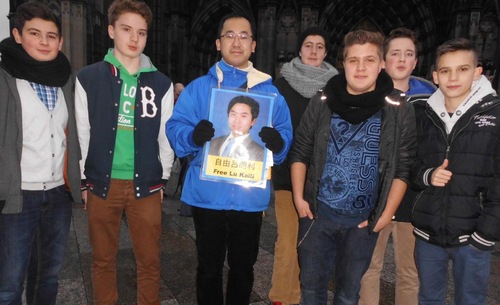 Young men call for the release of Mr. Lu Kaili, who is imprisoned in China for his belief. This picture was taken at an International Human Rights Day event in early December 2013.
A German lady and her friend learned about Mr. Lu's case at an "infotag" event in Bochum. The woman said she was shocked to hear that such a thing could take place in this day and age, adding that it is absolutely unacceptable that a person would be persecuted in a concentration camp just because of his belief.
"If this had happened in Germany, it would have caused me a great deal of panic," she said.
A German couple said they knew about Masanjia, a concentration camp in China. They held hope that Mr. Lu would gain freedom: "He will not be lonely. His wife is waiting for him."