New Year's Eve in Melbourne: A Call to Stop Live Organ Harvesting in China (Photos)
January 05, 2014 | By Xia Chunqing, a Minghui reporter in Melbourne, Australia
(Minghui.org) A different kind of New Year's Eve activity took place on the bustling City Square in Melbourne, Australia. Late in the day on December 31, Falun Gong practitioners set up banners and display boards with information about Falun Gong and the persecution in China. They demonstrated the Falun Gong exercises and collected signatures on a petition calling for legislation to stop the Chinese regime's forced organ harvesting from living Falun Gong practitioners imprisoned in China.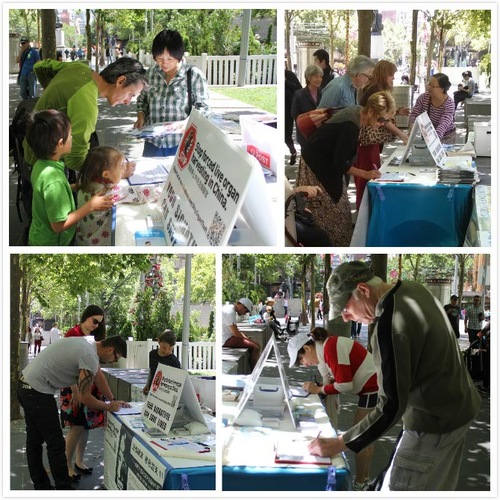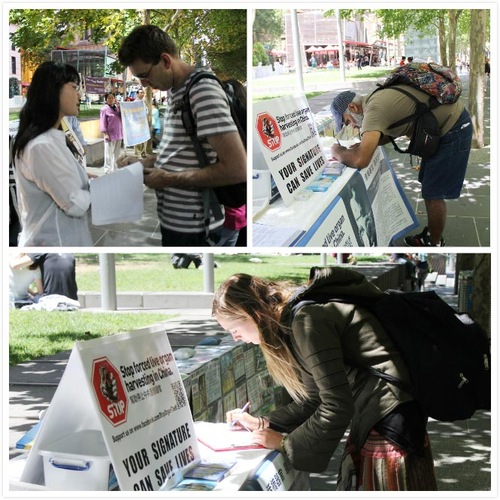 Signing the petition to stop live organ harvesting in China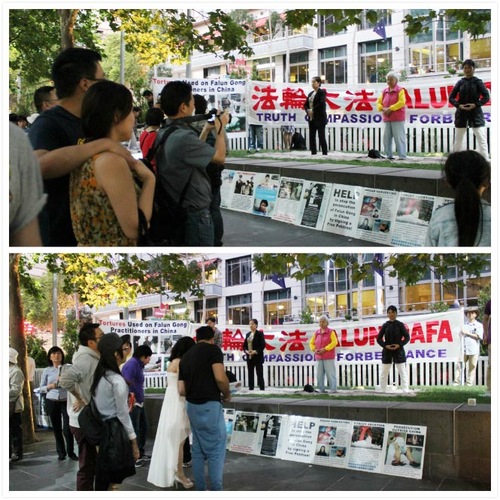 Taking pictures in front of the display boards while waiting for the fireworks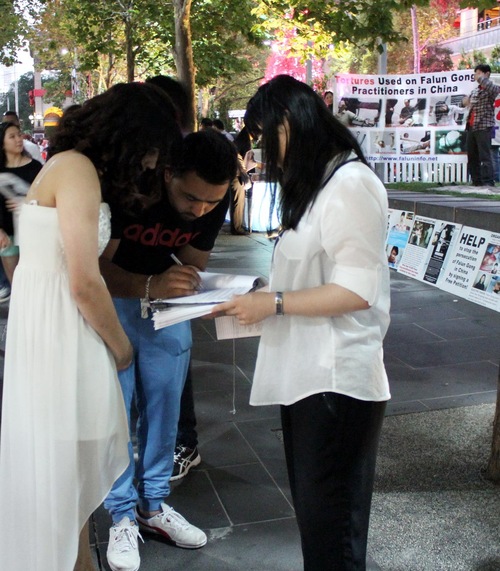 Yaadwander Sangh and Sandy Kaur urge the Australian government to take action to stop live organ harvesting
The streets in the business district were crowded with people who had gathered to watch the spectacular New Year's Eve fireworks. This annual event is very popular with Australians.
Besides the fireworks, there was music by a number of ethnic artists, including Falun Gong practitioners. Practitioners' calm and peaceful exercise performance attracted many passersby who stopped and took photos. Many of them talked with the practitioners to find out more about Falun Gong. Large numbers signed the petition calling for an end to the crime of forced organ harvesting committed by the Chinese Community Party (CCP). Many Chinese immigrants and tourists from China quit the CCP and its affiliated organizations after they learned about the crimes the party has committed.
Large Show of Support for Falun Gong
An elderly woman, who is a Christian, was indignant at the organ harvesting atrocities. She signed the petition and said, "Killing can occur anywhere in the world, but live organ harvesting is the worst and cruelest crime. It is incredible that the CCP has systematically harvested organs from living prisoners of conscience. This must be stopped. I will pray for you."
Mr. Yaadwander Sangh, an engineer of Indian descent from the Dandenong District, and his girlfriend, Ms. Sandy Kaur, studied the Falun Gong truth-clarification display boards carefully. They signed the petition and took brochures. They said that they had seen Falun Gong activities before and they knew that the CCP persecuted its own people, but they had not heard about the live organ harvesting before.
Ms. Kaur said, "I am shocked. My goodness! It is horrible. We must do something. The Australian government must take some action. It is really bad. I see from this information that live organ harvesting is indeed still taking place in China on a large scale. It is wrongful. It is unacceptable."
Mr. Jamie Lingard, a retired priest, said after signing the petition, "I hope people persecuted in China can regain their freedom."
An Important, Ongoing Activity
Throughout the year, Falun Gong practitioners man the booth on the City Square to call attention to the 14-year persecution in China. Mr. Hsu, a practitioner involved in the activity on the City Square, said that this year-round truth clarification booth was a way for all Melbourne residents to be informed about the atrocities being committed in China. He feels that it helps tourists understand why Falun Gong practitioners are working so hard to bring an end to the persecution.
Mr. Hsu added that they experience daily support for Falun Gong. He said, "I showed the Falun Gong informational materials to a group of hippie-like young tourists two days ago. One boy immediately signed the petition and the others praised him.
"On another occasion, a few young people in masks were playing a game loudly near our booth. I waved them over and explained the facts about Falun Gong. They got serious and took off their masks. They signed the petition and shook hands with me."
Ms. Liu, also a practitioner, said, "A 10-year-old girl came to see the activities with her grandmother. After she read the display boards, she asked her grandmother to sign the petition. Shortly after they left, the girl returned and asked for more brochures, because she wanted to give them to her teacher and classmates."