Melbourne, Australia: Falun Gong Practitioners Participate in the Australia Day Parade (Photos)
(Minghui.org) January 26 is National Day in Australia. In downtown Melbourne, local Falun Gong practitioners, along with more than 80 other groups, participated in the annual celebration on Swanston Street.
Led by the Divine Land Marching Band and featuring an exercise demonstration and fan dance, Falun Gong made up the largest entry in this multi-cultural event.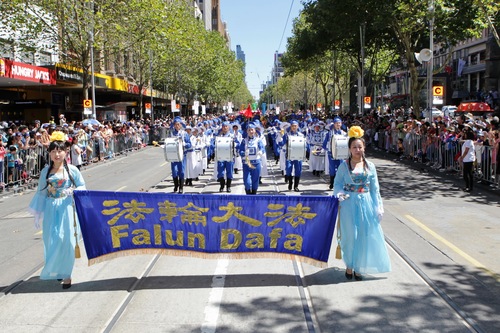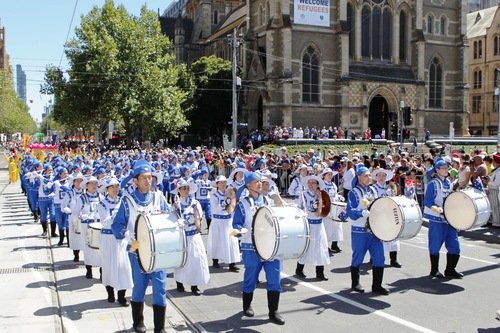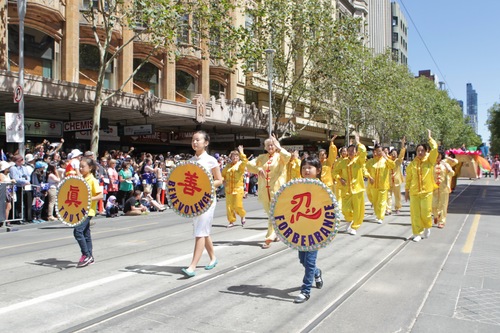 Falun Gong practitioners' entry in the Australia Day parade in Melbourne.
The parade marched along the Swanston Street and ended at Queen Victoria Garden on St. Kilda Street.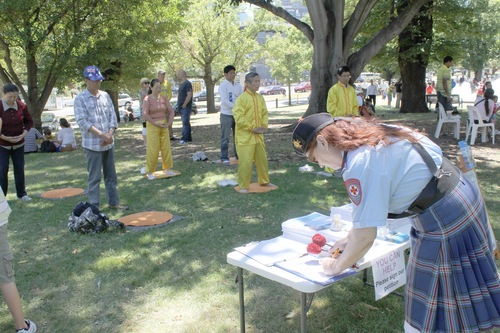 Practitioners set up a booth in King's Domain Garden, another site of celebration, calling for the end of persecution, especially the forced live organ harvesting in China. Many people signed on the petition.
A large scale celebration was held in King's Domain Garden after the parade. Falun Gong practitioners were also invited to demonstrate the exercises and perform the fan dance and waist drums on the stage. After the demonstration, a Malaysian invited practitioners to perform at a Chinese New Year celebration sponsored by his community.
Practitioners also set up a booth. They taught people how to fold paper lotus flowers and passed out materials calling for help to stop the persecution of Falun Gong in China. Many people signed the petition, which urges the Australian government to establish new laws to prohibit any Australian citizen from becoming accomplices in the forced live organ harvesting of Falun Gong practitioners in China.