New Yorkers Embrace the Beauty, Creativity, and Mission of Shen Yun
January 21, 2014 | By Cai Ju, a Minghui correspondent in New York
(Minghui.org) After four successful performances last weekend at Lincoln Center, the Shen Yun Performing Arts New York Company returned with six shows on January 15-19, 2014.
Many New Yorkers, who are famous for their diverse cultural backgrounds and discriminating tastes, were amazed by the splendor of the Shen Yun show. Bringing not only an unprecedented visual and spiritual experience, Shen Yun also seemed to fill the city with springlike warmth. When Shen Yun was performing in New York, the weather was surprisingly comfortable for a winter day.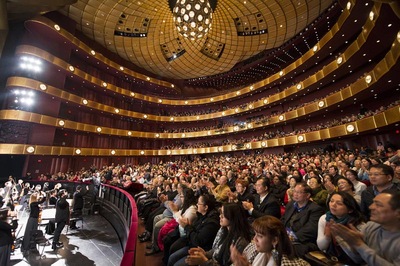 Full house at the eighth performance on the afternoon of January 18 at the Lincoln Center's David Koch Theater.
Breathtaking, Uplifting, and Inspirational
"I would like to go there. Is there any way you can get me there?" Bob Kushman, an investor and asset management consultant, joked about wanting to go to the heavenly scenes in Shen Yun. "Absolutely spectacular, the precision, the majesty, the costumes. The show is definitely breathtaking and entertaining."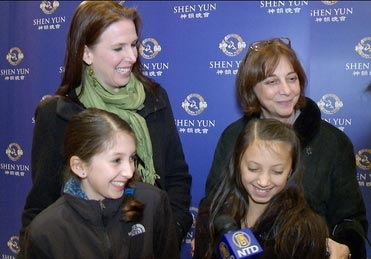 Production manager of The Amazing Spider-Man 2, Denise Pinckley (back right), and her friend Holly Rymon, who also works in the film industry
Denise Pinckley, production manager of films including The Royal Tenenbaums, Oblivion, and The Amazing Spider-Man 2, enjoyed the performance on Saturday with her friend, Holly Rymon, who was part of the production of films including Ted, Now You See Me, and Men in Black 3.
"We really enjoyed it. We loved all the traditions and the costumes, and the dancers," said Holly Rymon. They're beautiful."
"The dance was absolutely beautiful," said Ms. Pinckley, "I was just inspired."
"I thought it was very well done," Ms. Pinckley said. "I loved the introduction to each piece, which was interesting because it let us know what was coming, so that was fun. And the music was wonderful."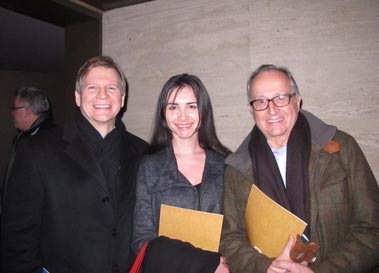 Italian-born artist Louis Doscain (right), finance student Amgelik Chernov (middle), and stock trader Louis Basila (left) enjoyed the beauty of Shen Yun.
Watching Shen Yun on January 17 at the Lincoln Center was an enriching experience for Louis Doscain, Louis Basila, and Amgelik Chernov. "Extremely colorful. It is beautifully done… Very inventive," said Mr. Doscain, who is originally from Venice, Italy, and worked in the arts, specifically with paintings and sculptures by old European masters.
He was glad to see the ancient traditions of China through Shen Yun, "I love the ancient Chinese Culture. I don't understand any of the modern culture, because I don't follow it. But I like the ancient culture of China."
Ms. Chernov, a finance student who came from Russia, said with excitement, "I love it. I am so glad that I came. I feel like I've been into Chinese culture."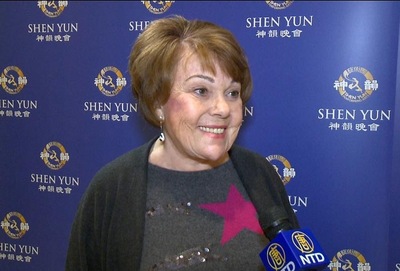 New York philanthropist and former dancer Valerie Diker
New York City philanthropist Valerie Diker said she was "blown away by the discipline of of the company."
As a dancer herself and also the chairman of several dance institutes, Ms. Diker was impressed by the skills of the Shen Yun dancers,"I can really appreciate the special steps they have, those steps where it's as though they are on ice, it's as though they're gliding on ice, and never go up and down but only just on the same level. The flexibility, especially of the men, is quite striking."
"I feel it's most important—the Chinese people, I hope, some day, will have more of a chance to see this traditional dance. You know you have to dream first, and then make your dreams come true."
Shen Yun took medical doctor Alejandro Penzo to "higher levels … away from the reality that is around me."
"The sense I get from the movements," Dr. Penzo said of the dancing, "is there is something that is not terrestrial. It's sublime."
Audiences Appreciate the Revival of Five-Millennium Culture
Riaz Babar, CEO and president at Network Television Marketing Inc., saw Shen Yun Thursday night, and it was not his first time.
"It's fabulous, I really love it," he said. Mr. Babar appreciates how Shen Yun presents true Chinese culture. For him the performance conveyed, "Respect for heaven, emotions, and also respect for humanity, and [it showed] great harmony among all the performers as well."
Retired Greek business owner, Michael Molokotos, and his wife Eleni Molokotos, saw the cultural value of Shen Yun.
"I think [Shen Yun] will help China as a country," Mrs. Molokotos said. "A country without tradition cannot exist."
"I feel [Shen Yun] will help a lot for the freedom of people," Mr. Molokotos said. "It is something that will make hope for the future, for our children, for our grandchildren." "Everything was perfect," he added.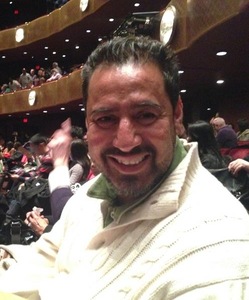 Former performer Carlos Marcado praised the refreshing experience he had from Shen Yun.
"I feel like not only have I gone to a fairy tale, but what a lovely everything," Carlos Marcado, a cruise ship performer for Norwegian Cruise Lines thought Shen Yun was different from other performances that he has seen. "This is all new to me, and refreshing," he said.
Spirituality Deeply Touches New Yorkers
Donna Schinderman, former vice president of Warner Brothers, saw the "idea of being spiritual and being peaceful, and having generosity of spirit … and tolerance" in the show. "I think this is good, especially for whatever age you are, to be reminded of that," she said. "I think is important."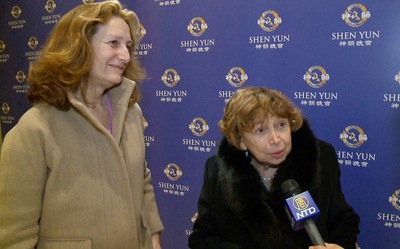 Writer and publisher Lillian Firestone (right) with daughter Risa L. Gold
Writer and publisher Lillian Firestone was emotionally touched after seeing the show on Wednesday night. She was born in China.
"I was crying, it was so beautiful," she said, "So beautiful." Ms. Firestone also does ballet and she appreciated the gracefulness of the dancers. "I thought the dancers were exquisite, incredibly talented. Each and every one of them could be a principal dancer." she said.
"I was also touched by the idea of the singers, that life is full of suffering, and that we come here looking for something of another nature," she said. "That was very touching and I think that's quite true."
Olga Papkovitch, a designer, and founder of the PopImpressKA Journal, thought the world could benefit from Shen Yun after seeing the show on January 15.
"I think it's very inspiring," she said. "I think the whole idea of Shen Yun is beautiful because it projects the spirituality, the love for people, the love for freedom."
She said that the world lacks unity and empathy, and that Shen Yun is a purveyor of what is lacking. "Shen Yun gives people a chance to believe in something higher than themselves," she said.
"I think the world needs a little bit more movements like this because it gives people beautiful sight and it also gives people hope," Ms. Papkovitch said. " The world needs hope."
Karen Topjian, an award-winning interior designer, thought Shen Yun was inspirational, "The divine is always current, it makes us better for what we do, because we realize that we are part of the great universe. And when you're part of the universe your actions bear responsibility."
"I think people must be free wherever they are. It's a shame that people in China can't see this," she said. "When the sopranos sang their songs it was so uplifting and spiritual, talking about the place in heaven and earth and bringing it all together. It was lovely," said Ms. Topjian. "Their voices are beyond belief, they're so perfect."
After seeing the show on Thursday night, singer Bill Jones was touched by the depth presented by the Shen Yun performers.
"It cannot be just the physical thing … They have to have something beyond that, that has them doing this and moving the way they do," he said, "It either comes across as something real, or comes across as a façade. This is obviously an extremely real thing for the people watching it as well as for the performers."
Chinese People Are Proud of Authentic Culture Presented by Shen Yun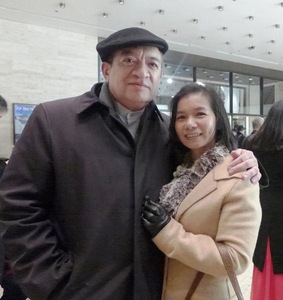 Amy Tan attended the show with Austin Actor on January 18.
Amy Tan, who moved to the U.S. from China a year ago, attended the show on January 18 with Austin Actor, a federal investigator. She was impressed by the visual glory and the profound cultural values presented by Shen Yun.
"The costumes from different ethnic groups and dynasties were very beautiful. The music by the combination of Chinese and Western instruments was very pleasing and coordinated. I feel like I am up in the cloud—very pleasant, very comfortable.
"The classical [Chinese] historical stories, such as The Four Great Novels, are worth reading. Even though I am familiar with these stories, seeing these stories acted out by [Shen Yun] performers gave me great new impressions. I was struck by familiarity, excitement, combined with a high-spirited feeling of confidence bursting from the bottom of the heart."
She also noted the significance of Shen Yun's role of bringing to the world ancient Chinese culture. "I appreciate the hard work of [Shen Yun]. If Shen Yun doesn't promote the traditional culture, values from ancient history and cultures will slowly be forgotten.
"I am so proud tonight—proud of Chinese culture. This is my first time seeing Shen Yun. I will introduce the performance to others, telling them that they should definitely come to see it."
Wang Beiji, a Chinese commentator, who came to the U.S. two years ago, said that Shen Yun has become part of his life. He liked how Shen Yun combined Eastern and Western performing arts techniques. "Shen Yun is something that Westerners and the Chinese can have in common in spirit... It makes a Chinese person feel proud."
Shen Yun performances at the Kennedy Center Opera House in Washington DC start Tuesday, January 21 and continue through Sunday, January 26. For more information about Shen Yun, including all 2014 tour dates and locations, please visit ShenYunPerformingArts.org.