Ms. Li Fengyun Persecuted at Liaoning Women's Prison
September 04, 2013 | By a Minghui correspondent from Liaoning Province, China
Name: Li Fengyun (李凤云)
Gender: Female
Age: 68
Address: Linghe District, Jinzhou City, Liaoning Province
Occupation: Unknown
Date of Most Recent Arrest: February 25, 2008
Most Recent Place of Detention: Liaoning Women's Prison (辽宁省女子监狱)
City: Shenyang
Province: Liaoning
Persecution Suffered: Detention, home ransacked, interrogated, tortured, iron chair, beatings, imprisonment, brainwashing, solitary confinement, forced injections, forced labor, denied visitation rights
(Minghui.org) Ms. Li Fengyun was illegally sentenced to three years in prison in 2008 and has been brutally tortured at Liaoning Women's Prison.
Ms. Li had many illnesses before she started practicing Falun Gong, such as swollen breasts, chronic bowel problems and a shoulder injury. In July 1994, she had the good fortune to attend Master Li Hongzhi's Falun Gong lecture in Harbin City. Soon after she started the practice, her illnesses all disappeared.
At around 6 a.m. on February 25, 2008, a group of police from Jinzhou City broke into Ms. Li's home and ransacked it. They forcibly took away her room key, 795 Yuan in cash, dozens of Dafa books, a photo of Master Li, a computer and DVD burner. Then they took Ms. Li to Linghe District Police Department in Jinzhou. Xu Guang from Linghe Police Department, Liang Shuang and Bai Gang from Baigu Police Station and an officer with the last name of Huang from Jintiefang Police Station are some of those involved in the arrest.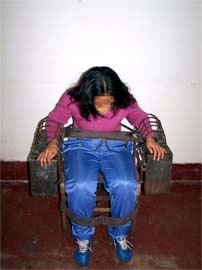 Torture re-enactment: Iron Chair
Ms. Li was tied to an iron chair at Linghe District Police Department, while police interrogated her. When she refused to answer any of their questions, the officers became angry and scolded her and slapped her around the head. They also did not allow her to have any food or water for the whole day. At 5 p.m., Ms. Li was transferred to Jinzhou Detention Center.
Police interrogated Ms. Li again the following day. But she still refused to cooperate with them. They used a plastic bottle full of water to strike her head and shouted at her. Ms. Li was later prosecuted by the Linghe Procuratorate and was sentenced to three and a half years in prison by officials at Linghe District Court. She appealed to the Jinzhou City Court but the appeal was dismissed without any reason being given.
On August 19, 2008, Ms. Li was imprisoned at the second prison district of the Liaoning Women's Prison (later she was transferred to the fifth prison district). The guards started brainwashing her from the first day she arrived. She was made to either stand or squat while being forced to watch TV programs slandering Falun Dafa from 7 a.m. until 11 p.m. The guards also arranged inmates to constantly monitor her every day. Prison guards often used incentives such as reduced prison sentences to lure inmates into torturing Falun Gong practitioners. If an inmate can get a practitioner to renounce their belief, then they will get points which can be used to reduce their sentence. However, if inmates fail to get a practitioner to renounce their belief, then they will be punished. Some inmates tried very hard to get their sentences reduced and were very brutal in torturing practitioners.
Inmates Sun Yan and Wu Shaojuan were sent to monitor Ms. Li. Wu threatened Ms. Li by saying, "If you do not write the repentance letter to give up Falun Gong, we will rip off your clothes, tie you to the pillar and tape your mouth shut." Other inmates in the same room also helped with the persecution. They did not allow Ms. Li to go to the restroom. Sun Yan, Wu Shaojuan and Bai Qiurong beat and kicked Ms. Li. They used a big wooden board to beat Ms. Li's head. She still has a bump there from the beating.
Ms. Li was seen passing Falun Gong articles to other practitioners on September 29, 2009. The guards locked her in solitary confinement. The room was full of mosquitoes and she could not sleep at night. During the daytime, she often shouted in the room, "Falun Dafa is the righteous Fa! Restore my Master's good reputation." She also went on a hunger strike to protest the persecution for a week while in solitary confinement. Guards later dragged her to the prison hospital, where she was given injections. Ms. Li also shouted loudly in the prison hospital to protest the persecution. Guards wanted to take her back to the solitary confinement room. But Ms. Li did not cooperate and held onto a chair in the hospital. The police called someone over and then brutally beat her. Police chief Zhang Lei pulled Ms. Li's hair and beat her badly. Inmate Li Ling also participated in the beating. Ms. Li was then locked in solitary confinement again. Inside the room, Li Ling beat Ms. Li again. Ms. Li was not let out until August 24.
Inmates were also forced to do hard labor making clothing, and had to work over 12 hours every day. Prison guard Mao Jie often threatened Ms. Li, "If you do not finish your work, we will send you back to solitary confinement, and we will not allow you to buy anything. Your family visits will stop and you will not be allowed to write letters to them." Ms. Li told Mao Jie, "I am not a prisoner." Mao Jie once forced Ms. Li to squat down on the ground because she said that she did not do enough work. Mao Jie then used a stick to beat Ms. Li and also pushed her down to the ground.
Mao Jie and Zhang Lei even prevented Ms. Li's family members from visiting her for half a year. Ms. Li's daughter wrote a letter to her mom. In the letter she wrote, "We waited from morning till noon. But we were still not allowed to see you. We were really worried that something bad had happened to you." Mao Jie called Ms. Li's daughter without informing Ms. Li, and told her that Ms. Li was sick and needed to go to the hospital. Ms. Li's daughter refused to let them take her.
All of the inmates are allowed to call and talk to their family members every month, except for Falun Gong practitioners.
Ms. Ye Hongmei has been imprisoned at the fifth prison district. She was locked in solitary confinement from August till the end of November because she protested the abuse. Since the weather got cold and there was no heat in the room, Ms. Li worried about Ms. Ye's safety and asked the prison staff to release her from solitary confinement. Ms. Ye was finally released from the room, but Zhang Lei and Mao Jie were very angry that Ms. Li requested this, and they conspired to take revenge on her. They forced Ms. Li to sit on a small stool every day from 7 a.m. till late at night for half a month. During that period, they also sent inmates to monitor her and did not allow her to move. Prison guards did not stop torturing Ms. Li until her family members were finally allowed to visit her.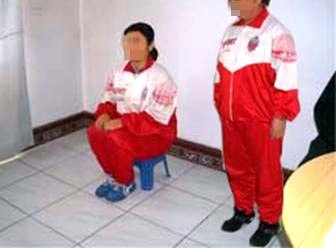 Torture re-enactment: Forced to sit on small stool