Over One Thousand Sign Petition to Rescue Falun Gong Practitioner Xin Tingchao
September 29, 2013 | By a Minghui correspondent in Hebei Province
(Minghui.org) Falun Gong practitioner Xin Tingchao is a farmer from Southeast Zu Village, Laishui County in Hebei Province. He went to Beijing earlier this year to work at several part-time jobs. On June 14, 2013, Mr. Xin gave an elderly woman a Shen Yun Performing Arts DVD, but because she had heard and believed the Chinese Communist Party propaganda regarding Falun Gong, she reported him to the Asian Games Village Police Station. The police then arrested Mr. Xin and took him to the Chaoyang Detention Center. He was later transferred to the First Detention Center of Beijing, where he is currently being held.
Mr. Xin's fellow villagers were quite concerned about his situation, and confused as to why an honest farmer was imprisoned by government officials for three months just for giving someone a DVD. The villagers created a petition calling for his release. Five hundred people signed the petition during the first three days of its circulation, and the number of supporters swelled to 1,200 within a week. Villagers came quickly to his aid, including entire families. Some even called relatives living in other locations to come and sign the petition.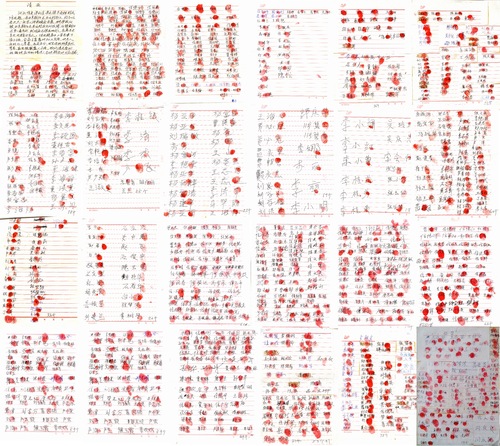 Signatures and fingerprints of concerned villagers calling for the release of Falun Dafa practitioner Mr. Xin Tingchao
Only one woman wouldn't sign. She said, "I'm so sorry, I wish I could sign the petition, but my son is serving in the military. I'm worried that he might be implicated if I sign this petition." She was visibly upset by this dilemma, and began to cry. Mr. Xin's wife comforted her, "That's OK. I appreciate your desire to help."
Mr. Xin follows Falun Dafa's principles of Truthfulness-Compassion-Forbearance, and is a respected resident of his village. His fellow villagers speak of him as an honest and trustworthy person. They have showed great support for his wife during this difficult time, and many have offered to help her with the farm work.
Mr. Xin's family have gone to several detention centers and police stations in Beijing again and again, requesting his release. His employer in Beijing also wrote a letter of support, testifying to Mr. Xin's integrity.