France: Bringing Falun Dafa to a Festival (Photo)
(Minghui.org) The government of the City of Albi held a festival on September 7, 2013, to promote non-government associations (Fête des Association). The Falun Dafa Association of France participated in the event. Practitioners took this opportunity to introduce Falun Gong to the public and expose the brutal persecution of the practice in China.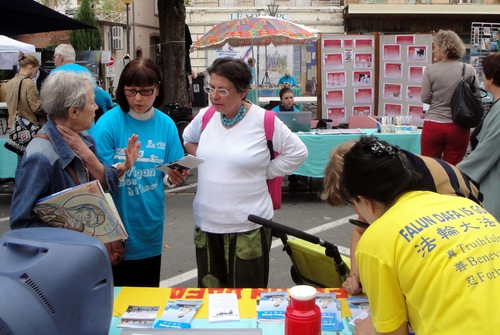 Talking to people about Falun Gong
Two hundred and forty three associations attended the festival. Many people stopped by the practitioners' booth to get information about Falun Gong. Some also learned the exercises.
At the end of the event, a French lady came to the booth. She was happy to see the practitioners. "I heard that there was a Falun Gong booth at the event. I've been looking for you," she said. She said that she learned the exercises two years prior, but didn't keep practicing. "I have lost two years. It is great that I now find the path of my life again. Where do you do the group exercises?" She said that she would attend the group exercises every Sunday in the park.
The festival is an annual event. Although it rained, many people came and talked to the Falun Gong practitioners.