Japan: Medical Professionals Attending Transplantation Conferences Stand Up Against Organ Harvesting Atrocities in China
September 15, 2013 | By a Falun Gong practitioner in Japan
(Minghui.org) The 13 th Congress of the Asian Society of Transplantation, and the 49 th Annual Congress of the Japan Society for Transplantation were held on September 2-7, 2013 at the Kyoto International Conference Center in Japan. More than 2,000 doctors and medical professionals from Asian countries attended the conference.
Falun Gong practitioners in Japan took the opportunity to raise awareness about the forced organ harvesting atrocities committed by the Chinese Communist Party (CCP) against prisoners of conscience, the majority of whom are Falun Gong practitioners. They collected signatures to help stop these crimes.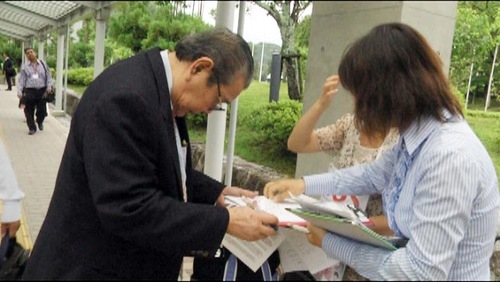 Collecting signatures at the entrance to the transplantation congress
Falun Gong practitioners quietly stood along the roads leading to the meeting venue and the hotels where congress attendees stayed. They held banners with messages in both English and Japanese exposing the forced organ harvesting atrocities in China.
Practitioners called upon the medical professionals attending the congress to pay attention to the CCP's crimes against humanity. They encouraged doctors to sign the petition initiated by Doctors Against Forced Organ Harvesting (DAFOH) which calls for the UN Human Rights High Commissioner to help end the atrocities.
The banners read, "SOS, Rescue Falun Gong (practitioners) in China from having their organs harvested while they are still alive." The message moved conference attendees and passersby.
Doctors Sign Petition, Showing Support for an End to Forced Organ Harvesting
Many doctors accepted informational materials on their way to the congress in the morning, and came back to the practitioners' signature collection table after the meetings at noon or in the afternoon, to sign the petition. A number of doctors said that they had already heard about the issue, and agreed that it should be immediately stopped.
One Japanese doctor said that he learned about the forced organ harvesting in China during a transplantation conference in Japan a few years ago. He said it was hard to imagine that such a heinous practice still continues. He signed the petition.
A doctor from Kyoto talked with a practitioner for nearly 20 minutes. He asked for detailed information about this atrocity, and said he would definitely pay attention to this issue.
Attention from Japanese Media
David Matas, renowned Canadian human rights lawyer and the co-author (with David Kilgour) of the book Bloody Harvest: The Killing of Falun Gong for Their Organs , was invited to attend the congress.
Mr. Matas addressed the audience on September 4, during a panel discussion. He talked about his investigation into the Chinese Communist regime's forced organ harvesting. His speech further raised Japanese society's awareness of the forced organ harvesting situation in China.
Several doctors were greatly concerned and asked Mr. Matas many questions. A reporter from a large media outlet in Japan made a special trip from Tokyo to Kyoto and interviewed Mr. Matas for two hours.
A number of local media entities attended the press conference held by Mr. Matas and Japanese Falun Gong practitioners. They interviewed Mr. Matas and asked him many questions regarding the forced organ harvesting.
Calling for Organ Transplant-Related Laws
Falun Gong practitioners visited the Kyoto Prefectural government to present documents, hoping that the authorities will make it illegal for Japanese patients to travel to China for improper organ transplants.
During another seminar on China's organ transplantation held on September 5 in Osaka, Mr. Matas called on the Japanese authorities to enact laws related to organ transplantation. He also asked that authorities deny entry to Chinese doctors who have participated in harvesting organs from living Falun Gong practitioners.
Former Japanese Congressman Furuhashi Kunio supported Mr. Matas' proposal. Mr. Shigeo Omae from a Japanese human rights association also said that from a humanitarian perspective, forced organ harvesting should never take place.