Taiwan: Falun Gong Practitioners Collect Over 15,000 Signatures Condemning the CCP's Organ Harvesting Crimes
September 12, 2013 | By Minghui correspondents Sun Bo and Su Rong
(Minghui.org) Since July 15, 2013, Falun Gong practitioners in Kaohsiung, Taiwan have collected over 15,000 signatures to help support the global signature campaign initiated by Doctors Against Forced Organ Harvesting. The aim of the petition is to call on the United Nations' Human Rights High Commissioner to demand an immediate end to the Chinese regime's practice of harvesting organs from living prisoners of conscience, the majority of whom are persecuted Falun Gong practitioners.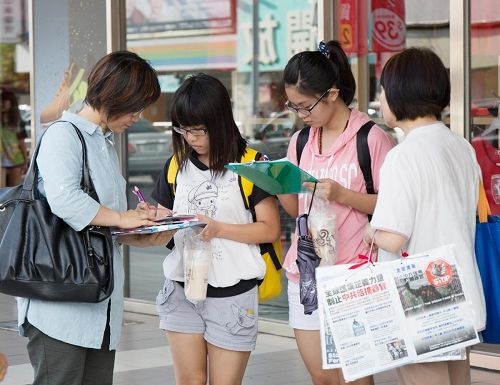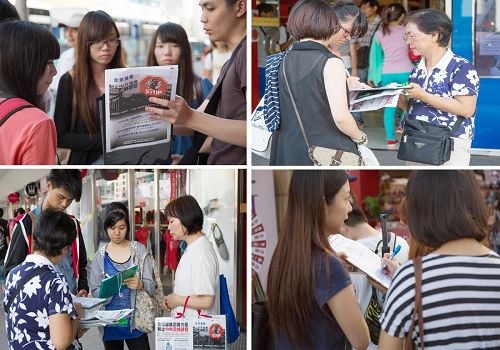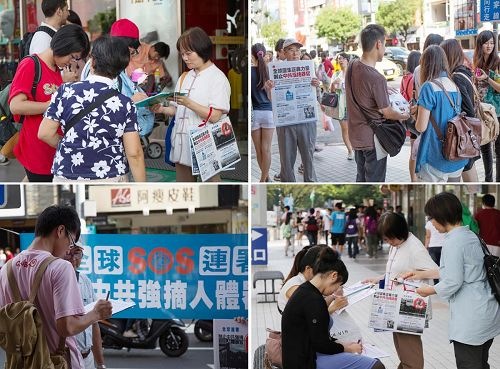 http://www.minghui.org/mh/article_images/2013-9-6-minghui-gaoxiong-04--ss.jp Passersby in Kaohsiung sign a petition calling for an end to the Chinese Communist Party's forced organ harvesting of prisoners of conscience
"Practitioners should be respected, safeguarded, and supported!"
While visiting the newly built Kaohsiung Hanshin Arena shopping mall, Mr. Chang and his family stopped by the practitioners' booth to read over some of the informational display boards.
After a practitioner talked to them about the Chinese Communist Party's (CCP) persecution of Falun Gong and its practice of non-consensual organ harvesting from living prisoners of conscience, the whole family signed the petition. Before leaving, Mr. Chang wished the practitioners success with their signature campaign.
Ms. Li, a local resident, asked a practitioner to explain the goal of the signature drive. After she understood the truth, she immediately added her name to the petition.
"I believe that this signature campaign of yours is saving people," she explained. "Falun Gong practitioners should be respected, safeguarded, and supported!"
People enthusiastically sign petition supporting Falun Gong
The Shinkuchan Commercial Zone is Kaohsiung's famous "shopping paradise," featuring numerous international brands and designer goods. On weekends, the streets of Shinkuchan are filled with young people, especially near the Urban Spotlight Arcade, a series of creative and artistic walking paths that was collaboratively designed by nine local artists.
Many young people walking along the Arcade stopped to read the practitioners' informational posters detailing the CCP's crimes of live organ harvesting, with most of them glad to sign the petition.
A passerby walked up to the practitioners' table and signed the petition. "Do you know the purpose of the signature drive?" asked a practitioner. The man said that he had seen someone hold up a poster and learned about the persecution from reading it. "What you are doing is both righteous and significant," the man said.
Mainland China tourists: We know the persecution is happening
On the weekends, Falun Gong practitioners gather at Kaohsiung's Diamond Night Market, where vendors set up over 1,000 stalls, selling everything from food to souvenirs. The practitioners go there regularly to clarify the truth and collect, on average, over 100 signatures every evening.
A group of tourists from Shanghai said that they knew about the CCP's crimes and that several of them had already signed the petition while on other sightseeing trips to Taiwan.
One man called his companions over to sign the petition. A woman called out, "I know about the situation and I am going to sign today. What the Party is doing is too inhuman for words! Harvesting organs from living human beings for profit is completely wrong!"
Taiwanese war veteran: "The CCP is capable of any and all forms of evil!"
Every Sunday afternoon, practitioners hold a public Dafa exercise session at a local cultural center. Many people join in on the exercises and later sign the petition, showing their support for Falun Gong and their condemnation of the CCP. The practitioners then break into smaller groups and go out to the streets to collect signatures.
"I believe the CCP is capable of any and all forms of evil," exclaimed a Taiwanese war veteran as he signed. "I will attend a friend's party later this evening and I will ask everyone there to sign the petition as well." He added that he hoped that the Taiwanese people will refrain from going to mainland China for organ transplants.
Signing the petition helps save lives
Practitioners in Taiwan also go to Kaohsiung's Central Park to collect signatures. Once, three students asked a practitioner to explain the signature drive to them. One of students, Ms. Lin, said that she had heard a man mentioning something about the CCP's live organ harvesting when she attended summer camp.
"Of course, we need to sign the petition," she told her two classmates. "It helps save lives." After Ms. Lin's classmates signed the petition, they said that they would ask their friends to sign it, too.