Freiburg, Germany: Many People Sign Petition Calling for an End to the Forced Organ Harvesting in China (Photos)
August 27, 2013 | By a practitioner in Germany
(Minghui.org) Practitioners in Germany held a signature drive in the popular resort city of Freiburg on August 17, 2013, to call for an end to the Chinese Communist Party's (CCP) crime of harvesting organs from living Falun Gong practitioners in China.
Many tourists and locals visited the practitioners' information activity that day. They condemned the CCP's atrocity and called for an immediate end to this crime.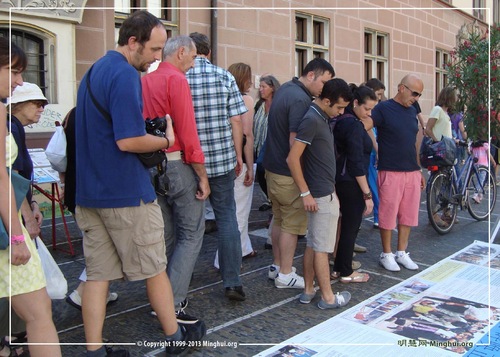 Passersby stop to learn about the forced organ harvesting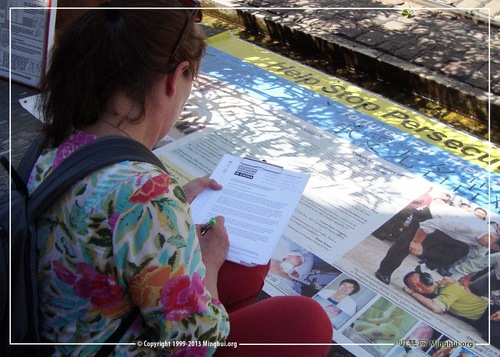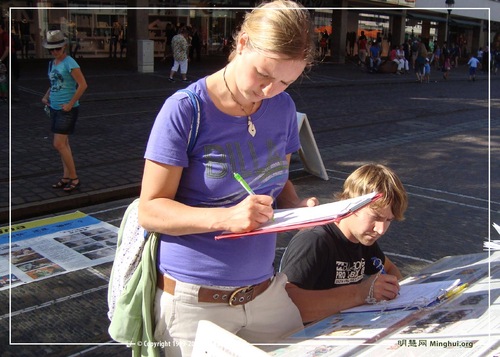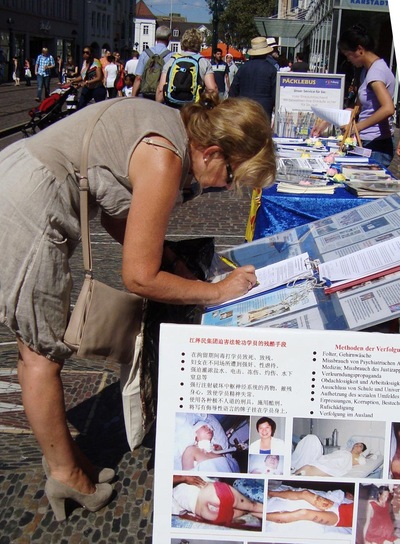 Signing a petition calling for an end to forced organ harvesting
The signature collection took place at a crossroads on Freiburg's main commercial street. Display boards and two large banners on the sidewalk clearly conveyed the message to passersby. Between 10:00 a.m. and 6:00 p.m., a steady stream of people visited.
Many people signed the petition condemning the Chinese Communist regime's persecution of Falun Gong. Some asked for blank signature collection forms to sign and mail directly to their Members of Parliament. Others wanted to learn more, and asked for informational materials.
People talked with practitioners and expressed support for their efforts in raising awareness about the CCP's live organ harvesting atrocity. Some visitors took pictures of the photos depicting the brutal persecution of Falun Gong practitioners by the CCP and said they would show them to their friends.
German Woman: "I must sign it"
A middle-aged German woman on her way to go shopping took a flier from a practitioner and read it carefully before she picked up a signature collection form and said, "I must sign. It's unacceptable to treat people as animals and kill them arbitrarily."
Belgian Tourists: "We should do something to stop this"
A middle-aged couple from Belgium said that they had heard about live organ harvesting, but didn't clearly understand the depths of the atrocity until today. After signing the petition, the wife said, "It's so horrible--we should tell more people about it.
"I'll post this information about the forced organ harvesting on my Facebook page. We should do something to stop it."
Malaysian Woman: "It's a blasphemy to humanity itself"
A Malaysian woman who lives in Germany told a practitioner, "These crimes are unacceptable and unheard of! It's a blasphemy to humanity itself, it's horrible, and must be stopped immediately!"
German Doctor: "I'm a doctor. I know!"
As soon as he saw the display boards, a German man immediately signed the petition. One practitioner heard him explaining to his companion about the CCP's forced organ harvesting. When asked how he had learned about this, he said, "I'm a doctor. I know!"
Medical Professional: "If a government harvests organs, it should be immediately banned!"
One man, who carefully read the information on the displays for quite a while, said that he worked in the medical profession in Germany, and he had heard about organ trafficking in Kosovo and Romania, but had never heard about it being done by a government as is happening in China.
He said, "If a government gets involved in forced organ harvesting, it should be immediately banned!"
Radio Station Correspondent: "I've been looking for you!"
As soon as one German couple took a flier from a practitioner, the husband said, "I've been looking for you! I want to interview you about the live organ harvesting. Can I leave you my telephone number and email address?" He was very happy after getting the practitioner's consent. The couple signed the petition and wrote down their contact information.