Seventy-Year-Old Dafa Practitioner Ms. Zeng Lingqun Illegally Detained for Over 8 Months
July 11, 2013 | By a Minghui correspondent from Sichuan Province, China
(Minghui.org)
Ms. Zeng Lingqun is in her seventies and is from the Qingbaijiang District in Chengdu City. She has been detained for over 8 months. According to a reliable source, she has been tortured severely. She has been handcuffed and shackled. An officer from the Qingbaijiang District Detention Center stated: "She committed a political crime and she won't be released."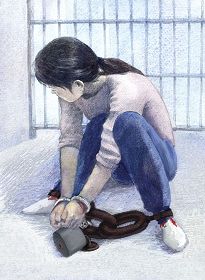 Torture illustration: handcuffed and shackled
Ms. Zeng's mother is in her nineties and her husband is ill. They are both in need of care. Her relatives went to the detention center several times to ask for her release. They were told she would be released after the CCP's 18th Conference. It has been several months since the conference ended and she has yet to be released.
While Ms. Zeng Lingqun was informing people about the persecution of Falun Gong at Xiangfu Town, Qingbaijiang District on October 7, 2012 she was arrested. She was later transferred to the Qingbaijiang District Detention Center, where she developed hypertension. Her family was forced to pay for treatment. Officers from the Police Department of Qingbaijiang raided her home many times and took many of her personal belongings.
Zeng Lingqun is a retiree from the Pangcheng Steel Factory. Having the experienced the goodness of Falun Gong herself, she was compelled to tell the truth to people who have been deceived by the CCP's lies about Falun Gong. For just this, she has been persecuted by the evil CCP under the premise of "committing political crime." This persecution has brought significant damage to her family: her mother and husband both need care, and there are two grandchildren that are in need of her care as well.
There are four more Falun Gong practitioners currently being persecuted by the Qingbaijiang District 610 and Political and Legal Affairs Committee. Their names are: He Guizhen, Jiang Zhaoxiu, Xu Yuqing and Xu Yulin.
Perpetrators:
Qingbaijiang District Party Secretary: Liao Rensong: +86-28-83611098(Office)
610 Office: Xu Jun: +86-28-83669633(Home), +86-13908233633(Cell)
Political Legal Committee: Bai Xiang, +86-13808010838(Cell)
Police Department: Zhao Kaixiong, +86-13908050000(Cell)