California: Falun Gong Practitioners Participate in 4th of July Parade in Redwood City (Photos)
July 10, 2013 | By Wang Ying, Minghui correspondent in Redwood City, California
(Minghui.org) Falun Gong practitioners participated in the 74th 4th of July Parade in Redwood City, in the San Francisco Bay area, on July 4, 2013. Their amazing performances, elegant float, exercise demonstration, beautiful music, dazzling colors, and joyous spirit received high praise from parade organizers and spectators.
Falun Gong procession at 4th of July Parade in Redwood City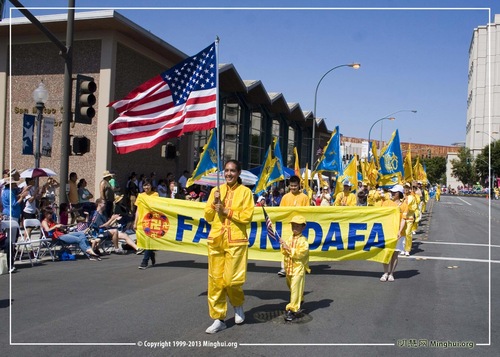 The Falun Gong procession received high praise from parade organizers.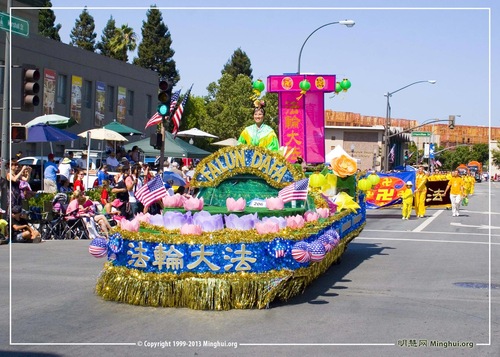 Falun Gong float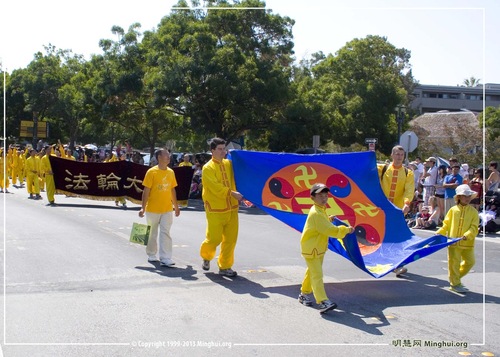 Falun Gong banner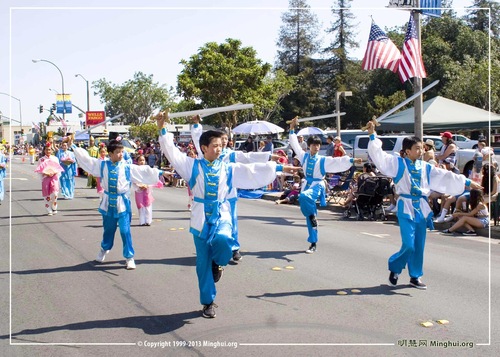 Young Falun Gong practitioners perform sword dance.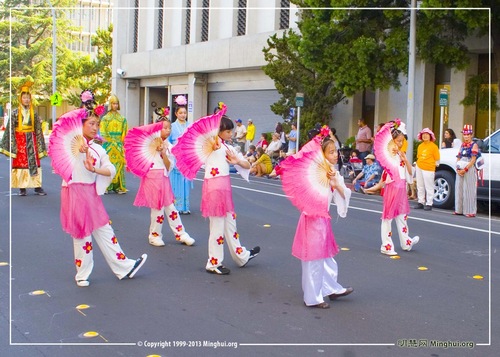 Young Falun Gong practitioners perform fan dance.
The annual 4th of July Parade in downtown Redwood City is one of the largest holiday parades in the San Francisco Bay area. More than one hundred groups participate in the activity every year. The event organizers introduced Falun Gong as one of the most popular and refreshing groups, as they proceeded along the parade route. As Falun Gong practitioners approached the stage, the host introduced Falun Gong as an ancient Chinese cultivation, having spread to more than eighty countries around the world. People of various backgrounds seemed to enjoy watching the relaxing and energizing exercises. The parade spectators gave the Falun Gong procession a big round of applause.
The host added, "We see them here every year. They bring beautiful colors to our celebration. Thank you, Falun Dafa! However, such a peaceful practice is persecuted in China. July 4 is the day to celebrate this free country. We are glad they can march on the street with us with freedom. Let's give them a round of applause! We welcome Falun Gong!"
Spectators clapped warmly. Some copied the Falun Gong exercise movements. Ms. Debbie May said she liked Falun Gong, and that they looked beautiful. She was very impressed with their appearance. She could tell they were people of faith. She felt very happy when the Falun Gong procession passed by. She thought everyone should have freedom of belief. She fully supports Falun Gong.
Brenda, a resident of Redwood City, said that Falun Gong was very beautiful! She couldn't understand why such a beautiful cultivation practice was persecuted in China, and felt it was very sad. She was glad Falun Gong could join the parade.