Ms. Lu Xueqin Persecuted for Disclosing Accounts of Torture; Her Family Worries for Her Safety (Photo)
June 23, 2013 | By a Minghui correspondent from Shandong Province, China
(Minghui.org) Ms. Lu Xueqin was arrested on May 2, 2013. Her family received a Criminal Detention Notification four days later from the Qingdao Sifang District Police Department, stating that she was being held at the Qingdao No. 3 Detention Center (also known as Pudong Detention Center) in Jimo, Qingdao City. Her family hired a lawyer to represent her, but when the lawyer went to the detention center to meet with his client, he was turned away.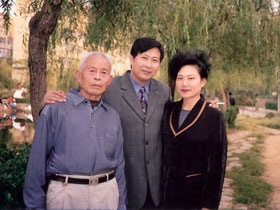 Ms. Lu Xueqin with her family
Ms. Lu's family members saw her on a TV news report on June 4 that defamed her. They also noticed that she was not in good physical condition. They learned that Ms. Lu was suffering from heart disease, kidney infection, inflammation of the gallbladder, uterine fibroids and deep vein thrombosis. She was in critical condition in 2008 and 2009 as a result severe persecution. Her family are extremely worried about her health and safety.
In January and February of 2008, Ms. Lu was tortured at the Liaoyuan Road Police Station of the North Qingdao Police Department. Officer Min Hang and another officer from the Criminal Third Team of North Qingdao Police Department beat her and deprived her of sleep for nine days. She lost consciousness many times.
During the second, third and fourth days, Min stomped on Ms. Lu's feet, kicked her in the legs and abdomen, punched her in the head, eyes and temples, whacked her head with a cell phone, grabbed her hair repeatedly to lift her up and then flung her to the ground. Min said: "Do you know why you had a physical examination? You have heart disease and high blood pressure. I will not be held liable if I beat you to death. We'll just say you died from your illnesses."
At 8:00 a.m. on June 7, 2013, Ms. Lu's family looked for case officers Jiang Yonggang and Wang Wei at Shuiqinggou Police Station. Guards and officers on duty there said that the office opens at 9:00 a.m. and made them wait. After 9:00 a.m., the guards and others said that both Jiang and Wang were on vacation and wouldn't be in the office for a while.
The family members then went to the Qingdao Sifang Police Department and saw officer Wang there. They then went to the Qingdao Police Department and saw officer Jiang. Both officers were in plainclothes and did not show any identification.
Ms. Lu's family members asked why Ms. Lu has not been allowed to meet with her lawyer since her detention a month earlier. An officer told them that no lawyer was allowed to visit anyone who is charged with the crime of "damaging state security." A family member stated that Ms. Lu was critically ill and they wished to ensure that she was OK. When they saw Wang, he said, "Her health is OK. We will take any responsibility if there is a problem." When they saw Jiang, he also said that Ms. Lu's health was fine, and added that they would notify the family if there was a problem. The family members showed the officers Ms. Lu's diagnosis of rheumatic heart disease and her other illnesses. Wang and Jiang said that they would report the situation to their supervisors and get back to them with any feedback.
Ms. Lu's family members went to the No. 3 Detention Center in the afternoon with family members of practitioner Li Hao. They went to the Procuratorate office in the detention center, but nobody was there. They met with a person who told them that the office was only open from Monday to Thursday, and that they should go to the Qingdao Procuratorate and ask for director Zhang.
When Ms. Lu's family members arrived at the Qingdao Procuratorate, a guard there called director Zhang's office, but no one answered the phone. The guard then said that there were two prosecutors in the Procuratorate named Zhang – Zhang Xianbao and Zhang Qiang – and he was not sure which one they were looking for.
On May 15, 2013, Ms. Lu's family members mailed letters of appeal to the officials at Qingdao Discipline Inspection Committee, Qingdao Police Department, city government, city Procuratorate, and other provincial departments of government, congress, Procuratorate, Public Security Bureau, Discipline Inspection Committee, and the Politics and Legal Affairs Committee. Post Office records showed that all of the letters were signed for on May 16 and 17, but the family has yet to receive any response.