Germany: Raising Awareness about China's Organ Harvesting Atrocities (Photos)
(Minghui.org) June 1, 2013 is "Organ Donation Day" in Germany. Falun Gong practitioners took this opportunity to raise awareness and held two events in Essen and Stuttgart, exposing the Chinese Communist Party's organ harvesting from living Falun Gong practitioners in China.
A Falun Gong practitioner gives a short speech at the event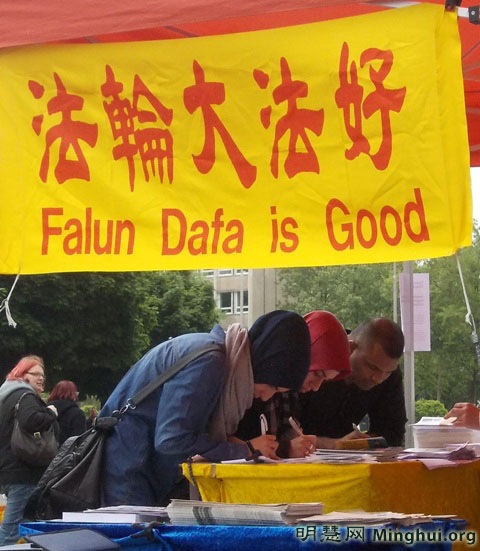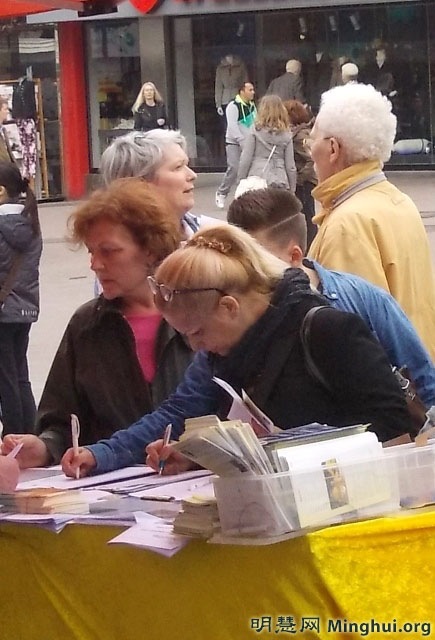 People sign a petition to support Falun Gong
Many people stopped at the practitioners' booth. An elderly German gentleman said that he knew about the labor camp system in China. He read an article in a local newspaper about the organ harvesting. He said: "What will this world become if we don't do anything about this brutal persecution? This is worse than what the Nazis have done."
A Christian man stopped at the booth and talked to practitioners for a long time. He expressed his sympathy. "No normal person could harvest organs from a living person. He must be an atheist," he said.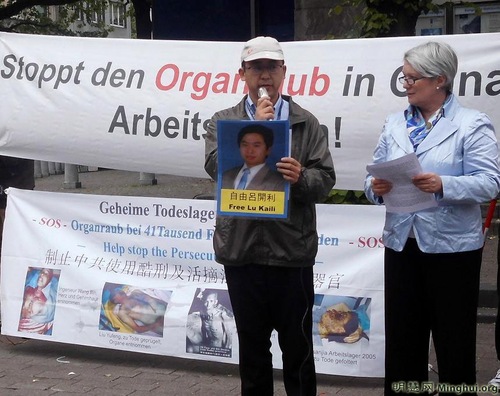 Guo Jufeng, a practitioner, calls for help to rescue Lu Kaili, an imprisoned practitioner in China
Guo Jufeng, a practitioner, had been jailed in China for two and half years. He said that in Dalian Labor Camp, every Falun Gong practitioner had to undergo a physical examination. The doctors paid special attention to the heart. Mr. Guo suspected that the physical exams were preparation for organ harvesting.
Mr. Guo called for help to rescue his friend, Lu Kaili, a Falun Gong practitioner, who had been arrested four times, and has been jailed for 11 years in three labor camps and three prisons.