New York: Having Benefitted from Falun Dafa, Practitioners Call for an End to the Persecution
May 23, 2013 | By Dexiang, Xiaoyan, and Zhangyun
(Minghui.org) Thousands of Falun Dafa practitioners from Europe, America, Australia, and Asia gathered in New York City on May 17-19, 2013 to participate in the annual Falun Dafa experience sharing conference and related activities.
A grand march was held to show people the benefits of the practice and to raise awareness about the brutal persecution Falun Gong practitioners experience in China. This was the largest Falun Dafa activity in size and scale outside of China since the persecution started in July 1999.
Benefitting Physically and Mentally from Practicing Falun Gong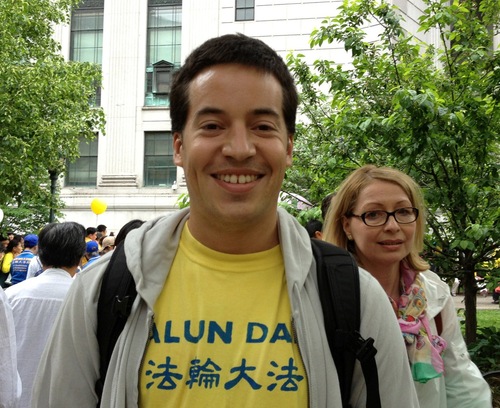 Hugo from Chile
Hugo is a practitioner from Chile. He thought the parade was "magnificent," and that it was great to see so many practitioners together. Hugo began practicing Falun Gong ten years ago. After reading a news report on the practice, he contacted local practitioners, who taught him the exercises.
Hugo was still a student at the time and he had not passed a test for two years. His family was very worried about him. After he learned Falun Gong, he passed all his tests, his family was very happy, and he began to accomplish more in his life.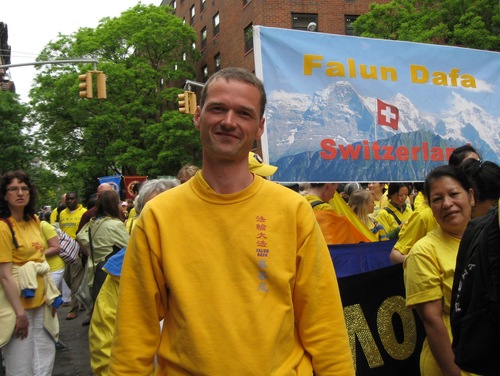 Erik Rusch from Germany
Erik Rusch from Germany is 33 years old. A retired soldier, he is now a teacher. While he was still in the military in 2002, he found out that he had digestive system problems. "I was being treated in the best hospital in Germany. I ran into a Falun Gong practitioner, and he asked me if I wanted to practice. I went to a park with him and quickly learned the five exercises. I felt amazing when I meditated for the first time. Afterward, I knew I had completely recovered, and I left the hospital."
Erik did not trust anyone when he was in the military. There were many fights, and everyone hated each other. He decided to leave and become a teacher. "Falun Dafa helped me to be considerate of others everywhere I went. People then me treated me nicely as well. It's important that I do well in the first place."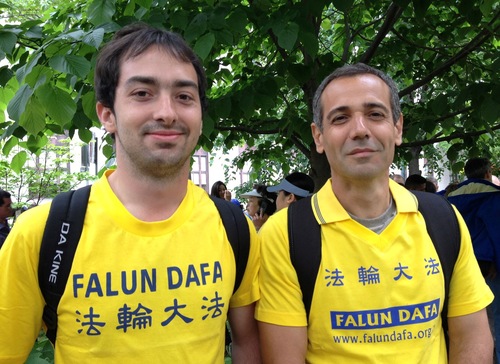 Jesus (right) from Cuba, and Federilo from Argentina
Jesus from Cuba has been practicing for just a year. He felt that he found a new life when he found Falun Dafa. He wants to return to his true self. He was happy to be with so many practitioners and experience a strong, positive energy.
Learn to Look at Things Positively
Federilo from Argentina is also a new practitioner. He was looking for the purpose of life until he encountered Falun Dafa. He quickly accepted the teachings and changed tremendously. He began to look at things, especially people, in a more positive light. He had once been a very negative person, and life was not easy for him. Falun Dafa helped him. Federilo wanted to come to Chinatown to tell the Chinese people, "Falun Dafa is good."
"I have strong predestined relationship with Chinese people"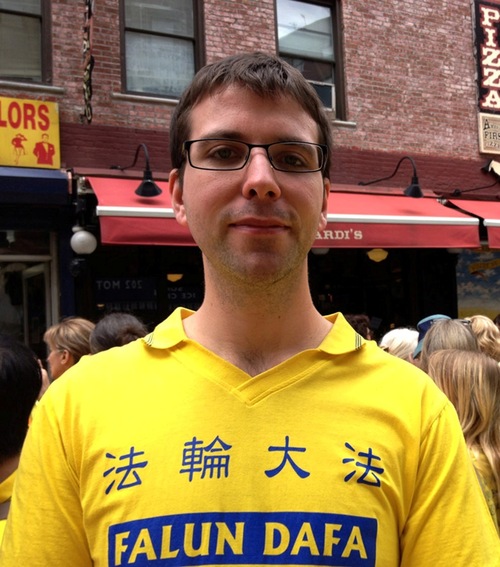 Nikolai from Switzerland
Nikolai from Switzerland became a practitioner in 2006. He will soon be going to college to study German and Chinese. He believes that it is important for him to speak Chinese well so that he can talk to the Chinese people and clarify the facts about the persecution of Falun Gong to them.
Nikolai has been to Hong Kong several times to clarify the truth to Chinese tourists. "Though I don't speak Chinese, I can still give them fliers," he said. He said that it was hard work clarifying the truth in Hong Kong, having to carry a lot of materials and set up the posters. "I knew all the hard work was worth it when I saw so many Chinese understand the truth of the evil persecution."
Nikolai also has gone to tourist sites in Switzerland with a Chinese practitioner. He learned the practice at a Falun Dafa activity in Lucerne. "After I became a practitioner, I became more tolerant. I was also able to stay cool-headed when I was in trouble."
"The CCP's propaganda led us to find Falun Gong"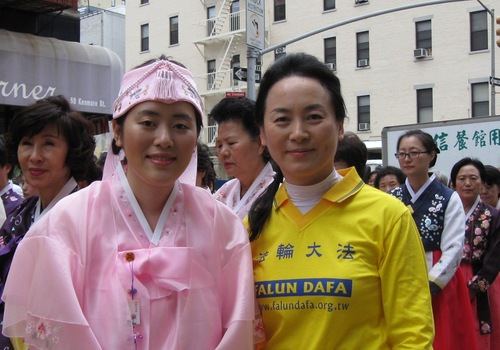 Mother and daughter from South Korea
Li Qianxiu and Pu Youying, mother and daughter, began practicing Falun Dafa in September 2000. When they saw the Chinese regime's propaganda that smeared and defamed Falun Dafa, Li decided to find out what it really was. She became a practitioner. "I have changed from being an irritable person to a considerate one, thanks to Teacher," she said.
Pu said that she followed her mother and became a practitioner when she was 13 years old. "I am able to treat others kindly no matter how they treat me. As a result, I am always happy. Before I practiced, I was very weak and often had nose bleeds. As soon as I began to read the teachings, the nose bleeds stopped. I am very grateful to Master."
"The persecution should end"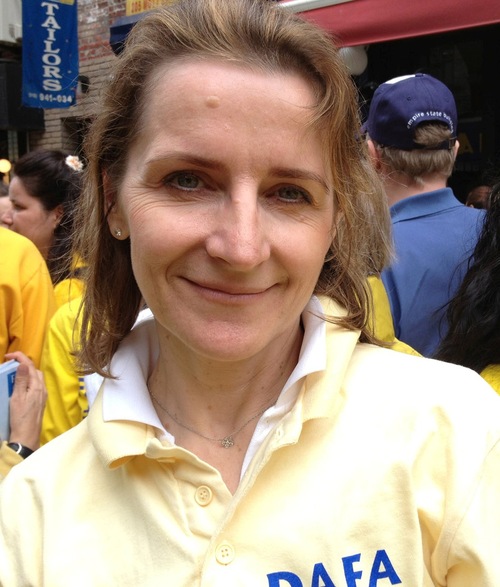 Hanna from France
Hanna is a financial analyst from France. She began practicing Falun Dafa in 2011. She was very excited to be in New York with practitioners from around the world. "Each time I am at an event like this with other practitioners, I get very emotional and often cry." She wanted to help more people to understand the brutal nature of the persecution so that it will end quickly. "It's time," she said.
Hanna said that she feels sad when she sees photos that were taken before the persecution, when tens of thousands of practitioners in China were able to practice freely and openly together, "I hope we will seen scenes like this in China again soon."