Canada: Prime Minister Stephen Harper Sends Greetings for the 21st Anniversary of Falun Dafa's Introduction to the Public
(Minghui.org) May 13, 2013, marks the 21st anniversary of the introduction of Falun Dafa to the public by Mr. Li Hongzhi, the founder of Falun Dafa. On this special occasion, the Rt. Hon. Stephen Harper, Prime Minister of Canada sent the following letter, in which he stated: "I commend the Falun Dafa Association of Canada for sharing this discipline with fellow Canadians. The principles of Truthfulness, Compassion and Forbearance that are central to the practice resonate strongly in our pluralistic society."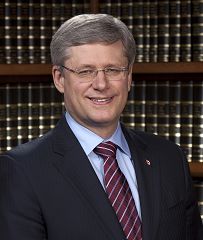 The Rt. Hon. Stephen Harper
Prime Minister of Canada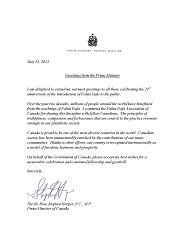 Greeting Letter from Prime Minister Stephen Harper
May 13, 2013
Greetings from the Prime Minister
I am delighted to extend my warmest greetings to all those celebrating the 21st anniversary of the introduction of Falun Dafa to the public.
Over the past two decades, millions of people around the world have benefited from the teachings of Falun Dafa. I commend the Falun Dafa Association of Canada for sharing this discipline with fellow Canadians. The principles of Truthfulness, Compassion and Forbearance that are central to the practice resonate strongly in our pluralistic society.
Canada is proud to be one of the most diverse countries in the world. Canadian society has been immeasurably enriched by the contributions of our many communities. Thanks to their efforts, our country is recognized internationally as a model of freedom, harmony and prosperity.
On behalf of the Government of Canada, please accept my best wishes for a memorable celebration and continued fellowship and goodwill.
Sincerely,
The Rt. Hon. Stephen Harper, P.C., M.P.
Prime Minister of Canada