New York: Practitioners Candlelight Vigil at Chinese Consulate Commemorates the April 25th Appeal (Photo)
April 29, 2013 | By a practitioner in New York
(Minghui.org) Falun Gong practitioners held a candlelight vigil in front of the Chinese Consulate on the evening of April 25 to commemorate the April 25 appeal 14 years ago. They also called for an end to the Chinese Communist Party's brutal persecution of Falun Gong.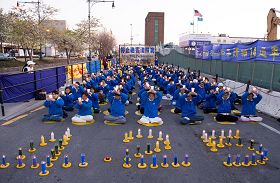 New York Falun Gong practitioners' vigil in front of the Chinese Consulate
Their banners read: "Stop the Persecution of Falun Gong," "Falun Dafa Is Great," "Truth-Compassion-Forbearance," "Bring Jiang, Luo, Liu, and Zhou to Justice," and "Commemorating the 14th Anniversary of the April 25 appeal." Candles were lit to commemorate fellow practitioners tortured to death in China.
Ms. Lin Zhang from Beijing participated in that historic event in China and recounted the details. She said she was harassed and arrested after July 20, 1999, when the communist regime officially began the persecution. She was sent to brainwashing sessions twice and was laid off for telling her colleague about Falun Gong. She said, "I started practicing Falun Gong in 1999, and my myocarditis (inflammation of the heart muscle) disappeared a short while after. Seeing such a good practice unfairly treated, I simply wished to speak out."
Ms. Ziyu Liu from Beijing said she began to practice Falun Gong by following her parent when she was young. She was in Shenyang in 1999 and did not go to Beijing. She said, "Many of my relatives, including my mother, grandmother, grandfather, and two aunts, practice Falun Gong. We were persecuted in many different ways over these years. One of my aunts was imprisoned for a long time and tortured to death."
Ms. Liu came to the US after many difficulties. She said, "I have mixed feelings tonight. Holding a candle, I thought of fellow practitioners tortured to death and those being persecuted and was moved to tears. I wish the international community would work together to stop the Chinese Communist Party persecution of Falun Gong."
As the practitioners sat in front of the consulate after dark, the candlelight flickered in remembrance and admiration.