Paralyzed Woman Recovers by Practicing Falun Gong, Once Again Disabled after Torture and Abuse in Detention
March 10, 2013 | By a Minghui correspondent in Heilongjiang Province, China
Name: Ms. Ma Chunli
Gender: Female
Age: 47 (Born in 1965)
Address: Jiamusi, Heilongjiang Province
Date of Most Recent Arrest: March 17, 2010
Most Recent Place of Detention: Harbin Women's Forced Labor Camp
City: Harbin
Province: Heilongjiang
Persecution Suffered: Forced labor, torture, illegal sentencing, home ransacked
(Minghui.org) Ms. Ma Chunli used to be paralyzed and suffered from many illnesses, including cardiac ischemia [lack of blood supply to the heart] and encephalitis, and she struggled with constant, severe headaches. All of these conditions disappeared after she started practicing Falun Gong, and, miraculously, she was able to walk.
After the Communist regime began persecuting Falun Gong, however, Ms. Ma was illegally arrested twice and held for two years in a drug rehabilitation center, which had been turned into illegal detention center.
In the Harbin Drug Rehabilitation Center, Ma Chunli suffered a relapse of her prior health problems because she was not allowed to do practice Falun Gong. She thus once again became paralyzed. The guards and inmates brutally tortured her despite her condition.
Below is Ma Chunli's personal account.
Illnesses Healed After Practicing Falun Dafa
When I was 17 years old, I was diagnosed with spondylitis and my body was so stiff that it would almost freeze up after I had only walked about 30 ft. My condition worsened as I grew older. I developed hyperosteogeny, protrusion of the spinal discs and acute suppurative myelitis, and several of my spinal discs were fused together as a result.
After I underwent four hours of intense surgery in a hospital affiliated with Jiamusi Medical University, the doctor said, "Your spinal column is filled with bone spurs. I cannot separate the nerves. I cannot help you."
I was paralyzed and suffering from cardiac ischemia, cystitis and nephritis. When I had encephalitis, I endured splitting headaches, and, at times, I could not sleep for days. I had to take 30 Prosom (estazolam) tablets every night for relief.
By the fall of 2004, I had completely lost hope when I remembered there was a book called Zhuan Falun on the shelf that I had put aside for a long time. I asked my son to bring it to me. I started reading this precious book and practicing Falun Gong. Very soon, all of my illnesses were gone, and, to my amazement, I was able to walk again.
Home Ransacked, Detained and Injected with Unknown Drugs
On March 17, 2010, police officer Sun Lei and another officer whose name I do not know broke into my home and took a computer, an e-book, an MP3 player, several Falun Gong books, and about 20 DVDs. They were so violent that I was terrified and my heart was beating out of my chest. They took me to a hospital and injected me with unknown drugs that gave me a headache. Then they took me to Jiamusi City Detention Center.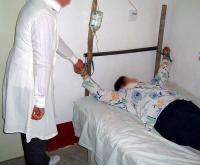 Torture re-enactment: IV drug infusion
When I first got there, head inmate An Yajie ordered me to do slave labor and I refused. She then forced me to sit facing the wall to "repent." My back hurt so much that I could not stay seated, so I lay down, and she watched me to make sure I did not move. My entire body ached, but she told other inmates to watch me, and I went into convulsions that lasted a long time. By then this point, I could no longer walk and had to crawl to the bathroom. I lay on the floor and the urine soaked my clothes, and I could hardly get up. I held onto the mesh wire and threw up.
Abused in Harbin Drug Rehabilitation Center
On April 7, 2010, the police took me to No 2 Harbin Hospital for a physical. I had heart disease and tuberculosis. They took me to Harbin Drug Rehabilitation Center.
I was locked in a room in Division 3 next to the guards' office with fellow practitioner Tong Yaqin. There was no bed, so she and I slept on the cold floor. A few days later, Tong Yaqin was transferred to a different room, and Division head Sun Baolian sent in 19-year-old inmate, Wu Qinglin, who had been convicted of theft, to torture me.
I once passed out on the bathroom floor and hurt my back and legs. I could not care for myself and needed help relieving myself. Instead of lending a hand, Wu Qingling often humiliated me as my condition spiraled downward.
My condition increasinglym worsened and I vomited every day. I began to pass out more often, and my heart was weak. I slept under two paper-thin sheets at night when it was freezing cold, which exacerbated my condition.
Wu Qingling screamed at me day and night. I was not allowed to change my underwear for more than a month because she refused to let me wash or change my clothes, and she told me not to vomit when she was eating or sleeping. She would attack me for closing my eyes during the day. I could not take it anymore, and I crawled out of the room and demanded to be removed from Wu Qingling.
Division head Lu Peihong took me to No. 2 Harbin Hospital for a spinal MRI in May 2010. When we came back to the rehab, several inmates carried me out of the car on a filthy blanket, and inmate Sun Yanli let go of me in midair. I tumbled to the ground and hurt all over.
On January 17, 2011, Lu Peihong ordered Sun Ping and Yuan Tiantian to take me to the hospital. I could not move because any slight movement would cause extreme pain, especially in my chest. The doctor did not check my heart or brain, and simply did a CAT scan of my chest.
At this time, I was throwing up blood daily, and inmate Liu Li reported my condition to the division head. I had seizure episodes that lasted close to an hour, and I nearly died.
My family was not allowed to visit me during the first six months I was held at the rehab. I was transferred to Division 1 on April 7, 2011. Inmate Yuan Tiantian was a bully. She was eventually moved away after abusing me for more than four months.
After Yuan Tiantian left, they brought inmate Liu Yuzhi, who stayed with me for six months. She constantly screamed at the top of her lungs because of a toothache, and kept threatening to bang her head on the wall and kill herself. I could not take her nonstop howling, so I inched out on my crutches, trying to find a quiet spot to sit, since I could not stand for more than two minutes.
Shi Junxue yelled at me to return to the cell and to keep standing. That night, I vomited a large amount of blood.
Finally, I decided to sit up in bed. Shi Junxue then took the towel I used to cover my legs. She also wouldn't let me bend my legs [required to do the sitting meditation] and to keep my legs straight. I had to rely on fellow practitioner Zhou Zhirong to turn me over in bed.
The officials would not let me see a doctor even though my condition deteriorated. Eventually I was no longer able to move my legs, and my speech became slurred. When guard Liu Ming ordered me to walk to test me, I trembled all over and kept losing my balance. It took me 40 minutes to walk about 330 feet.
My illegal sentence was extended by 16 days, and I was released on April 1, 2012.