Sham "Public Trial" Held in Nong'an County Court, Jilin Province
(Minghui.org) A Nong'an County Court in Jilin Province held an illegal hearing on the afternoon of October 11, 2013, without notifying the defense lawyers and family members of eight Falun Gong practitioners: Mr. Liu Wei, Ms. Zhang Guozhen, Mr. Yang Hongbiao, Mr. Xiu Jixue, Mr. Chang Baojun, Ms. Wang Yajuan, Mr. Yang Wenjuan, and Mr. Su Xiufu.
All of the eight practitioners pleaded not guilty. Mr. Liu and Ms. Zhang accused the Domestic Security Division of extorting their confession by torture and stated that evidence that was obtained by torture was invalid.
Deception: Secret "Public Hearing" Filled with Members of the Chinese Communist Party
Family members had applied at the court to attend the hearing on October 8, 2013. Guo Qingxi, the assistant presiding judge for the Criminal Court said, "We will notify you when the court date is set. We will post an announcement. We will give you what you want."
But family members learned on the morning of October 11 that the court was planning to hold a secret hearing. They went to the court and asked for permission to attend. Guo Qingxi told them, "Go to the main hall on the first floor." They were told when they arrived there, "Our court has never issued permission to attend court hearings." Then he said, "There is an open court session this afternoon. Come then." But when they arrived, they were not allowed entrance, yet the courtroom was full. The trial was videotaped for the purpose of deceiving people that this was a public hearing. Those who attended were members of the Political and Judiciary Committee, the Procuratorate and civil servants of the court.
Family and Lawyers Denied Visitation for One Year Prior to Trial
The practitioners had been detained for a year prior to being tried. The Chinese Communist Party Ministry of Justice denied the family their visitation rights. The lawyers applied through normal legal procedures to see their clients, but were unreasonably refused. They were told, "This is a special feature of Jilin Province."
100 Police Officers Keep Grandfather from Entering
Mr. Yang Hongbiao's paternal grandfather, 85 years old, and other relatives demanded to attend the court hearing. 100 police officers from Nong'an County were posted outside the courtroom to intercept anyone who tried to enter. The grandfather and family stood outside in the cold hoping to catch a glimpse of their grandson.
Practitioners Expose Brutal Torture that Failed to Extort Confessions
The eight practitioners entered the courtroom at about 2 p.m. on October 11, 2013. They maintained their innocence, their freedom of belief and freedom of speech, during the interrogation. They accused Tang Ke, Captain of the Domestic Security Division, of commanding guards to brutally torture them in order to extort confessions. Mr. Liu Wei's right shin bone was fractured. Ms. Zhang Guozhen, developed necrosis in the nerves in one of her legs. Her leg was crushed and fractured, which was classified as a Level 3 to Level 4 disability. The hearing ended in less than two hours after failing to produce any evidence according to legal statutes.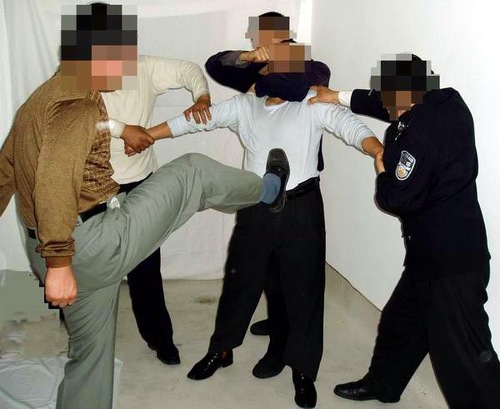 Torture reenactment: Violent Beatings