West London Magistrates Court Rules Against Assaulter Of Falun Gong Truth-Clarification Site
November 23, 2013 | By Minghui correspondent Tang Xiuming in the United Kingdom
(Minghui.org) On November 11, 2013, the West London Magistrates Court ordered that Ali Alex Ortiz, an unemployed Filipino British resident who assaulted Falun Gong practitioners in London's Chinatown, serve two-year community service and compensate the victim £200 for his crimes.
Judge Henderson stated that the offenses were serious and could lead to prison: "These are serious offenses because this was completely unprovoked. It was premeditated. And it caused injury and damage. Had it not been for the fact that you had mental health problems, you would be at very real risk of going to prison today."
Mr. Henderson warned Ortiz of prison for future attacks: "If you fail to comply with this order, or you are to commit any other offense, especially a similar offense, then you are liable to be re-sentenced for the new offense and this one – and this is a serious offense, especially as it was directed against those carrying out their demonstration. Then you can expect to go to prison."
The Assault and Court Hearing in October
On October 19, 2013, about 10 Falun Gong practitioners held an activity in Chinatown in London. They exposed the crimes of live organ harvesting of Falun Gong practitioners in China. Passengers on the street had the opportunity to sign on a petition to voice their concerns of such crimes against humanity to the United Nations.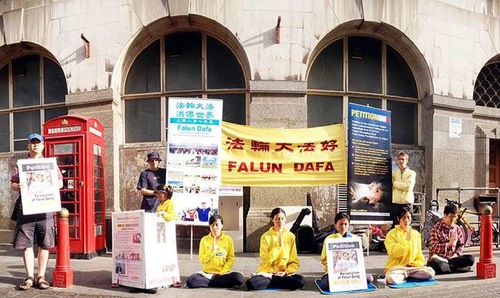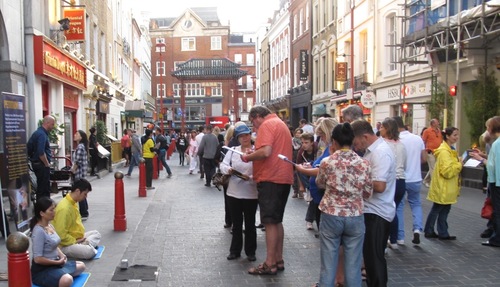 Falun Gong practitioners in London's Chinatown raise awareness, expose the crimes of live organ harvesting, and collect signatures to stop the persecution.
At about 2:40 p.m., Ortiz and another assailant suddenly sprang into action at the activity site. They threw eggs at the banner that exposed the persecution and at the Falun Gong practitioners present.
A male practitioner tried to stop the assault and prevent Ortiz from escaping. Ortiz smashed his glasses, hit him in the face, and knocked his umbrellas down. The Falun Gong practitioner bled from his face as a result.
Police arrived upon the scene soon afterwards. The police arrested Ortiz and handcuffed him, while the other assailant fled. Ortiz was brought to court on October 21, 2013.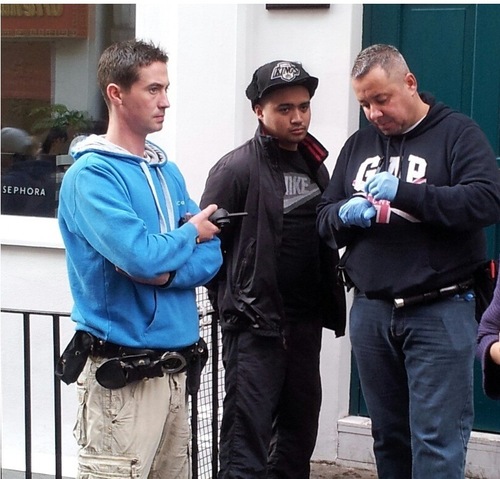 Ali Alex Ortiz (in the middle in black) is taken into police custody
Ortiz, a 19-year-old assailant originally from the Philippines, had a history of drug abuse and criminal activity. He pleaded guilty at a court hearing on October 21, 2013. Since his attorney claimed that he had mental problems due to drug abuse, the judge did not immediately render a decision.
The Attack Is Part of a Bigger Plot
In the past year, Falun Gong practitioners at the truth-clarification site in London's Chinatown went through eight attacks. The assaulted practitioners believe that this assault was by no means a stand-alone case.
On September 29, 2012, the truth-clarification site in London's Chinatown was sabotaged by thugs.
The Chinese Communist Party (CCP) has extended the persecution of Falun Gong to overseas by inciting hatred so that some ignorant overseas Chinese who had been poisoned and deceived by the CCP's lies became accomplices.
The CCP even hired thugs to attack Falun Gong practitioners. This happened not only in London but also in Chinatowns in New York City and San Francisco, and in areas such as Hong Kong and Taiwan.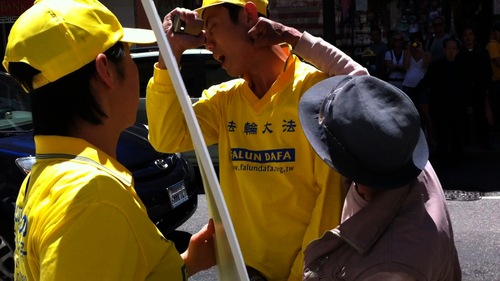 On June 10, 2012, when Falun Gong practitioners Wang Dafang and Derek Wang were clarifying the facts in San Francisco's Chinatown, they were attacked by a group of CCP thugs. Derek Wang was assaulted by thug Wu Yongyao.
On August 13, 2012, a court in San Francisco's Chinatown heard the case filed by the local prosecutor regarding the assault of Falun Gong practitioners by CCP followers in two incidents in June. The court ruled that assailants Wu Yongyao and Chin Jingjun are forbidden to get within 10 feet of the practitioners, and to write an apology to the Falun Gong practitioners that they assaulted.
On May 17, 2008 in Flushing, a Chinatown area in the outer suburb of New York City, the CCP manipulated agents and accomplices to attack volunteers at the Global Service Center for Quitting the CCP. Peng Keyu, the Consul General in the Chinese consulate in New York, acknowledged in a telephone conversation that the Consulate had instigated, supported and encouraged the assaults.
As heard in the recording of an investigative phone call from the World Organization to Investigate Persecution of Falun Gong (WOIPFG), Peng stated clearly that he and other officials of the Chinese consulate had visited Flushing and visited some pro-CCP Chinese organizations to thank them for their "support."