Tianti Bookstore Opens in Midtown Manhattan, Spreading the Beauty of Falun Dafa (Photos)
(Minghui.org) Tianti Bookstore has operated online for over ten years, and in view of increasing demand in the New York area, has now opened a physical location in midtown Manhattan. Tianti has other locations in New Jersey (opened in 2007), Toronto, Canada and Sydney, Australia.
The new Manhattan store formally opened its doors on October 10, 2013.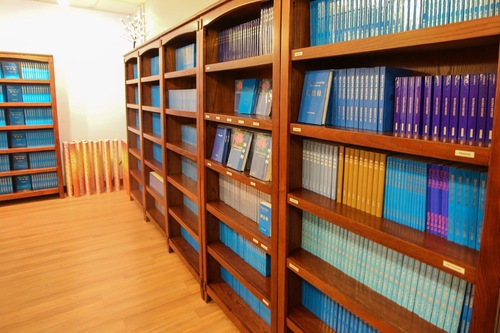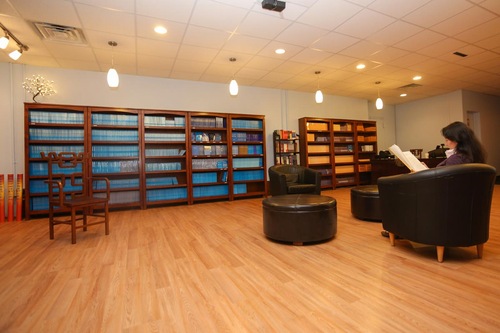 Tianti Bookstore opens on 30th Street in Midtown Manhattan, New York.
Tianti Bookstore is a not-for-profit operation providing a variety of books by Falun Dafa's founder Mr. Li Hongzhi, as well as other Falun Dafa materials.
The bookstore also offers free instruction of the Falun Gong exercises. To serve the needs of customers, it has recently included in its stock a number of books banned by the Chinese Communist regime, such as the Nine Commentaries on the Communist Party, "The Origin of the Cultural Revolution" and "Who is the New China", etc.
Peace Amidst the Hustle and Bustle
The bookstore is located in Chelsea, a prosperous and bustling midtown Manhattan neighborhood with a rich cultural atmosphere. The area has seen an increasing number of art galleries over the years and is home to many artists and people with a passion for the arts.
The Empire State Building is very close, as is Penn Station and Madison Square Garden. The area is full of famous upmarket shops and scenic spots. It's indeed a wonderful place to linger for both New Yorkers and tourists from all over the world.
Stepping into the Tianti Bookstore provides an immediate respite from the hustle and bustle of the busy streets. Visitors are immersed in peace and tranquility. The bookstore is spacious and comfortable, decorated with classically elegant furniture.
The environment is such a welcome contrast to the city outside that customers oftenlinger in the bookstore, reluctant to leave.
9-Day Seminars
In addition to providing Falun Gong books and free Falun Gong exercise classes, Tianti Bookstore also runs 9-day Falun Gong lecture seminars once a month. The lecture series are held in English, Russian and Chinese. Additional languages will come in the future.
There are Falun Gong practice sites and information desks in all five boroughs of New York City. In Manhattan, there are regularly scheduled practice sites in Central Park, Madison Square Park, Grand Central Terminal, Union Square and Chinatown.
In the bookstore, people interested in the practice can chat with Falun Gong practitioners, learn the exercises and partake the free 9-day Falun Gong lecture seminars. Of course, people are also welcome to just sit and read.
Serving customers in multiple languages from all parts of the globe, the Manhattan location is also a convenient spot for Chinese tourists to find Falun Gong books and learn more about the practice.
Why not drop by and take a look for yourself the next time you're in New York?
Tianti Bookstore
New Address (since 2016):
535 8th Ave
New York, NY 10018
Telephone: 888-842-6845 (U.S. toll free), +1-201-897-8788 (International)
Website: http://tiantibooks.org