Introducing Falun Dafa to Twelve Schools in Europe (Photos)
August 03, 2012 | By a European practitioner
(Minghui.org) A couple of years ago I read an article on Mighui written by an Australian practitioner. It mentioned how Dafa practice was being introduced to schools in India. It included photos of practitioners teaching hundreds of children in rural parts of India, which impressed me. I have since thought about it on several occasions, wanting to do the same in my own neighborhood, but I didn't really know how. Last time it came to my mind was during planning activities with a Chinese practitioner who was about to spend some time in the area to help local activities.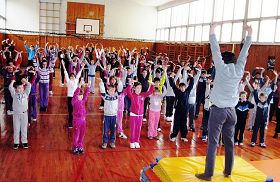 Teaching Falun Gong in a primary school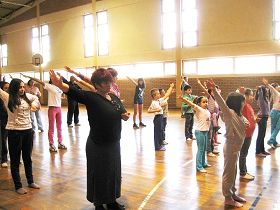 Teachers and students of eighth grade class learn Falun Gong exercises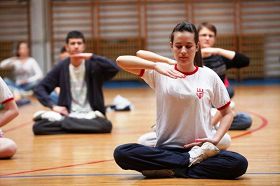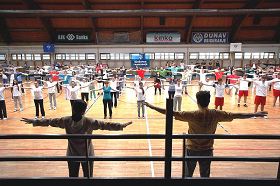 High school students learn the exercises
We wrote a special letter and sent it to some elementary schools. The content of the letter included basic information on Falun Dafa and health benefits, and our offer to visit the schools to give free lessons.
After two days, a couple of schools contacted us. The first one was in a city in the south of the country, where they had a large Chinese market, so we could promote quitting the Chinese Communist Party (CCP) and its affiliated organizations, and visit the school at the same time, which would be ideal. In our letter, we invited both students and professors to learn Falun Dafa. In this very first school, however, only professors attended the class, led by the school principal. So we actually practiced with twelve ladies. After we finished the exercise practice, we told them our experiences in practicing Falun Dafa and then explained the facts about the practice and the persecution. It was always hard for me to explain the facts to more than one person at a time, but the twelve ladies listened very carefully. The principal seemed relieved, as she already knew about the persecution.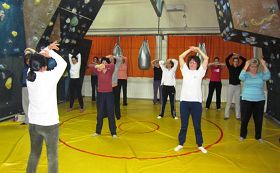 Teaching the Falun Gong exercises to teachers
A week later, we were invited to give a class at two schools in the north of the country. As we didn't know who was going to attend, we were quite surprised to have an entire class of ten-year-old children, and not so many teachers. The children were very attentive, very patient, and particularly happy to meet a Chinese practitioner. After the class they all wanted to have their names written in Chinese, for a memory. In time this will become a regular thing in all schools, as well as teaching some Chinese words, including "Falun Dafa is Good" and "Truthfulness-Compassion-Forbearance." Having a choir of so many kids shouting "Falun Dafa is Good" in one voice was a magnificent thing to hear, and the greatest reward for our efforts.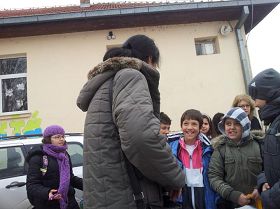 Children with the Chinese practitioner after class
The fourth school was located in a village in a very isolated part of the country. All the students at the school were summoned to the gym, more than a hundred. The principal joined too. Afterwards, when we had a chance to exchange thoughts with the principal, we found her quite a fascinating lady. She didn't believe in Darwin's theory of evolution, although she had to teach it to her students. Though not religious, she believed in higher beings and a higher order. The same goes for her family. To illustrate how special her family was, she told us a story about her daughter levitating in the church. The other daughter was quite unique too. Since her childhood, she had been very unselfish, and always gave away everything she had obtained – not what parents told her. We used the opportunity to explain our understanding of Dafa, that the universe is good by nature and so are people when they are first created. We explained what Truthfulness-Compassion-Forbearance is, and saw her eyes glowing from the inside. "Oh, I think this was predestined," she said excitedly. "You are not doing this for yourselves – you came for us. I'm most grateful."
Our program was aimed at primary schools and provincial areas where people never got a chance to learn about Dafa. Owing to preconceived notions, thinking that older students aren't so patient and in control, I purposefully avoided inviting high schools. But then I met a high school teacher in my workplace. After I mentioned our program, she promised to ask her principal. The next day we were invited to give two lessons at a high school, with local TV network coverage and a short interview. Contrary to my expectations, the kids were quite disciplined and orderly. The first lesson was attended by only thirty students or so, but when the word was spread that Falun Dafa was there, the next class, held one hour later, had a record attendance of nearly 150 students. It may seem hard to maintain order with so many children, but once Falun Dafa music was played, they became quiet and orderly.

Teaching Falun Dafa exercises to high school students
Before the end of semester, in a four month period, we gave lessons at twelve schools, and Falun Dafa was introduced to more than 800 students and teachers from small towns and villages all over the country. In every class, we noticed some special children, very focused and tranquil, very pure, practicing like they already knew Falun Dafa from before. After each class, they would come over with questions such as "When will we do it again?" and they asked how they could "enroll in the Dafa class." To each of these special kids we gave an exercise DVD and informed them about the Falun Gong book previously donated to the school library. In order to make regular practice groups in a school, it helps if one of the teachers has the heart to take the lead. I hope in the future this will be resolved too.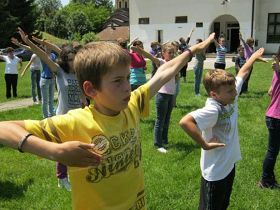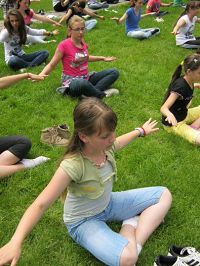 Practice outdoors
Our plan is to continue the program after the summer vacations and try to form regular Dafa practice groups in some of the schools. Now that I reflect on all of it, I wonder why we didn't do it before and why we haven't educated children in all countries on a regular basis. Why was it not possible before, but now it is? It worked after we followed Master's teachings and had righteous thoughts.
In the near future, Falun Dafa will probably be practiced in schools and a part of all academic subjects. By then, the teachers and students who learned the exercises will pave the way for future spreading of Dafa.