Falun Gong Practitioner Mr. Yang Guang Has Been Missing for Four Years
August 27, 2012 | By a Minghui correspondent from Sichuan Province, China
Name: Yang Guang (杨光)
Gender: Male
Age: 27
Address: No. 8 Brigade, No. 3 Village, Shujing Township, Anju District, Suining City, Sichuan Province
Occupation: Factory worker
Date of Most Recent Arrest: Unknown
Most Recent Place of Detention: Unknown
City: Suining
Province: Sichuan
Persecution Suffered: Expelled from school and has been missing since 2008
(Minghui.org) Falun Gong practitioner Mr. Yang Guang has been missing since June 2008 when he went out to inform people about the persecution of Falun Gong.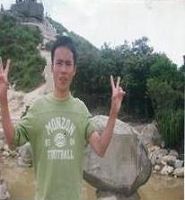 Photo of Yang Guang before he went missing
Mr. Yang started practicing Falun Gong in 2001 when he was 16. Once, he was reading Zhuan Falun when he was attending the Da County Railway High School as a freshman and was reported to his teacher-in-charge Li Xiuqing. Li Xiuqing and the school principal Qiu Yijiang ordered Mr. Yang to hand over the book, but he refused. Qiu Yijiang then said: "Would you rather hand over the book or stay in school to study? It's your choice." Mr. Yang said resolutely: "I want the book." He was thus expelled from the school. Mr. Yang then went back to the Lanjiang Middle School to study. Due to serious discrimination and emotional trauma, his grades dropped from excellent to average. He did not participate in the college entrance examination after graduating from high school. Half a year later, he went to work in Guangzhou. Once when he was explaining the truth about Falun Gong to a fellow worker, he was maliciously assaulted.
In June 2008, Mr. Yang went missing after he went to Anyue County, Sichuan Province. It is speculated that he might have been arrested while informing people about the persecution of Falun Gong. Four years have gone by, and Mr. Yang has never been heard from.
In light of reports of the Chinese Communist Party's harvesting the organs of Falun Gong practitioners for profit, his family is extremely worried about his long-term disappearance.