Taiwan: Elected Officials Call for Rescue of Practitioner Chung Ting-pang (Photos)
July 16, 2012 | By Sun Bo and Su Chung
(Minghui.org) Taiwan elected officials held a petition signing calling for rescue of Taiwanese practitioner Chung Ting-pang and condemning the Chinese Communist Party (CCP)'s kidnapping. They called for attention from all walks of life to the issue. Taiwan Falun Gong practitioner Chung Ting-pang is the manager of a high-tech company Hsinchu. He went to mainland China to visit relatives and lost contact on his way back on June 18, 2012. It was confirmed on June 19 that the CCP State Security took him into custody and trumped-up charges against him of "endangering national security and public safety."
Legislator Chiu Chi-wei: Release Chung Ting-pang as soon as possible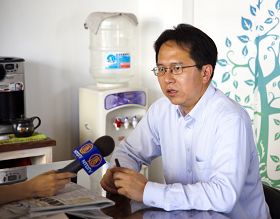 Legislator Chiu Chi-wei calls on the Taiwan Government to rescue Chung Ting-pang
On July 11, Kaohsiung Legislator Chiu Chi-wei said during an interview, "Chung Ting-pang is innocent. He has been detained for 23 days. The Taiwan government should do more than relying on the exchange of official letters. The Strait Exchange Foundation and the Mainland Affairs Council should stand up to protect the people of Taiwan and make strong demands to mainland China. Chung should be rescued as soon as possible to reunite with his family."
Regarding the kidnapping of Chung Ting-pang, Taiwan's media outlets have been almost silent. Legislator Chiu said, "Taiwan's media should carry more reports on the persecution of human rights in mainland China, especially the persecution of Falun Gong."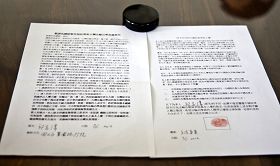 Legislator Chiu stamps his thumbprint to support freedom for Falun Gong in China
Taipei City Council Member Mr. Leung Wen-jie: Chinese people should safeguard freedom of belief and freedom of speech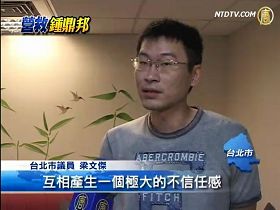 Taipei City Council Member Mr Leung Wen-jie said that Mr. Chung's kidnapping in mainland is not acceptable.
After stamping his fingerprint, Taipei City Council Member Mr. Leung Wen-jie said a government should at least protect freedom of religion and freedom of speech. It is hard to understand why the Chinese Communist Party persecutes Falun Gong. He believed more and more people in China would support those who seek the basic freedom of religion and freedom of expression.
Mr. Leung said that the CCP's treatment of Mr. Chung Ting-pang is unacceptable to the Taiwanese people. The incident creates a great deal of mistrust across the strait. While Taiwan and Communist China is planning to sign a cross-strait investment protection agreement, the Chung Ting-pang incident indicates that the Communist China in fact has no intention to protect the safety of the Taiwanese people. The Government of President Ma Ying-jeou should make efforts to rescue him.
Taipei City Council Member Yuan Chao-hsing: Everyone should speak out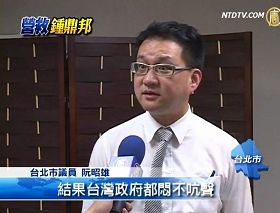 Taipei City Council Member Yuan Chao-hsing said that everyone should speak out.
Taipei City Council Member Yuan Chao-hsing emphasized that people should not keep silent, but should call for justice. Basic values of human rights are without national boundaries. Everyone can participate. He said, "I hope that through the extension of this fingerprint collection, Chinese people are able to enjoy more of the basic values of human rights."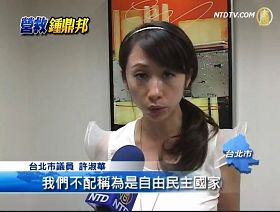 Taipei City Council Member Hsu Shu-hua said that "facing the Chinese communist government, one needs to speak out more courageously to secure their basic human rights."
Local celebrities stamp their fingerprints and call for the rescue of Chung Ting-pang
The International Truthfulness-Compassion-Forbearance Art Exhibition was held on July 7 in Changhua, Taiwan. The paintings depicted the persecution of Falun Gong practitioners in China. Some local celebrities shared their feelings after viewing the paintings. Hearing of people in the mainland collectively stamping their fingerprints to demand the release of imprisoned Falun Gong practitioners, the celebrities also stamped their fingerprints to express their support. They hope that the Taiwan government will actively rescue practitioner Ting-pang and defend the personal safety of Taiwanese in the mainland.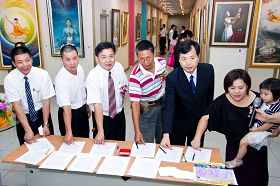 Wu Chien-wei (from right), former president of the Lions Clubs International, Deputy Warden Hsin Meng-nan of Taichung Prison, Director Chen Liang-bai of Changhua County Pottery Association and Chairman Chen Guan-hong of a Volunteer Union Association in Changhua County stamp their thumbprints and call on the Taiwan government to actively rescue practitioner Chung Ting-pang.
It has been 23 days since Ting-pang was kidnapped. His family members so far have no assurance of his safety. As the Taiwan government has yet to take public action, the family looked for other channels to rescue him. One of his family members requested help from a Human Rights Officer of the U.S. Embassy in Beijing on July 6 and sent relevant information including calling for rescuing Ting-pang by US human rights organizations to the officer. The family member also had a phone conversation with the Human Rights Officer, who agreed to consider assisting after a preliminary research of the situation.