Yu Huazhi Detained Over Six Months, Family Denied Visitation
June 17, 2012 | By a Minghui Correspondent in Heilongjiang Province
Name: Yu Huazhi (于华芝)
Gender: Female
Age: 55
Address: Wanggang, Harbin City
Occupation: Service worker in Pediatric Department of Hospital No. 2 at Harbin Medical University
Date of Most Recent Arrest: November 5, 2011
Most Recent Place of Detention: Harbin Detention Center No. 2 (哈尔滨市第二看守所)
City: Harbin
Province: Heilongjiang
Persecution Suffered: Home ransacked, interrogation, detention
(Minghui.org) Ms. Yu Huazhi, who worked at Hospital No. 2 of Harbin Medical University, was arrested on November 5, 2011 and has been illegally detained for more than six months. Her family went to the detention center many times, but has not been allowed to see her. Officials at the detention center however, ordered them to pay for Ms. Yu's medical expenses, as she had a cardiac examination at the police hospital.
When Ms. Yu was 36 years old, she suffered from severe heart disease and had to carry medication with her at all times in case of an emergency. Her family worried about her health. Since she had heart problems, she could not work very hard, which brought tremendous inconveniences to her life. She began practicing Falun Gong in 1996, and thereafter recovered fully from her heart disease. Her family and colleagues witnessed the miraculous effects of Falun Gong. Ms. Yu Huazhi followed the principles of Truthfulness-Compassion-Forbearance, tried to elevate her xinxing, put other people's interests before her own, and was able to eliminate her bad temper. As a result, her family became more harmonious and she was more capable at work. Because of her changes, her family and colleagues supported her practice of Falun Gong.
The Chinese Communist Party, formerly headed by Jiang Zemin, has used its power to brutally persecute Falun Gong and practitioners since July 20, 1999. Ms. Yu Huazhi was arrested on June 10, 2000 and detained for 15 days. She was detained again by officers of the police department in Zhaodong City prior to 2004.
At around 2:00 p.m. on November 5, 2011, seven to eight police officers headed by someone with the surname Fang from the police sub-department in Songbei District, Harbin, arrested nurses Ms. Jia Liqing and Ms. Yu Huazhi from internal medicine at the Hospital No. 2, Harbin Medical University. At 4:00 pm, the officers used the keys they retrieved from Ms. Yu Huazhi and entered Ms. Yu's home and ransacked it. No one was at home at that time. The evildoers confiscated a lot of personal belongings, including Falun Dafa books, truth-clarification materials and DVDs, a mobile phone, MP3 player, laptop, 1300 yuan in cash, deposit certificates, salary and ID cards (1250 yuan in cash, bank deposit certificates, and salary and ID cards were later returned to her family).
When Ms. Yu Huazhi's husband and son heard about her arrest they went to the Songbei Police Sub-department to request her release, but were rejected by officers, whose attitude was extremely bad.
Ms. Yu had been taken to a dormitory at the Songbei Police Sub-department, then taken to the Yaziquan Detention Center No. 2 in Harbin, where she was illegally detained. Her family went to the police department to request her release. Officials there told them that they had no control over the case, since Ms. Yu had been taken to the detention center. Ms. Yu's family tried everything to have her released, but to no avail. Her husband was very worried and consequently suffered a cerebral infarct and became partially paralyzed. Her son had to quit his job and stay at home to look after his father, while still busy working on the release of his mother. Just at that time, Ms. Yu's daughter-in-law fell sick and had to have surgery. This good family was completely changed due to the persecution.
Ms. Yu's family employed a lawyer, who went to Yaziquan in March 2012 and requested to see Ms. Yu Huazhi. The guards refused his request, using the excuse that Ms. Yu refused to wear a prison uniform or be handcuffed. (Ms. Yu Huazhi said she was not guilty, and it was not wrong to be a good person, living in accordance with the principles Truthfulness-Compassion-Forbearance, thus she refused to wear a prison uniform or handcuffs.) The lawyer did not give up and continued to request a visit with Ms. Yu. In mid-April 2012, he was finally allowed to see her, but her family has still had no opportunity to visit her.
On April 15, 2012, Ms. Yu Huazhi had been detained for five months and ten days, but the guards still did not allow her family to visit her. However, the guards presented the family with receipts for her cardiac examinations, and wanted her family to pay. When the family saw the receipts they became even more worried about her condition. They did not know what kind of torture she had been subjected to during her detention in Yaziquan.
The following information is evidence of the maltreatment of Ms. Yu.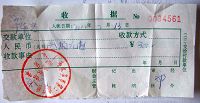 When her family went to visit Ms. Yu Huazhi, their requests were turned down, but were told to pay for her medical expenses.
Prison guards took out receipts for Ms. Yu's cardiac examination at the police hospital and ordered her family to pay them.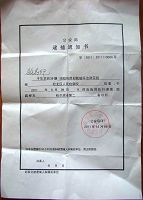 "Arrest notification" issued one month after her arrest.