Malaysia: Grand Parade Celebrates 20th Anniversary of Falun Dafa's Public Introduction (Photos)
May 19, 2012 | By a Falun Gong practitioner in Malaysia
(Minghui.org) Falun Gong practitioners in Malaysia held a grand parade in Butterworth, Penang on May 13, 2012, to celebrate the 13th World Falun Dafa Day and the 20th anniversary of Falun Dafa's public introduction.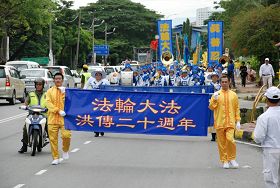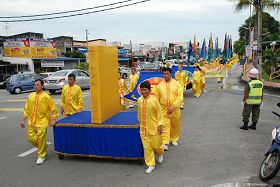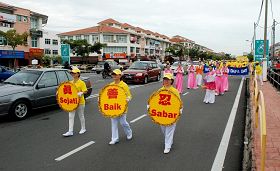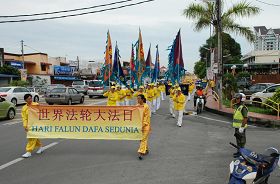 Falun Gong parade procession on a main street in Butterworth, Penang
The large parade, led by the Divine Land Marching Band, started at 10:00 a.m. and traveled major streets in Butterworth, including Jalan Raja Uda, where many Chinese people live. Falun Gong practitioners expressed their gratitude to Master Li with the parade. The band played beautiful Falun Dafa music, and was followed by large reproductions of the book Zhuan Falun and the Falun emblem, a flag team, waist drums, and a Falun Gong exercise demonstration team.
Spectators along the parade route cheered and took introductory materials. They were happy to find out about Falun Gong, and hoped more people would learn about it.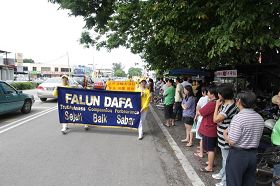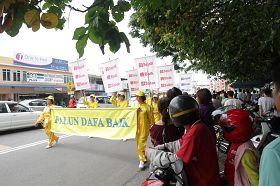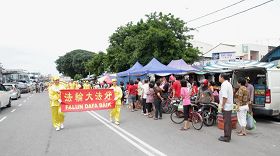 Many people notice the parade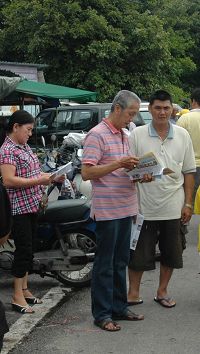 Spectators read Falun Gong introductory materials
Mr. Yu stopped his motorcycle and commented, "What a successful parade!" Ms. Ye said, "It looks solemn! Great!" Mr. Kanna said, "I'm happy to see the words 'Truthfulness-Compassion-Forbearance' on the banner! Happy anniversary!" Mr. Ding said, "Great! Good things should be shared with more people."
A vendor at the market said, "I finally know what Falun Gong is. Since my business is here, I will tell more people about Falun Gong so that they won't have misunderstandings about it. If you hadn't told us, we wouldn't know." He took some introductory materials with him.
Mr. Lu Rongyuan works at a church. He said, "It's great to have a high moral standard and peace in the world. We should work together to make the world better. The parade is great. This meditation brings us good health."
Mr. Maniarasu said, "You should introduce Falun Gong to the whole world and let more people know about Falun Dafa. It's the best! I would like to say 'Thank you!'" Tears came to his eyes. He was very touched by Falun Gong practitioners' sincerity. He said, "I'm very touched. I have been curious about what you are doing. It turns out you bring such a great thing to everyone. If everyone knows, they will be better people. I don't know what to say except 'Thank you!'"
Falun Gong practitioner Ms. Xie said that when the persecution was launched in 1999, many people were deceived by the Chinese Communist Party's lies and cursed Falun Gong practitioners. But today, people are happy to accept introductory materials and to learn the truth about Falun Gong. Some even asked about the staged self-immolation on Tiananmen Square.
The parade lasted for two hours. Afterwards Falun Gong practitioners had a group picture taken to wish Master Li a happy birthday and to express their gratitude to Master.