Practitioner Mr. Sun Jiangdong from Binzhou City, Shandong Province Sent to Labor Camp Twice, Barred from Seeing His Lawyer (Photo)
May 14, 2012 | By a Minghui correspondent from Shandong Province
(Minghui.org) Falun Gong Practitioner Mr. Sun Jiangdong of Binzhou City, Shandong Province was illegally arrested by Huimin City police on March 27, 2012 and sent directly to Shandong No. 2 Men's Labor Camp. Mr. Sun's father, his father-in-law and a lawyer came to the labor camp to visit him on the afternoon of April 19. When the lawyer presented a legal document for Mr. Sun's signature, police officer Zhang Zhenguo told them that the visit was not permitted, "according to special instructions from the 610 Office." When the lawyer asked him to show the instructions in writing, the officer refused, citing a number of implausible excuses.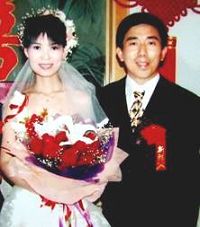 Sun Jiangdong and his wife Chen Guangxia
Mr. Sun worked at a material distribution company in Binzhou. He was an exemplary employee, who always accomplished difficult tasks with a calm demeanor. The general manager treated Sun as a trusted advisor and relied on his opinion in many matters.
Unfortunately, such a good man has become a victim of the Communist Party's persecution. On the evening of July 26, 2006, when Mr. Sun and his wife, Chen Guangxia, were distributing Falun Gong flyers at the Huanghe Residential Complex, a security guard informed the police. Later, the couple was arrested and interrogated by Binhe District 610 Office staff member Cao Letang and others. Later Mr. Sun and Ms. Chen were sentenced to three years and two-and-a-half-years of forced labor, respectively.
Upon being sent to Shandong No. 2 Labor Camp, he refused to be treated as a criminal. To retaliate against Mr. Sun, the guards sent him to a maximum-security room and forced him to sit on a small stool, all day, for 21 months. On the evening of March 1, 2007, Mr. Sun went to the office of a police head without announcing the word "report." He was then violently punched by police officer Gao Weicheng. He yelled out "police are hitting me!" Gao immediately gripped Sun's throat to stop him, then pushed him to the floor and began kicking his chest. Before Mr. Sun had a chance to stand up, head guard Luo Guangrong pressed his head to the floor and handcuffed him. Several officers continued the assault, slapping him repeatedly. The handcuffed Sun Jiangdong spent a sleepless night in the guard office.
After Mr. Sun's wife Ms. Chen Guangxia was sent to Shandong No. 2 Women's Labor Camp, she endured torture. Once, she was forced to stand for six days. After that, she was not able to walk for a long time. Fellow inmates had to carry her on their backs when she needed to use the toilet. Officers also injected her with unknown drugs, causing her to feel weak and sleepy all the time. Finally, her family was allowed to take her back home. Ms. Chen resumed the Falun Gong exercises and study, and her health gradually improved.
Mr. Sun's forced labor term expired on July 25, 2009. But because he refused to be transformed, the 610 Office told the labor camp to extend his detention. When his family members came to the labor camp to collect him, they were told that Mr. Sun would not be released. The labor camp refused to tell the family of Sun's whereabouts. After repeated inquires, they finally learned that he had been transferred to Wangcun Brainwashing Center in Shandong.
Police arrested Ms. Chen Guangxia while she distributed flyers on the evening of December 9, 2010. Initially, she was sent to the Weijiazhuan Police Station, and subsequently she was transferred to the Zhangzhuang Detention Center. After 13 days of detention, the police secretly sent her to the Jiangshuiquan Labor Camp, even though they knew of her physical disability and heart condition when they imprisoned her. Finally the labor camp discharged her due to her frail health.
In March 2012, Sun Jiangdong was arrested again. After a brief stay at Huimin Detention Center, he was transferred to Shandong No. 2 Labor Camp, located in Zhangqiu City, Shandong Province.