Newspaper Report Claims Pilot Organ Donation Program in Major Chinese City Receives Exactly Zero Organ Donations in First Year - So Where Do the Organs for China's Huge Organ Transplant Business Come From?
April 06, 2012 | By a Clearwisdom correspondent He Yu
This article was first published in March 2011.
(Minghui.org) According to a February 25, 2011 Yangzi Evening News article, Nanjing City Organ Donation Pilot Program held a press conference saying that there have been exactly zero organ donations for the whole year since Nanjing became one of the ten organ donation pilot cities last March. In fact, over the past twenty years, there have been only three organ donations reported in Nanjing, a city of millions of people.
This raises the question of where the huge numbers of organs used in organ transplant operations actually come from.
Organ transplantaion is a huge business in China today, but just who exactly is donating the organs if they're not coming into organ donation programs like the one in Nanjing?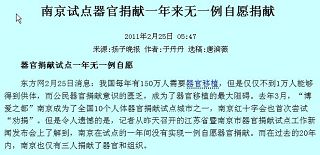 Caption: Screen shot of a Yangzi Evening News report on February 25, 2011. It quoted a report on the same day at eastday.com, a leading online news site in Shanghai, that there are over 1.5 million patients on the waiting list for organ transplantation in China. However, fewer than 10,000 patients are actually able to receive matching organs each year. The primary hindrance which results in this shortfall is the lack of awareness of organ donation among the public. In March 2010, Nanjing, also known as the Capital of Philanthropy, became one of the ten pilot cities in China for raising organ donation awareness. The Nanjing Red Cross has resorted to "persuasion for donation." However, reporters at eastday.com have learned from yesterday's Press Conference of Pilot Organ Donation Program in Nanjing City as well as Jiangsu Province that in nearly one year, there has not been a single donor in Nanjing. In the past 20 years, there had been only three volunteers who donated their organs in Nanjing.
Zero Organ Donations for the Whole Year
The article cites several reasons why organ donation programs in China consistently fail to attract organ donors.
An expert pointed out that traditional Chinese views and customs are the biggest obstacles to organ donation in China. Families do not want their loved ones to have their organs removed after death.
The first example was a non-native worker who died last October from brain disease after all the efforts to revive him were futile. Nanjing Red Cross workers couldn't get in touch with his family. According to the present policies, the medical institutions have no right to make organs available for transplants in such situations.
The next example was a suicide victim who has a history of mental disorder. Her mother agreed to donate her organs. However, her organs failed to meet the necessary requirements because of her poor health.
The third example was a rural woman who agreed to donate her organs before her death. Her parents were strongly against the donation. In the end, her dead body was sent back to her hometown.
The fourth example is also a worker who died from brain disease. Her family agreed to donate the organs after much persuasion. A exam later revealed that the donor was a hepatitis B carrier. The original recipient chose to forgo the transplant.
China does not have a viable organ donation and receiving system, and the actual operability is low because organ transplantation has very strict requirements on matching patients and donors, and the time that after death that the organs remain healthy enough for transplant is very short.
Fast-Growing Chinese Organ Transplant Industry
Contrasting with zero organ donation in Nanjing is the fast-growing organ transplant industry in China.

Caption: This screen shot on the left is taken from the homepage of the Orient Organ Transplant Center in Tianjin. 'Our accomplishments.' Numbers indicate liver transplants. It claims to have performed the highest number of liver transplant surgeries of all hospitals around the world in 2004. (Note: Orient Organ Transplant Center in Tianjin, chart on the center's own webpage has been deleted, and screen capture is taken instead from an archive at http://web.archive.org/web/20060412162605/http://www.ootc.net/) The screen shot on the right claims, some time later, that total count of liver transplant surgeries at the Orient Organ Transplant Center in Tianjin reached 2,248. Out of these 2,248 cases, patients survival ratio of patients living at least one year after the surgery exceeds 97%.
According to a report in the March 2, 2006 edition of China's Health Newspaper, Professor Shi Bingyi, vice-chair of the China Medical Organ Transplant Association, disclosed that in the past ten years China conducted more than 90,000 various organ transplant operations. In 2005 alone, about 10,000 kidney transplants and about 4,000 liver transplants were performed in China. In May 2007, Shi Bingyi told the reporter from Science Times, "The number of organ transplant operations in China reached a record high in 2006, conducted nearly 20,000 organ transplant operations."
According to public reports, there were approximately 18,500 transplants in total done in China in the six year period 1994 to 1999 and 67,000 in the next six year period 2000 to 2005. The growth rate is 394%. In March 2010, He Xiaoshun, vice president of Zhongshan Hospital, told the reporter from Southern Weekend, "2000 was a watershed year in China's organ transplant history. The number of liver transplant operations done in 2000 is ten times the number in 1999. The number tripled in 2005." (article "Organ Donation Maze" from Southern Weekend) We can see that the actual number of organ transplant far exceeds the official published numbers.
According to various investigations and private reports, transplant operations are done at many local hospitals under the jurisdiction of the military, Public Security Bureau, and paramilitary police, as well as hospitals ranked second tier and above. In 2006, more than 500 hospitals in China participate in liver transplants, and an unknown but very large number of hospitals perform kidney transplants. Most Chinese hospital websites promise to find a matching kidney within one or two weeks, and a matching liver or heart within two weeks or one month.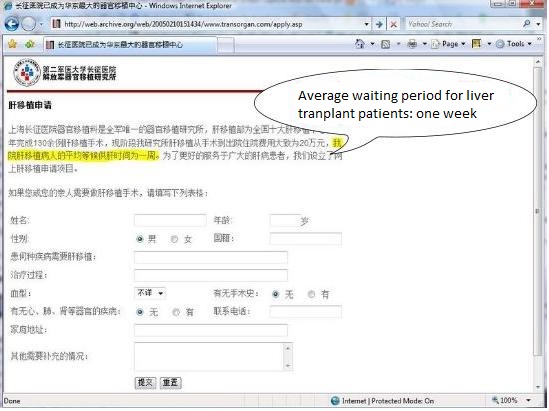 Caption: Average waiting period of one week for liver transplants at the No. 2 Hospital of the Second Military Medical University (Shanghai Changzheng Hospital) (Web content deleted after exposure of organ harvesting atrocities. This screen capture taken from an archive at: http://web.archive.org/web/20050210151434/www.transorgan.com/apply.asp)
Where Do the Organs Come From to Support Such Enormous Numbers of Transplants?
A kidney must be transplanted within 12 hours to 24 hours after leaving the donor's body, while a heart or liver must be transplanted immediately after the donor's death, or the organs must be directly taken from living people. Availability of matching organs can therefore only be guaranteed through premeditated killing. The abnormally short waiting time and the large number of transplants must be backed by a huge organ supply database, complete with the matching blood type and matching HLA tissue type. Where do the organs come from to support such enormous numbers of transplants?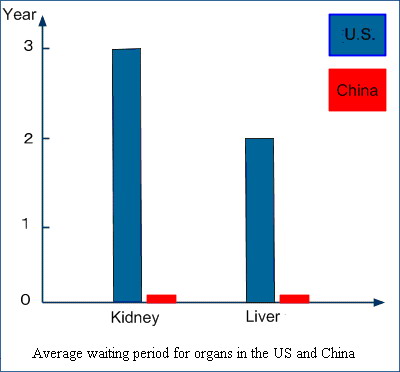 Caption: Comparison of average waiting periods for organs in the US and China
According to data published by the United States Department of Health and Human Services, the average waiting period for organs in the U.S. is two years for a liver and three years for a kidney. In China, the waiting period for these organs at some hospitals is calculated in weeks. This is unprecedented in organ transplant history. Super-short waiting times suggest the need for unprecedented organ supply source.
The Oriental Organ Transplantation Center in Tianjin City stated on its website, "Such a large number of organ transplants are a result of the government's support. The Supreme Demotic Court, Supreme Demotic Law-officer, Police, Judiciary and Department of Health and Civil Administration have enacted a law together to make sure that organ donations are supported by the government. This is unique in the world."
Deputy Health Minister Huang Jiefu, speaking at the World Liver Transplant Conference in July 2005, acknowledged that executed prisoners sentenced to death are a source of organ transplants.
The CCP has always kept the number of executed prisoners as a national secret. However, according to Amnesty International records, the average number of executed prisoners between 1995 and 1999 is 1680.2 per year. The average between 2000 and 2005 is 1616.3 per year. These figures mean that it could not be an increase in the number of executed prisoners that contributed to the large increase in the availability of organs. It seems obvious that there must be a group of people ready to be executed on demand other than the executed prisoners. Who are these people?
"A Grotesque Form of Evil New to This Planet"
On March 9, 2006, undercover reporter Peter from Japan revealed that there was a concentration camp in the Sujiatun district, Shenyang City which specializes in harvesting Falun Gong practitioners' organs. The secret camp was located underground and included an incinerator to promptly destroy any evidence.
On March 17, Annie, whose ex-husband was involved in removing organs from Falun Gong practitioners, revealed that this concentration camp was in fact part of the Liaoning Provincial Thrombus Hospital of Integrated Chinese and Western Medicine. From 2001 to 2003, her husband had removed cornea from the living bodies of 2,000 Falun Gong practitioners. Their organs were later removed by other surgeons and burned in a backyard cremator. This "operation" started in 2001 and reached its peak in 2002.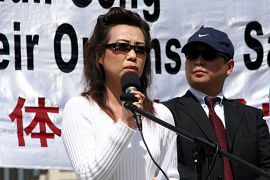 Caption: April 21, 2006, Annie, whose ex-husband participated in live cornea harvesting, and Peter, a senior Chinese journalist, expose the CCP's crime of live organs harvesting from Falun Gong practitioners
A retired military doctor from the Shenyang Military Region revealed on March 31, 2006, "At least 36 concentrations camps similar to the Sujiatun Concentration Camp exist in China. The largest concentration camp, code-named 672-S, is in Jilin Province. More than 120,000 practitioners and dissidents are held there. The concentration camp in the Jiutai region in Jilin Province is the fifth largest place in the country where more than 14,000 people are detained." "The Chinese Communist Party's (CCP) regulations dating back to as early as 1962 paved the way for the rampant 'harvesting' of prisoners' organs now taking place. A legal document issued by the CCP's powerful Central Military Commission is said to have given provincial governments authority to establish 'recycling entities' that would 'process those felons in the military zone under its administration, according to the developmental needs of the state or of socialism.'" "The CCP regards Falun Gong practitioners as class enemies and these practitioners are no longer regarded as human beings, but as raw materials for commercial products."
The retired military doctor revealed again on April 30, 2006. He disclosed the official flowchart of live organ harvesting of Falun Gong practitioners and pointed out that the the military directly involved in the organ trade. He had encountered over 60,000 of those forged organ donation form. The CCP hid the actual organ transplant numbers. "For example, if the government says that there are 30,000 cases a year, then the real number is about 110,000." Since 2000, China has conducted 85 percent of all the transplants done in the entire world. These numbers were included in a report to the Chinese Communist Party's Military Commission.
[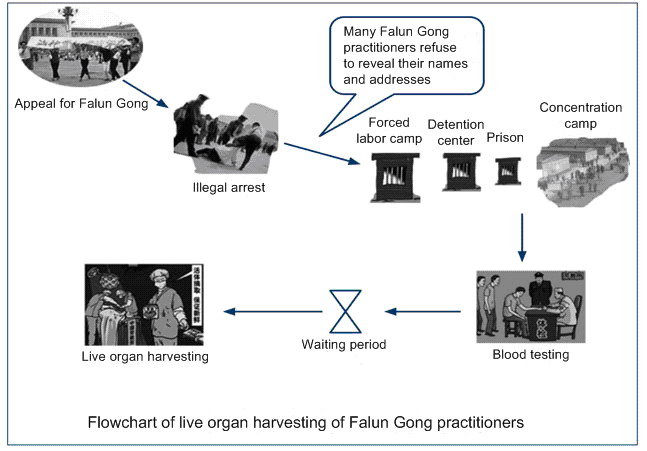 Caption: Flowchart of live organ harvesting of Falun Gong practitioners
In July 1999, former CCP ringleader Jiang Zemin launched a genocidal persecution of the Falun Gong cultivation group. The CCP media incited hatred against Falun Gong with overwhelming lies. Falun Gong practitioners are recklessly arrested, detained and tortured. Following the CCP and Jiang group's genocidal policy of, "ruin their reputations, bankrupt them and annihilate them physically," Jiang Zemin's secret order, "Beating [Falun Gong practitioners] to death is nothing and shall be counted as suicide; do not identify the body and directly cremate it," pushed the persecution to a hysteric extreme.
Some overseas institutions started to investigate the case after exposure of the suspected massive harvesting of living Falun Gong practitioners' organs and cremation of their bodies by the CCP. The investigators pretended to be relatives of patients and called several organ transplant hospitals in China. They asked whether or not they could obtain Falun Gong practitioners' organs. A large number of the telephone recordings were published successively. There were also many other evidences supporting the allegation of organ harvesting from Falun Gong practitioners.
In 2006, renowned Canadian human rights lawyer David Matas and former Canadian Secretary of State for the Asia-Pacific Region Mr. David Kilgour formed an independent investigation team and started their investigations in many respects. On July 6, 2006, they released their investigative report entitled, "Report into Allegations of Organ Harvesting of Falun Gong Practitioners in China." The report lists 18 items of proof and confirms the allegations of the CCP's systematic and large-scale harvesting of living Falun Gong practitioners' organs for profit. Mr. Matas called the harvesting of organs from living Falun Gong practitioners an evil that has never happened on this planet before.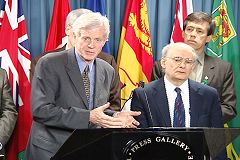 Caption: On July 6, 2006 press conference at Parliament Hill, Ottawa, Canada by David Kilgour, former Secretary of State, Asia-Pacific and crown attorney in northern Alberta, and David Matas, renowned human rights attorney, who released "Report into Allegations of Organ Harvesting of Falun Gong Practitioners in China" to Canadian government and public media.
Mr. Matas and Mr. Kilgour have been invited to speak about their findings in more than 40 countries. They talk about the results of their investigations and kept working on collecting new evidence. Their third revision of their investigative report was published in November 2009. It lists 52 items of proof and talks about many aspects of the investigation, such as their methods of proof, elements of proof and disproof and others.
The United Nations Special Rapporteur on Torture Manfred Nowak, submitted a report to the United Nations Committee Seventh Conference in March 2008. The report says, "There are many more organ transplants than identifiable sources of organs." "It is alleged that the discrepancy between available organs and numbers from identifiable sources is explained by organs harvested from Falun Gong practitioners, and that the rise in transplants from 2000 coincides and correlates with the beginning of the persecution of these persons." "Organ harvesting has been inflicted on a large number of unwilling Falun Gong practitioners at a wide variety of locations, for the purpose of making available organs for transplant operations."
Those Responsible Will Ultimately Be Brought to Justice
The Falun Dafa Association and the Minghui website (Chinese version of Clearwisdom.net) founded the Coalition to Investigate the Persecution of Falun Gong (CIPFG) in March 2006. The purpose of the CIPFG is to unite the forces of justice throughout the world to thoroughly investigate and end the CCP's seven-year persecution of Falun Gong.
Facing independent condemnation and investigation, CCP officials are reportedly hastening to destroy all evidence. They closed the websites mentioned in the report and used the state-controlled media to deny further investigations and evidence collection. In the meantime, they claim that they took organs from death-row prisoners. They also announced new legislation banning use of organs without consent. Over a year later, this law does not appear to have been implemented at all, supporting those who claimed all along that the legislation was nothing more than a public relations stunt.
In March 2010, China Ministry of Health and China Red Cross started a organ donation pilot program in ten cities including Tianjin, Shanghai and Nanjing. They planed to "Explore the development of a system for organ donation, organ retrieving and distribution." A year later, this Yangzi Evening News article reminds us to pay attention to this bloody history and the on-going evil actions.