Commemorating April 25, Practitioners in Washington, DC Call for the Chief Culprits of the Persecution to Be Brought to Justice (Photos)
April 26, 2012 | By a practitioner in Washington, DC
(Minghui.org) Falun Gong practitioners from Washington, DC, held a rally at noon on April 23, 2012, at Lafayette Square in front of the White House to commemorate April 25 Peaceful Appeal 13 years ago. They called for an immediate end to the persecution of Falun Gong and for the chief culprits—Jiang Zemin, Liu Jing, Luo Gan and Zhou Yongkang—to be brought to justice.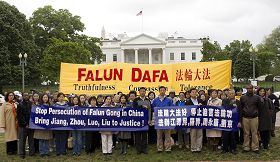 Practitioners gather in front of the White House on April 23, 2012, to commemorate the April 25 Peaceful Appeal and call for an end to the persecution and for the chief culprits to be brought to justice
Western Practitioner Takes Up the Practice Because of the April 25 Peaceful Appeal and Continues Calling for an End to the Persecution
Keith Ware, whose family has lived in Washington, DC, for four generations, began practicing Falun Gong because he heard about the April 25 incident on the radio at the time. Mr. Ware recalled that one day in April 1999, he was moved by a story on National Public Radio (NPR). It told about a large number of Falun Gong practitioners holding an incredible non-violent protest in Beijing. Mr. Ware had no idea what Falun Gong was at that time, nor did he have any personal connection with Chinese Communist Party (CCP) politics or the Chinese people, but the story impressed him, and he was moved by the extraordinary courage displayed by those Falun Gong practitioners. Several months passed, but this impression stayed with him.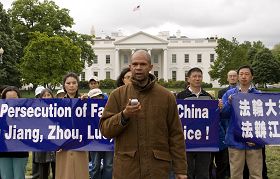 Keith Ware speaks at the rally
On January 1, 2000, Mr. Ware saw a group of people doing the Falun Gong exercises on the lawn of the National Mall, so he and his wife learned the exercises and he started his cultivation practice. Mr. Ware said that his wife's health soon improved markedly, and his mental stress was relieved. Over the past more than ten years, Mr. Ware, along with other Falun Gong practitioners, have been telling the world what Falun Gong is and raising people's awareness about the persecution. They also call for an end to the persecution.
On February 15, 2002, Mr. Ware and 60 Western Falun Gong practitioners from around the world went to Tiananmen Square in Beijing. They peacefully protested the persecution by doing the exercises and unfolding a huge banner reading "Falun Dafa Is Good."
On April 22, 2004, when Bo Xilai, who was Minister of Commerce in China, came to visit Washington, Mr. Ware entered the Fairmont Hotel where Bo was staying, and successfully served Bo legal documents accusing him of committing crimes against humanity.
Mr. Ware said at the rally, "Our work will not stop until the leader of this horrible persecution Jiang Zemin is brought to justice. Until then, I will continue to say, CCP: -Stop the Persecution of Falun Gong!"
Lawsuits Filed against the Chief Culprit and His Accomplices in the Persecution of Falun Gong
Dr. Terri Marsh, founder of the Human Rights Legal Foundation (HRLF) and human rights lawyer, told the audience at the rally that Jiang Zemin, the chief culprit in the persecution of Falun Gong, and his accomplices, including Luo Gan, Zhou Yongkang, Liu Jing, Bo Xilai and others, have been sued in many countries.
She said, "To date we have filed successful cases against Liu Qi, Xia Deren, and Zhao Zhifei in the United States. Jiang Zemin, Bo Xilai, and Luo Gan (among others) have been indicted in Spain. Many other cases are progressing extremely well in courts outside of China. Jiang Zemin has been sued in virtually every continent on the map. Our hope is to file and win these very same cases in China."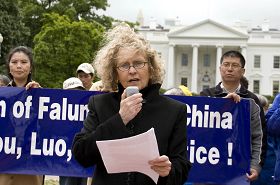 Human rights lawyer Dr. Terri Marsh speaks at the rally
Dr. Marsh said, "For nearly a decade HRLF has given voice, dignity and redress to many Falun Gong believers residing in China and other nations around the world. Now after a decade, it has become clear that our cases are changing the political landscape in China. The cases we filed around the world against Bo Xilai are a case in point."
She added that, "In the wake of Bo's ouster, attention has now turned to other Defendants HRLF has sued on behalf of Falun Gong including, most recently, Zhou Yongkang, the chief of the powerful Political and Legislative Affairs Committee and a member of the Politburo Standing Committee."
It's Only a Matter of Time for the Truth to Be Revealed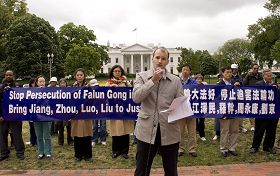 Jared Pearman, Falun Dafa Information Center representative
Jared Pearman, spokesperson for the Falun Dafa Information Center (FDIC) said at the rally, "The trend lines are now clear: Falun Gong has not been crushed, and reports from China indicate that the number of practitioners is instead growing. Ordinary citizens ar increasingly standing up in defense of Falun Gong and are refusing to participate in the persecution."
Mr. Pearman added that, "It is only a matter of time before the crimes of these individuals are exposed, laying bare the truth of a campaign that has taken thousands of lives, costs billions of dollars, ruined innumerable families, and deceived a nation."
Many tourists stopped to watch the rally. A tourist from India said that he had heard about Falun Gong before, and he thought that any form of persecution should not continue.
A man from Afghanistan passed by the rally venue and said that it was the first time that he had ever heard about Falun Gong. "I no longer think China is a free country," he commented. "People there are suffering such ordeals. When I return home I will search online for the Falun Gong website. As a human being, I want to voice my concern to help stop the persecution. That is something I can do."