U.S. Department of State Adds Question about Organ Harvesting to Nonimmigrant Visa Application (Photo)
(Minghui.org) In June 2011, the U.S. Department of State renewed the nonimmigrant visa application form, Form DS-160, adding six new questions to the Security and Background section. One of these is: "Have you ever been directly involved in the coercive transplantation of human organs or bodily tissue?" If the answer to this question is "yes," then the applicants will in most cases be denied the visa.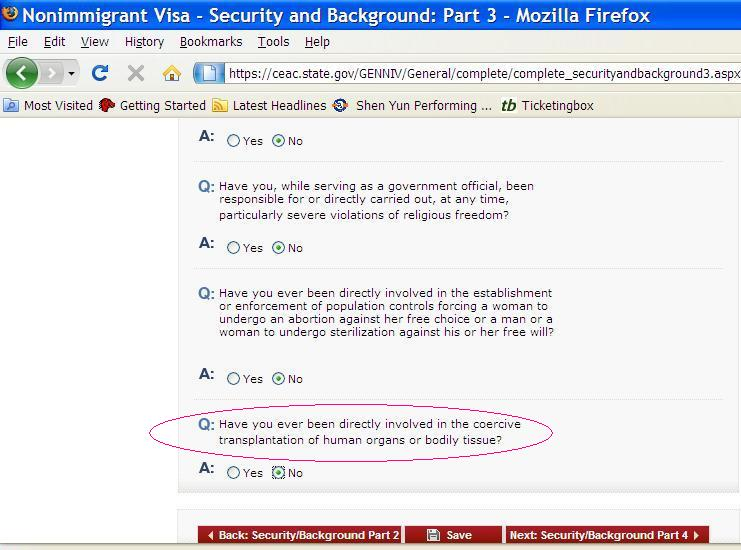 Part of the online DS-160 form.
The Communist Party harvests organs from living Falun Gong practitioners for profit
In the last few years, international society has paid much attention to the illegal organ transplantation trade in China. One major reason for this was the exposure of widespread organ harvesting from living Falun Gong practitioners.
Since the Chinese Communist Party banned Falun Gong in China in 1999, the Chinese authorities have utilized a wide variety of mechanisms in their efforts to force adherents to renounce their faith and ultimately wipe out the spiritual group. These strategies have ranged from extreme use of torture and sexual abuse, to the intimidation and harassment of adherents' family members, to the establishment of a nationwide extralegal task force to implement the eradication policy.
Mounting evidence tells a terrible tale of murder and mutilation in China. Witnesses and Chinese physicians reveal that thousands of persons affiliated with the Falun Gong are being killed for their organs, which are sold and transplanted at enormous profit.
Kidneys, livers, and hearts are sold to overseas patients who are willing to pay high prices for quick access to organs for transplant. To facilitate this gruesome trade, prisoners of conscience are tissue typed and then killed once a matching recipient is found for their organs.
The perpetrators are officials of the Chinese Communist Party (CCP), acting in cahoots with surgeons, prison authorities, and military officials.
Victims are held in concentration camps prior to having their organs harvested, after which the corpses are immediately cremated.
The story, almost too dreadful to believe, was first revealed in March 2006, when a woman claimed that as many as 4,000 Falun Gong had been killed for their organs at the hospital in which she had worked. She also said that her husband, a surgeon at the same hospital outside the northeastern city of Shenyang, had disclosed to her that he had removed corneas from the living bodies of 2,000 Falun Gong adherents.
Falun Gong supporters and human rights activists overseas immediately began investigating the allegations. They placed calls to Chinese hospitals pretending to be shopping for a kidney or a liver. To their horror, one doctor after another openly confirmed: We've got Falun Gong in stock; just come in and we can get you the organ within a week.
Shocked by these reports, two prominent Canadian human rights lawyers launched in independent investigation. Then in July 2006, former Secretary of State for Asia Pacific David Kilgour and Nazi hunter David Matas, published their own 140-page report. It drew "the regrettable conclusion that the allegations are true."
Along with Kilgour and Matas, the Committee to Investigate the Persecution of Falun Gong (CIPFG) has taken the lead in uncovering and exposing the organ atrocities.
It is believed that the newly added question in the DS-160 form shows the concern of the U.S. Government on this issue, and is one of the actions that the U.S. Government has taken.
Former CCP official: The U.S. Government knows about the CCP's crimes
Mr. Xiao, a former high ranking CCP official, has been paying attention to the persecution of Falun Gong for years. Regarding the newly added question on the nonimmigrant visa application form, Mr. Xiao said that it makes sense.
Mr. Xiao said: "It shows that, first, the U.S. Government knows very well about the persecution of Falun Gong and the organ harvesting; second, the U.S. Government has taken the side of justice, and taken actions against the persecution. A new question was added last year about involvement in organ harvesting. Maybe in the near future, the department of state will add questions about the persecution of Falun Gong. Everybody knows that a lot of CCP officials would like to come to America after retirement. More officials have sent their children and family here so that they can have a backup plan in case the CCP collapses in China. I guess that many of them have never heard about this new question. Many of them are still involved in the persecution of Falun Gong. It is the time for them to stop.
"Some people may think that their involvement in the persecution was in secret. If I don't tell, nobody would know that I've been involved. I will get the visa, if I say "no" to that question. However, these people should know that credibility is very important in the U.S. You can deceive people for a while, but not forever. Moreover, the competition within the CCP is intense. Your competitors and enemies in the party have been watching you closely. They may tell on you, and you will be in big trouble. I think, for those people, the correct choice is to stop being involved in the persecution. They should take it seriously when it comes to this issue. They should even take some actions against the persecution if they can," Mr. Xiao said.
Human rights lawyer: It is a good precedent for other countries.
Mr. Matas, a well-known human rights lawyer, who has been investigating the organ harvesting in China, commented on the new question: "This is useful. It is a good precedent for other countries. I will suggest the question be added for Canada. The answer of every visa applicant is likely to be no. Yet, the question serves a purpose because a person can lose status once acquired by answering this question incorrectly. The question should be added to the immigrant visa applications."
Chair of Falun Dafa Association: The murderers will be brought to justice
Mr. Sen Yang, the chairman of the Falun Dafa Association in the Mid USA stated: "The CCP and the Jiang Zemin gang have been using all kinds of methods to torture Falun Gong practitioners China. These murderers, including those who have been involved in the organ harvesting, will not be able to escape lawful punishment. Here, I call upon those who have information and evidence of the persecution to report the crimes to Falun Dafa Association overseas. I also call upon those who have been involved in the persecution to stop committing this crime and to take action against the persecution. This way, they will make up for the crimes they have committed."