True Blessings: Dafa's Grace Spans International Borders
March 25, 2012 | By Yi Jiayan
(Minghui.org) In the ancient city of Cuzco, Peru, an abandoned town stands on a mountain at an altitude of 3,800 meters (12,467 feet). At the foot of the mountain lies a small, beautifully landscaped village. The villagers diligently grow corn and graze cattle and sheep, day in and day out, year in and year out. Due to the cold, dry climate and poor soil, the villagers´ corn never grows well and is sparsely scattered throughout the fields. The villagers live a very difficult life. Many of the young men have to leave for other places to make a living.
Among such young men were the four sons of a woman named Julia.
Standing alone in front of her home, Julia stared into the green forests and rolling hills every day in hopes of her sons' return. With rough hands, she constantly wiped away the tears that blurred her eyes. She seemed to be waiting for the opportunity she has been hoping for all her life. Her 81 difficult years that had flown by had left deep imprints of age on Julia's face, and her physical condition was also worsening. Plagued by various illnesses, she was prepared to die. To add to her sadness, Julia once completely lost hearing overnight.
Julia doing the Falun Gong exercises
When one of Julia's sons finally returned home, she was astounded to see how healthy and robust he looked. She asked him how his severe spinal problem had been cured. He wept while staring at his mother's wrinkled face. He helped his mother out to the grass and demonstrated the five sets of Falun Dafa exercises. He also solemnly placed the book, Zhuan Falun, in his mother's hands. When Julia opened it and saw the photograph of Master Li on the first page, she burst into tears and clasped the book to her chest and looked up toward the heavens. With trembling lips, she was unable express her excitment at that moment.
Having read through Zhuan Falun, Julia became much healthier and threw away all the medicine bottles she needed to keep with her every day. On the second day of watching Master's Fa lecture video, she suddenly felt an aching and numbness in her ears. Later, she could finally hear again. Julia reads Dafa books more than five hours every day and she sees the words very clearly without glasses. She realized that her great changes were due to Master Li's grace. To express her gratitude, she gazes at Master's photo every day, saying softly, "Thank you, Master!"
Once, during an experience-sharing gathering, Julia emotionally talked about her cultivation experience. She also said to her son, "Our cultivation is just like cultivated corn. Now it can really grow, blossom, and fruit on the fertile land."
These are the blossoms and fruits of true happiness!
After Falun Dafa was introduced to the public by Mr. Li Hongzhi in 1992, the Chinese people were the first to reap the blossoms and fruits of happiness. Later, as Falun Dafa spread to other countries, the people of various nations and races also experienced the happiness that comes only from cultivation.
Molly Daniels, born in India in 1932, could hardly walk. She came to the United States as a Fulbright Award winner and ran a writing school for training professional writers. On March 16, 2002, as she leaned against a desk to do the Falun Gong excercises, a miracle occurred: She unexpectedly pulled herself up on her own.
Cucci, a computer programmer from Romania, suffered from glaucoma with high intraocular pressure (fluid pressure inside the eye). As a result, he was likely to soon lose his sight. Knowing this, he sought out doctors everywhere. While he was in the terrible situation of contemplating impending blindness, one of his friends recommended the Falun Dafa website to him. Since then, his life has undergone great changes.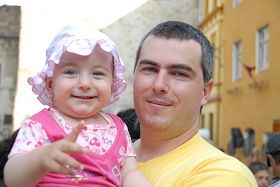 Cucci and his daughter
Woolf Temple, from Germany, used to suffer chills and cramps in his feet. When he was in his early thirties, he received two Falun Dafa books from his family members. He soon began practicing the exercises and reading Zhuan Falun. Not long after, he felt very warm and relaxed.
Daniel, a young Spanish man of appealing countenance, was fascinated with ancient oriental mythology since he was a child. One day at a health expo, he received a brochure about Falun Dafa. The next day, he drove 200 km (124 mi) with one of his friends to learn the exercises. Daniel recalled, "When I heard of Falun Dafa, although it was completely new to me, I could sense that I had some prior acquaintance with it, as if I were aware of it before. The Falun Dafa principles, Truthfulness-Compassion-Forbearance, are exactly the values that man longs for... Here I have found the gem of the culture of man – Falun Dafa."
Yonas Taddesse Biru, born in Ethiopia, said that under the guidance of Falun Dafa, he learned to be an altruistic person who always considers others before himself. By practicing Falun Dafa, he became much healthier than before, his surroundings became more harmonious, and he learned to handle confrontations with others with a peaceful mind. He concluded, "My fellow Africans, by my own testament, I truly recommend that you learn something about the practice, and you will benefit from it."
To date, Falun Dafa is practiced in more than 100 countries by more than 100 million people of different ethnic groups. There are practitioners in more than 10 countries and regions in Asia alone. In Taiwan, after Jiang's regime began persecuting Falun Dafa, the numbers of practitioners increased by more than tenfold. There are tens of thousands of practitioners in the U.S. and Canada. In Australia and New Zealand, Falun Dafa practice sites can be found in all major cities. Falun Dafa practitioners can be seen in almost every country of Europe, from Iceland to Greece, and from France to Ukraine. Falun Dafa is also embraced in South America and Africa.
Despite their differing cultural, language, and religious backgrounds, Falun Dafa practitioners everywhere have benefited from the practice. For many practitioners, their first encounter with Falun Dafa was as if finding a long-sought friend.
Tanya, from Israel, said, "When I was six years old I once sat on a hill close by my home and, closing my eyes, asked myself, 'What I should become when I grow up?' Then I saw a young man of Chinese resemblance. I asked, 'Who is he? Why is he Chinese?' The answer was not revealed to me until I was 51 years old, when I was lying helplessly in a sick bed after a major surgery in which several of my organs were removed. My time was limited and I felt that my life was meaningless, having no idea what would happen next. Later, a nurse brought me the Falun Dafa book Zhuan Falun. I was immediately absorbed upon reading it, and the way my heart felt cannot be described."
Deja Macwick Sgail, a Serbian writer, recalled, "I have contemplated the meaning of life since I was very young. I am a seeker of the Tao, or the Way. In 1999, when I was in the Czech Republic, I saw some Falun Dafa practitioners doing some meditation exercises. I was quite fascinated by the genuine peace that they projected, and it was so influential that I also felt peaceful in my mind. When I read Zhuan Falun for the first time, I knew that every character in the book was gold. At last, I had found a book as my guide for exploring the boundless universe around me. This book transcends all known subjects like physics, mathematics, psychology, philosophy, and religion. Such a book has never existed before."
There is a person who is the Deputy Prime Minister of a certain country. He belongs to the royal family of the country and is in possession of certain supernatural capabilities. He had experienced many miracles, which puzzled him very much. When he was in Beijing, he came to know a friend who practiced Falun Dafa. The friend brought him Zhuan Falun and the DVDs of the Falun Dafa lectures. The Deputy Prime Minister said, "This book possesses much more energy than any Buddhist scripture, so strong that I can feel the energy circulating all around my body." He opened the book slowly and carefully, and he began to read it. He immediately sensed the energy circulating through his hands and then throughout his whole body. He spent an entire night watching the video of Master Li teaching the Fa in Dalian City, Liaoning Province. He watched five lectures and only got 2 or 3 hours of sleep that night, but he was not tired at all and was full of energy and happiness. He eventually brought the DVDs to his family.
Mortairy, born in Washington State, U.S.A., had been in poor health since her childhood. Once, bedridden, she held a sculpture of Bodhisattva Guanyin in her palm. She, then five years old, could sense the peace and tranquility the sculpture possessed when she held it in her hand and looked at it. Many years later, when she acquired the book Zhuan Falun, the same feeling came back to her. It felt like a resonance in her heart, but was very hard to describe in words. About ten years ago, she suffered from a rare disease called Lyme (an infectious disease caused by bacteria), and the lower half of her body had lost feeling. She was in utter weakness. She cried often, not for her sickness, but for her ignorance about the reason of her life. She studied many Buddhist scriptures, learned a kind of Tibetan Buddhism from an acupuncture doctor, and consulted two monks of Tibetan Buddhism. In April of 1999, she began practicing Falun Dafa. When she read through the first page of Zhuan Falun, she lifted her head. Fixing her gaze toward the ceiling, she said, "Thank you, Master!" Her Chinese friend called her asking, "How do you like the book?" She said, "Do you know what the book does?" Her friend remained quiet. She said, "He has come, finally!"
He has finally come! Mortairy realized it in her heart. This has also been realized in the hearts of all other Falun Dafa practitioners.
He is here, finally! For people around the world, Falun Dafa has come at the right time, solemn, encompassing, and priceless. Just as in the poem, "Falun Dafa Has Come,"
"The moon, like a mirror,
Who hath thee hang in the firmament?
The Pyramid, on the earth,
For how many years has been waiting?
Falun Dafa has come
Upon his time, in his limitlessness
Connected are the lands of Europe and Asia
and are the seas of Australia and America
Be they white, black and yellow,
all men rejoice the solar warmth of thou,
Falun Dafa has come
Almighty and encompassing!"