Canada: Torture Victim Exposes Bo Xilai's Crimes while Mayor of Dalian
February 19, 2012 | By Clearwisdom correspondent Ying Zi
(Clearwisdom.net) Former Chief of Chongqing Public Security Bureau Wang Lijun's defection into the American Consulate on Feb. 6 attracted attention to his boss Bo Xilai's brutal persecution of Falun Gong. Falun Gong practitioner Jin Rong, who personally experienced the persecution in Dalian, China, during Bo Xilai's post as the mayor of Dalian, was interviewed.
Ms. Jin was a freshman in Dalian Normal University in 2000. She went to appeal for Falun Gong in Beijing and was thrown into Yaojian Detention Center and later a rehabilitation center. Ms. Jin said, "Dalian was one of cities in which Falun Gong practitioners experienced the worse persecution when Bo Xilai was the mayor. Bo cannot escape his responsibility."
Ms. Jin Rong was confined in a small cell and was shackled to a ground ring all day long in a rehabilitation center. She had to bend down or lie on her stomach. She was also threatened and subjected to brainwashing. She witnessed how Falun Gong practitioners were beaten by a group of people and force-fed after hunger strikes. She said, "They forced a tube into a Falun Gong practitioner's stomach during force-feeding and caused his death."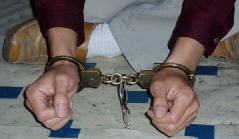 Torture Re-enactment: Shackled to ground rings
According to statistics on the Minghui website, during Bo's tenure as mayor of Dalian from 1993 to 2001, and as governor of Liaoning Province from 2001 to 2004, he proactively carried out the persecution of Falun Gong and made Liaoning one of the provinces where Falun Gong was worst persecuted. International human rights organizations verified 103 death cases due to persecution in Liaoning by April 19, 2004, leaving Liaoning the province with the fourth most deaths in the nation.
Overseas media reported Liaoning Province had invested one billion Yuan RMB on jail renovations when Bo served as the governor. Half of the investment was spent on Mashanjia. The first jail city in China was established in 2003. A large number of Falun Gong practitioners were imprisoned and tortured. A high-ranking official in the Judicial Department of Liaoning Province once said, "The money spent on dealing with Falun Gong has exceeded the cost of a war."
Former Canadian MP and Canadian Secretary of State (Asia-Pacific) David Kilgour cited a piece of evidence in his report on the CCP's live organ harvesting on May 24, 2007, "The wife of a surgeon revealed the organ harvesting from Falun Gong practitioners after her husband confessed to removing corneas from 2,000 Falun Gong practitioners at a hospital in Liaoning province while Bo was governor."
David Harris, former top official with the Canadian Security Intelligence Service and senior fellow for national security at the Ottawa-based Canadian Coalition for Democracy, said at the press conference on May 24, 2007, "The incredible wrenching asunder of families through forced divorce, the psychological torture in effect the people have undergone, not to mention the incredible physical abuses that are manifestly contrary to any notion of international law. We hear such things as the forced removal of corneas to be marketed elsewhere, corneas of political prisoners... I would like to say that in light of all of this, and in light of Mr. Bo's alleged involvement in these kinds of undertakings; allegations based, it would appear, upon convincing evidence that Mr. Bo at the very least be barred from entry to Canada on the basis of the Immigration and Refugee Protection Acts among other legal and moral imperatives."