Dr. Zhang Wei Still Detained in Banqiao Brainwashing Center in Hubei Province
December 07, 2012 | By a Minghui correspondent in Hubei Province, China
Name: Zhang Wei (张苇)
Gender: Female
Age: 38
Address: Wuhan City, Hubei Province
Occupation: Associate Professor, School of Art and Design at Wuhan University of Technology
Date of Most Recent Arrest: November 5, 2012
Most Recent Place of Detention: Banqiao Brainwashing Center (板桥洗脑班)
City: Wuhan
Province: Hubei
Persecution Suffered: Detention, brainwashing, handcuffed and shackled, hung up, interrogation, beatings, sleep deprivation, deprived of food and drink, forced labor
(Minghui.org) Dr. Zhang Wei, a 38-year-old Associate Professor at the School of Art and Design of Wuhan University of Technology, has been detained in Banqiao Brainwashing Center in Hubei Province since November 5 of this year. Her family hasn't been allowed to visit her. This is the fifth time Dr. Zhang has been imprisoned by the Chinese Communist Party (CCP).
Wuhan City National Security Bureau, the 610 Office, and the Security Division of Wuhan University of Technology were responsible for apprehending Dr. Zhang in November.
Dr. Zhang's family has tried to visit her many times but they've always been turned away. Her current condition is unknown. Her husband, Mr. Xiong Weiming, had been illegally sentenced to three years in prison with four years of probation for practicing Falun Gong. Mr. Xiong has also been brutally persecuted in a brainwashing center. Dr. Zhang exhausted her savings to hire an attorney for her husband. They have a young child who needs care.
Dr. Zhang has been persecuted relentlessly. She was arrested in Beijing on July 22, 1999, and Cao Shuqin, the university's Party secretary, locked her up for 40 days in late November 1999, because she did the exercises on campus. Sixteen people took turns monitoring her every day, while several people pressured her to renounce her belief.
Dr. Zhang was arrested again when she went to Beijing to appeal on October 1, 2000, and was held in the Xicheng Detention Center in Beijing. On November 7 of that year she was arrested when she distributed Falun Gong materials in a residential area of the Qingshan District in Wuhan. She was held and tortured at the Wuhan First Detention Center for 10 months and 19 days. She was handcuffed and hung up on a steel fence twice for a total of eight days, and was left handcuffed for 50 days one time and more than 10 days the second time.
Guard Liu Lianzhen made the practitioners' situation in the detention center worse by punishing any inmates who showed sympathy towards them. Dr. Zhang was surrounded and beaten by many inmates while she was in shackles. They pinched her nose until it bled, deprived her of sleep, and forced her to stand for long periods of time. Guards at the detention center withheld water and food from her. She was confined to a small room, where both the door and windows were kept closed during the summer but kept open in the winter.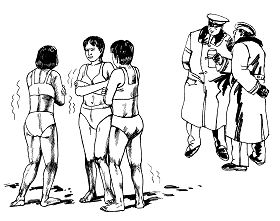 Torture reenactment: Exposing Falun Gong practitioners to extremely cold weather
Practitioners held in Wuhan First Detention Center are often insulted and subjected to forced labor. They had their clothes stripped off of them on snowy days and were forced to stand at the yard for a so-called "safety inspection."
After Dr. Zhang was released, she was harassed by the local police and the university Party secretary. They tried to send her to the Tangsunhu Brainwashing Center but failed.
Dr. Zhang is steadfast in her belief. She has benefitted greatly from practicing Falun Gong. Her hepatitis and mumps were cured after she began practicing. She followed the principles of Falun Dafa and became a very tolerant person and a hard-working employee.
Background of the "Legal Education Center of Hubei Province"
The "Legal Education Center of Hubei Province," which is run by the Hubei Province 610 Office, is actually a facility for brainwashing Falun Gong practitioners from every part of China.
More than 50 brainwashing sessions have been held there during the past ten years. More than 1,200 Falun Gong practitioners have been persecuted at the center, including Wang Haoyun, Yang Xianfeng, and Zheng Yuling, who died as a result of the persecution. Many other practitioners were tortured to disability and experienced mental collapse due to the severity of the persecution.
The center has carried out escalated persecution since April 2011, under the direction of the Hubei Provincial and Wuhan City 610 Offices. Nearby residents often hear heart-wrenching cries from the center at the middle of the night.
Related article: "Associate Professor Ms. Zhang Wei from Wuhan University of Technology Arrested for the Fifth Time" http://en.minghui.org/html/articles/2012/11/27/136451.html
Those involved at persecuting Dr. Zhang:
Legal Education Center of Hubei Province (Brainwashing Center of Hubei Province 610 Office)
Jiang, head of the 610 Office: +86-27-87234314, +86-27-87233774
Zhou Shuiqing, head of the Legal Education Center of Hubei Province
Gong Jian, head of the management and education section, head of politics section, in charge of planning and implementing persecution
Wan Jun, head of the clinic, responsible for force-feeding
Please refer to the original Chinese article for more people and offices involved at the persecution.