Missouri, USA: Mayor of St. Peters Condemns Organ Harvesting (Photos)
October 27, 2012 | By a Falun Gong practitioner in Missouri
(Minghui.org) The Truth, Compassion, Tolerance International Art Exhibition was held in City Hall of St. Peters, Missouri from Oct. 12 to Oct. 22, 2012. More than twenty pieces of artwork told extraordinary stories about how Falun Gong practitioners in China have faced brutal persecution with steadfastness and peace. Many of those who visited the exhibition were deeply touched by the Falun Gong practitioners' spirit and shocked by the brutality of the Chinese Communist Party.
Mayor Len Pagano attended the opening ceremony of the exhibition and said, "What I like about the paintings, they really do tell a story of what took place (in China). I really believe that art is an expression of all facets of life. The paintings explain the beliefs. I know China and United States have been doing things together for many years. But there are still some things in China I guess I'll never agree with. Truthfully, I'm just learning about the organs (harvesting), etc. They need to understand where did this come from, how does it happen. The benefits (to St Peters residents) will be awareness of China. I think the citizens in St. Peters, as well as visitors from all over, they will have to agree with me."
Mayor Pagano said on seeing the painting about organ harvesting, "Whoever the person is that wants an organ, I think they would say I wouldn't want that organ. That's wrong." He took out his driver's license and showed the bar code on the back. "My driver's license, on the back, see this barcode? If I'm in an accident, I'm brain-dead, or whatever it is, I gave them permission to take my organs for life. But it's done by my choice. This man, he didn't even have a card. They just said, it's your turn."
Pointing at the painting, he said, "If you look at his face, there's no doubt in my mind, the man is alive. There is no mercy. There is no medicine. There is no care. But there is pain there. There is hurt. So I think the citizens of St. Peters will be coming here. So that really says it all."

Mayor Len Pagano expresses his feeling about the artwork.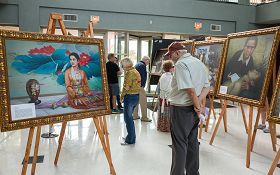 Art exhibition in City Hall

Art exhibition in City Hall
Visitors of the art exhibition admired the artists' skill. The characters in their artwork seem to communicate with viewers, many of whom were moved to tears.
Mr. Mike Hill, a financial adviser, told the reporter, "I wasn't aware of the persecution of these particular individuals because of their faith. But it just seems terrible to me if there is so much persecution for anybody for their belief like that. The display of these arts certainly enlightens people."
Ms. Mary Ann Tischler said, "I knew a little bit about the persecution of Falun Gong. Along with the persecution also comes with the horrific acts documented like the harvesting of organs, using these bodies like something they can sell. No concern for the human loss to the individual they are killing, as well as their family. And the children's pictures are so touching, because they really do express so much from the view of a child. So innocent, innocent victims! It's very strong, really pulls your heartstrings. It really makes you understand more and to sympathize with the people who undergo this torture. I appreciate this chance to see these things. The artists are fantastic! Their ability to paint this way and depicted these feelings that come across to you through these paintings. Not only the methods in which they painted that transcribed the picture, but being able to get emotional depiction and emotional reaction in the person who sees it."
The following are some comments from the signature book.
"Deeply moving and most expressive to bring attention to these crimes which are still happening. Thank you for your having made me aware of these things."
"Beautiful! Master pieces! Brought us to tears. Touched my spirit."
"No words can express this. I have been educated!"
"A truly amazing life story of despair, faith and hope, which I feel is truly reflected in your most excellent artwork."
"This art display & info on the barbaric practice of organ harvesting brought angst and tears to think such events are happening in the world today."