Munich, Germany: Oktoberfest Draws Visitors to Petition Against Illegal Organ Harvesting (Photos)
October 11, 2012 | By Dexiang
(Minghui.org) Falun Dafa practitioners held an activity in Munich, the largest city in southern Germany, on October 6, 2012 in support of Chinese people quitting the Chinese Communist Party (CCP) and its affiliated organizations. A booth was set up in front of St. Michael Church, with banners and posters that expose the brutal persecution of Falun Gong in China. Falun Dafa informational materials were distributed to passersby. The activity took place during the 2012 Beer Fest (Oktoberfest), when many people from around the world gather in Munich. Many signed the petition asking the CCP to immediately stop the heinous atrocities.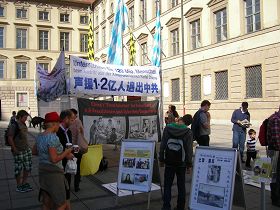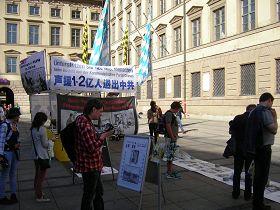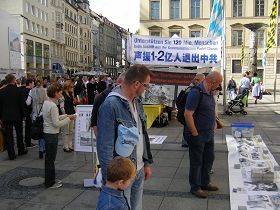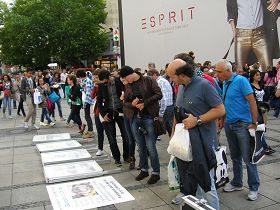 Falun Dafa practitioners clarify the truth of the persecution in China during Oktoberfest. Visitors from around the world gather to read the information.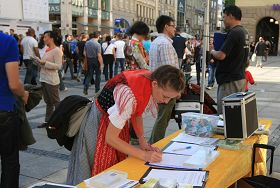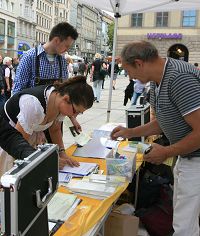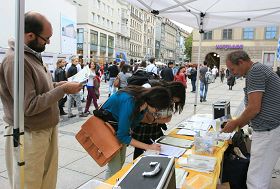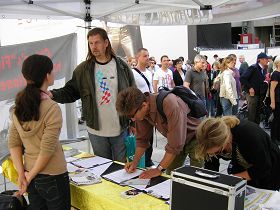 Visitors sign the petition condemning the CCP's heinous crimes of forced organ harvesting from living Falun Gong practitioners.
After the practitioners put up the banners and posters with photos and information on the forced organ harvesting from living Falun Gong practitioners in China, many people stopped to read them. A lot of people signed the petition forms, which will be sent to the UN Commission on Human Rights. The visitors came from a variety of cities and countries.
The practitioners used up all the forms they had prepared. Practitioner Mr. Chen said, "It looks like there are signatures from every part of the world."
Many of the tourists were from China. They took pictures and video. Many people inquired about Falun Gong and the persecution. One of them said, "I really hope more Chinese people will come to see what is going on." Many people from China quit the CCP and its affiliated organizations right there. Several told the practitioners that they often used software to circumvent China's Internet firewall and read news from outside of China.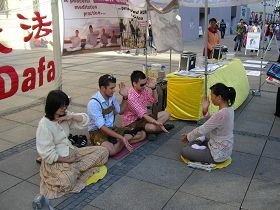 Two Bavarian men learn the Falun Dafa exercises
Many passersby inquired about the location of practice sites in different countries. Some sat down to learn the exercises right there. Practitioner Ms. Teng said, "The situation is very different now. More and more people have learned the truth. Most Chinese people now readily accept the truth clarifying materials, including those who were unfriendly in the past. Some Chinese people were deceived by the CCP lies and misunderstood Falun Dafa. However, their attitudes changed immediately once they learned the truth about the persecution."