Ms. Wang Huimin Tortured in Liaoning Province Women's Prison
January 20, 2012 | By a Clearwisdom correspondent in Liaoning Province, China
Name: Wang Huimin (王惠敏)
Gender: Female
Age: 67 (Born in 1945)
Address: Zhangqian District, Yingkou City, Liaoning Province
Occupation: Unknown
Date of Most Recent Arrest: October 20, 2004
Most Recent Place of Detention: Liaoning Province Women's Prison (辽宁省女子监狱)
City: Yingkou
Province: Liaoning
Persecution Suffered: Sleep deprivation, forced labor, brainwashing, illegal sentencing, forced injections/drug administration, beatings, imprisonment, torture, force-feedings, extortion
(Clearwisdom.net) Ms. Wang Huimin is a practitioner in Yingkou City, Liaoning Province. After she began practicing Falun Gong, her illnesses disappeared and she became very kind and considerate of other people. However, she was arrested in 2004 and sentenced to six years of imprisonment. Guards in Division 8 of Liaoning Province Women's Prison ordered criminal inmates to torture her.
Improved in mind and body after practicing
Ms. Wang used to have numerous illnesses including heart disease, varicosity, and osteoporosis. After she started to practice Falun Gong in late June 1999, all these illnesses disappeared in a short time.
Arrested and beaten in 2003
Agents from Haidong Police Station in Yingkou City arrested Ms. Wang on August 21, 2003. They stole several of her personal items and cash worth more than 14,000 yuan. After police took her to the Domestic Security Division, one agent interrogated her and slapped her in the face. She was then transferred to the Bayujuan Detention Center that afternoon. She went on a hunger strike in the detention center, with no food or water. Guards force-fed her on the eleventh day. When she was sent to a hospital on the twelfth day for an I.V. injection, she escaped.
Arrested in 2004 and sentenced to six years
The police arrested Ms. Wang again at her home in Gaizhou City on October 20, 2004, and took dozens of personal items. Later that day they took her to the Gaizhou Detention Center. She refused to provide her name or address and did not agree to have her picture taken. However, the guard secretly took a picture of her while she was being interrogated.
Soon afterwards, agents from the Bayujuan District Domestic Security Division recognized her in the detention center. Thirty days later detention center officials transferred her to two agents from the domestic security division. She was then taken to the Bayujuan Detention Center.
Tortured in Liaoning Province Women's Prison
On July 4, 2005, the detention center doctor injected Ms. Wang with unknown drugs. She experienced great discomfort afterwards and vomited. She was then transferred to Division 8 in the Liaoning Women's Prison with a term of six years, until October 8, 2011.
The day after she entered the prison, division head Liu Yili interrogated her. Liu ordered inmates to tie her up with her arms restrained behind her back. She was not given any food and was denied access to a toilet. Two inmates were assigned to watch her 24 hours a day. Guards forced her to sit on a small stool (30 cm x 20 cm) and recite the prison rules. She was abused this way for one month.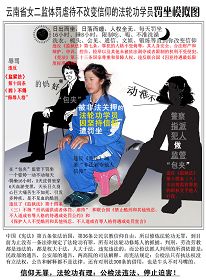 Torture reenactment: Forced to sit on a small stool
To force Ms. Wang to give up her spiritual belief, inmates including Bi Bo and Wang Peng removed her clothes one evening, leaving her only in her underwear. They dragged her to a washroom and poured cold water over her, while demanding that she renounce Falun Gong. After this went on for more than 10 minutes, she yelled out, "Stop!" The inmates were shocked and stopped.
The inmates resumed torturing her the next day. Inmate Wang Peng kicked Ms. Wang in the ribs and legs. Bi Bo beat her with plastic slippers so hard that the slippers were broken. The torture continued every day. During those days, Bi Bo wrote a statement for Ms. Wang to give up her practice, and forced her to press her fingerprints on it. Bi Bo also forced her to read materials that slandered Falun Gong and restricted her access to a toilet. She also deprived Ms. Wang of sleep and forced her to squat down to recite the prison rules until midnight.
One day, Bi Bo and several other inmates pulled Ms. Wang into the bathroom, beating her and kicking her hard. When she talked about this with division head Liu Yili, Liu shocked her with an electric baton. As a result, Ms. Wang had blisters both inside and outside her mouth, and the wounds did not heal for a long time.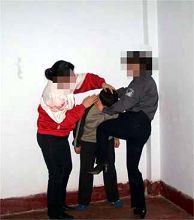 Torture reenactment: Brutal beating
After inmate Wang Ying hit Ms. Wang with a wooden board on her head and her face, her eyes were bruised and black and blue. Another time inmate Wang Ying and Bi Bo shoved Ms. Wang down on the concrete floor and hit her head. She got a big bump on her head and was dizzy and could not stand up for a long time. Inmate Bi Bo and another inmate once forced Ms. Wang to recite the prison rules and hit her with a broom so hard that the broom handle broke. Another time, several inmates (Bi Bo, Wang Ying, Wu Ying, and Liu Xiaowei) stripped her of all her clothes except for her underwear. After tying her to a bunk bed with her arms stretched far apart, Bi Bo and Wang Ying kicked her legs savagely and wrote slanderous words on her body.
One day after returning to the cell from the work unit, before Ms. Wang changed her clothes, Bi Bo and Wang Ying poured cold water on her from head to toe. They then kicked her down to the floor, stomped on her stomach, and deprived her of sleep. She was forced to wear the wet clothes the entire night and went to work the next morning like that.
Bi Bo also forced Ms. Wang to stand while working with other detainees. This lasted three months. For a long time, inmates Bi Bo and Wang Ying have been restricting her access to the toilet, sometimes not even allowing her to go once in an entire day. When Ms. Wang went to the bathroom herself during the night, Wang Ying followed her, hitting her and swearing at her. Because she was unable to endure this form of torture any longer, she wrote statements to give up Falun Gong against her will.
The guards in Division 8 often incited inmates, especially those who are eager to reduce their terms, to torture practitioners. Inmates watched practitioners 24 hours a day and often beat them at will. This way, guards created opportunities for the inmates to commit hate crimes against Falun Gong practitioners and the inmates do it to further their own interests.