610 Office Again Arrests Former Defense Researcher Li Zhigang
September 07, 2011 | By a Clearwisdom correspondent from Hunan Province, China
Name: Li Zhigang
Gender: Male
Age: 42
Address: Chaoyang St., Erlipai, Furong District, Changsha City, Hunan Province
Occupation: A soldier and an assistant research fellow at the National Defense University Computer Science Institute
Date of Most Recent Arrest: August 19, 2011
Most Recent Place of Detention: Laodaohe Brainwashing Center (捞刀河洗脑班 )
City: Changsha
Province: Hunan
Persecution Suffered: Forced labor, brainwashing, illegal sentencing, brutal beatings, imprisonment, solitary confinement, torture, extortion, fired from workplace, physical restraint, home ransacked, interrogated with torture, detention, living under surveillance, denied visitation.
On the afternoon of August 19, 2011, police from the Chaoyang Street Police Station hid near the home of Falun Dafa practitioner Li Zhigang and his mother in Furong District, Changsha City, waiting for them. They arrested Li and his mother and that night, Li Zhigang was taken to the Laodaohe brainwashing center, organized by the Changsha City 610 office. This is the fourth time that Li Zhigang has been arrested by the CCP since the persecution of Falun Gong began in July 1999.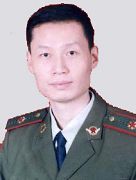 Li Zhigang, Assistant Research Fellow at the National Defense University
Because of his belief in Truth-Compassion-Tolerance, Li Zhigang has suffered forced labor, military discharge, jail sentencing, etc. during the past 12 years of the CCP's persecution of Falun Gong. Altogether, he has spent more than seven years in detention. Li Zhigang was just released from the Xinkaipu Labor Camp in Changsha City at the end of Sept. 2010. In less than one year, he was arrested again and taken to the Laodaohe Brainwashing Center.
Arrested in Broad Daylight
On the afternoon of August 19, 2011, Li Zhigang went out for a walk with his mother. At around 5pm, when they arrived the gate in front of their residential building, a group of plainclothes policemen suddenly surrounded them. Once they confirmed the identity of Li Zhigang, the leading man dragged him, while the others held, pulled and encircled him.
Witnesses saw the lead man cuff Li Zhigang's hands tightly behind his back. A white car pulled up, and the men held Li Zhigang's arms and legs and pushed him into the car. Li's mother was also pushed into the car. Li Zhigang shouted: "I am a good person, I follow the principles of Truth-Compassion-Tolerance to be a good person. Why do you arrest good people?"
None of the men responded, nor did anyone show their ID or give any explanation. Li and his mother were taken to the Chaoyang Street Police Station.
Soon after they arrived at the police station, the police took Li's mother's purse and her key. Then, they used the key to enter Li's home. They searched his home, confiscated his laptop and Falun Gong books, and forcefully arrested a friend of his, who was visiting at that time.
Li's mother was released that night. Li Zhigang and his friend were taken to the brainwashing center in Laodaohe. This brainwashing center was called Changsha Legal Education and Training Center, but it is actually a prison the 610 office uses to detain Falun Gong practitioners.
Arrest Planned by the 610 Offices from Hunan Province and Changsha City
About a month earlier, on the morning of July 16, the Chaoyang Street Police Station and Neighborhood Committee, and staff from the Furong district government, directed by the 610 office of Changsha City and Hunan Province, attempted to take Li Zhigang to the Laodaohe Brainwashing Center. Several police cars came with more than 20 policemen. At least ten policemen banged on the door of Li Zhigang's home. They harassed Li Zhigang for more than three hours.
Li Zhigang argued with them and refused to go. The officers did not leave until they forced Li's family to promise that Li Zhigang would not leave home for a week. After that, the 610 office sent staff to monitor Li Zhigang near his home.
On the afternoon of August 19, Li Zhigang and his mother were arrested.
After Li Zhigang was taken to the brainwashing center, his family was not allowed to visit him. On August 22, a woman claiming to be from the 610 office of the Chaoyang Street Neighborhood Committee asked Li Zhigang's mother about the identity of Li's guest who was arrested. Currently, the guest refuses to eat or drink in protest of the arrest and detention.
To prevent the free flow of information, control the minds of Chinese people, and maintain their authority, the CCP has spent a huge amount of money and effort to block the internet. They secretly track or tap phone calls of practitioners all the time. They try hard to undermine the truth-clarification material printing sites or sites where practitioners can freely access the internet, and persecute practitioners who have special skills or leadership abilities. The CCP regarded Li Zhigang as highly talented in computer science, which is why the 610 office specifically targeted him. Li Zhigang was released from the labor camp less than one year ago because he was injured by torture. He was monitored by the 610 office, arrested again, and taken to the Laodaohe Brainwashing Center.
Frequently Persecuted for Practicing Falun Gong
Li Zhigang started the practice of Falun Gong in 1998. After he read the book Zhuan Falun for the first time, he was deeply touched. He said with excitement: "I did not know that there was such a great book in the world!" After he started cultivation, his shoulder recovered. He also easily quit smoking and drinking and became more energetic. Li Zhigang was strict with himself in following the principles of Truth-Compassion-Tolerance to become a better person.
In July 1999, the CCP leader Jiang Zemin used his authority to forcefully crackdown on Falun Gong nation wide. Numerous innocent practitioners were suppressed, including practitioners in the Chinese military system. Just for sticking to his belief, the political department of the National Defense University sentenced Li Zhigang to one and a half years of force labor in the Guangzhou Military Labor Camp in May 2000. In August 2002, the security branch of the political department of the National Defense University arrested Li Zhigang again. In Jan. 2003, he was transferred to the Military Prosecutor in Beijing. He was detained for eight months in the Beijing Military Detention Station, where he suffered excessive torture. In Sept. 2003, the Military Court in Beijing sentenced Li to five years in prison. He was detained in the Military Prison in Chenzhou, Guangzhou, and Jinshi Prison in Hunan Province, respectively. In June 2005, the National Defense University rescinded his military status, in effect, discharging him from the military and his job.
In Sept. 2007, after much physical torture and mental abuse, Li Zhigang was finally released. The Police Station of the National Defense University and the Chaoyang Street Police Station both denied responsibility and refused to provide residential registration for Li Zhigang. At the same time, the Chaoyang Street Police Station monitored Li Zhigang. The police constantly called or visited him, which disrupted the normal life of Li and his family. In 2008, before the Beijing Olympics, policemen from this police station, as wells as staff from the Erlipai community district came to Li's home multiple times and harassed them.
Beaten by the Police and Getting Sick
On the night of April 17, 2010, the Qiaoyi Police Station in Wangcheng county, Hunan Province arrested Li Zhigang and another practitioner with the excuse that someone reported them for distributing Shen Yun DVDs. Three policemen brutally beat the two practitioners for more than twenty minutes. Li Zhigang's leg bled continuously after he was kicked. In the Qiaoyi Police Station, Li Zhigang and other practitioners were tortured and interrogated for 7-8 hours. They were beaten and verbally abused, which lasted until the next morning. The policemen did not stop until they were tired. Li Zhigang was injured all over his body.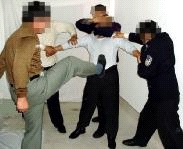 Torture Re-enactment: Savage Beating
When Li's family saw him in the detention center, it was already ten days after the torture, but Li still had wounds all over his body. There were obvious wounds on his eyes, ears and arms. There was a palm size stain of blood on his thick cotton pants. His legs were full of bruises. After the beating, Li Zhigang started to cough, causing pain in his chest and back, and preventing him from getting sleep at night.
After 15 days of detention, Li Zhigang was taken for another two years of forced labor. On May 1, 2010, Li Zhigang's physical health was so poor that the Xinkaipu Labor Camp refused to accept him. The Domestic Security Bureau of the Wangcheng County Police Department cheated Li's family and took Li to the Laodaohe Brainwashing Center for about half a month. Around May 20, they took Li Zhigang to the Xinkaipu Labor Camp in Changsha City, Hunan Province.
Li's physical condition has not recovered from the beating yet. In Sept. 2010, the hospital diagnosed Li Zhigang with coronary heart disease, hypertension and emphysema. The next day, Li's family took him back on temporary release for medical treatment.
Within one year after he came back home from the labor camp, on August 19 this year, Li Zhigang was arrested again by the Chaoyang district Police Station. Li's family members are very worried about his situation.
Currently, practitioner Li Zhigang and his guest have already been detained for nearly ten days in the prison set up by the 610 office.
People and Organizations responsible for the persecution:
The original Chinese article contains more names and contact information.
610 office in Hunan Province,
Director: Shen Yu: +86-731-82219065 Office +86-13908468373 (Cell)
The 610 office in Changsha City:
Wu Zhibin, director, +86-731-88667548 Office +86-731-85070065 Home +86-13307310607 (Cell) +86-13308408731 (Cell)
The Laodaohe Brainwashing CenterDirector: Wu Kaiming, +86-731-88667549(Office) +86-731-85133270(Home) +86-13319578855 (Cell) +86-13308408731 (Cell)
Vice Director: Shi Jin +86-13308476059 (Cell)
610 office in Furong district, Changsha City:
Director: Jian Xinhua, +86-731-84683178
Related article:
http://clearwisdom.net/html/articles/2010/6/9/117730.html
Chinese version available at http://minghui.ca/mh/articles/2010/5/20/224027.html