Croatia: "Falun Dafa Information Day" Activities Held in Various Cities Around the Country
August 02, 2011 | By Falun Dafa practitioners from Croatia
(Clearwisdom.net) During the week of July 10-16, 2011, Croatian Falun Dafa practitioners held a series of six "Falun Dafa Information Day" activities in various cities around the country in which they introduced Falun Dafa to the citizens of Croatia, and informed them about the current situation in China. The practitioners also reminded visitors of the fact that July 20, 2011 marks twelve years since the Chinese Communist Party (CCP) initiated its brutal persecution of Falun Gong in China.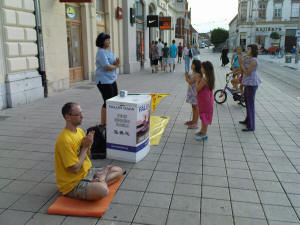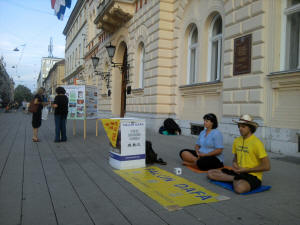 The first three information days were held in three cities in the Slavonija region, including Slavonski Brod, Osijek, and Vinkovci. Many passersby were interested in learning about the practice, and asked questions about what Falun Gong is. After finding out about the persecution in China, many expressed that they already knew about the brutality of the communist regime. Others asked about the exercises, regarding where and how they could learn them. A couple of girls from Osijek joined the practitioners in their exercises and asked to learn all five. They followed the movements with great attention.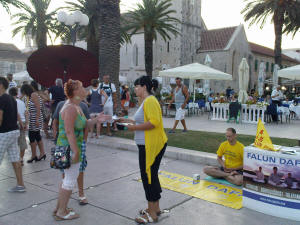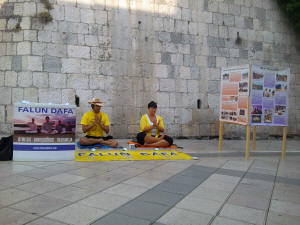 The next three information days were held in the region of Dalmatia. The first was held in Split, followed by Trogir and Zadar. These three Dalmatian cities were full of tourists, and the practitioners talked with people from Sweden, Germany, Italy, the Czech Republic, Hungary, Poland, South Africa, and the USA, and handed out fliers in their languages. Many passersby, both locals and tourists, had not heard of Falun Gong nor about the current situation in China, and they thanked the practitioners for the information. One family of five from Sweden walked past the practitioners and refused to take a flyer the first time, but on the way back the father came to the practitioners and asked what it was all about. After the conversation he said, "Thank you for a very good explanation. I wish you a lot of success!"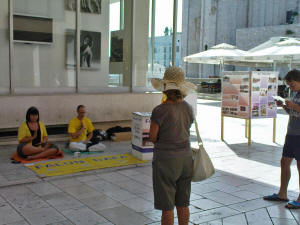 One tourist from Italy came to Zadar just for that day, and when he saw Falun Gong practitioners he immediately started following the exercise movements. He said that this was the third time he had encountered Falun Gong. He saw one information day set up in Germany, one in Spain, and he saw the third in Croatia. He took a flyer in Italian, spoke to the practitioners, and said that he would make sure to read the website in detail, because coming across Falun Gong three times could not be a coincidence. A group of tourists from Taiwan walked by the practitioners and they said in surprise, "Oh, Falun Gong!" They told the practitioners that they were not from China, saying that they knew that Falun Gong is persecuted in China, but that they did not support the persecution.