Taiwan: Local Politicians in Pingtung Support Falun Gong (Photos)
(Clearwisdom.net) On July 17, Falun Gong practitioners from Pingtun, Taiwan held a candlelight vigil at the popular tourist spots, Eluanbi Park and Hengchun Historic Remains, commemorating those who have been tortured to death during the persecution in China. Several local council members participated in the vigil.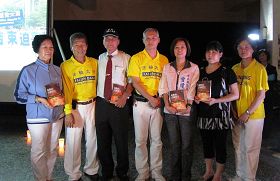 County council members and Falun Gong practitioners
These two tourists spots are the most famous ones in southern Taiwan. Many Chinese tourists visit every day. Falun Gong practitioners held banners at the park, and passed out many truth-clarifying materials to Chinese people.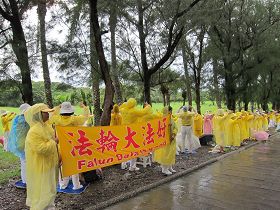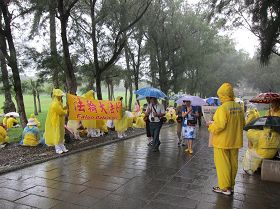 Practitioners hold banners and do exercises in the rain
The candlelight vigil started after dusk. Each of the council members held a candle and gave a speech condemning the brutality of the Chinese Communist Party.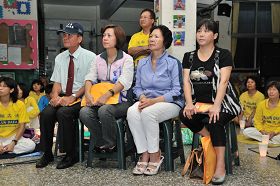 Watching a Falun Gong film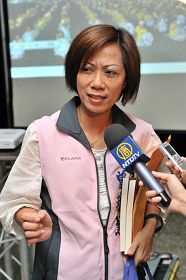 Council member Zeng Qionghui
Practitioners played a truth-clarifying film for the council members. Council member Zeng Qionghui said that she will give the book Bloody Harvest, by independent investigators David Matas and David Kilgour, about the harvesting of organs from living practitioners, to President Ma Yingjiu, and ask the President to help stop the persecution.
Mr. Yang Qiunan, the principal of Saichia Elementary School in Pingtung and a Falun Gong practitioner, told the council members his own experience of being discriminated against in Hong Kong. He also briefly reviewed some facts of the persecution, and told the council members that it has been confirmed that 3,428 practitioners have been tortured to death. Many more are jailed or have had to leave their homes due to the persecution.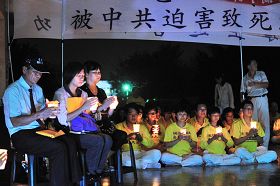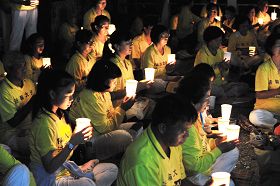 The candlelight vigil
Mr. Yang Qiunan also called upon Taiwanese people, who enjoy freedom, to pay more attention to the persecution and support Falun Gong practitioners.
Ms. Liu Huaying is from Shandong, China. She married a Taiwanese man and came to Taiwan 17 years ago. She said that when she was visiting China years ago, she witnessed policemen arresting Falun Gong practitioners. She started practicing Falun Gong about six years ago. Now, she spends a lot of time making phone calls to China, telling people the truth about Falun Gong and the brutal persecution. She also urges Chinese people to quit the CCP. "Many Chinese have recognized the evil nature of the CCP. It is not very hard to convince them to quit the Party now," she said.
Several practitioners said that they have benefited a lot from practicing Falun Gong, so they wanted to join the event to tell people that Falun Dafa is good.