U.S. Congress Members Support Falun Gong Practitioners' 12 Years of Efforts to Resist the Persecution (Photos)
July 16, 2011 | By a practitioner in Washington, DC
(Clearwisdom.net) "July 20" is just around the corner, and the Chinese Communist Party's (CCP) 12-year-long brutal persecution of Falun Gong continues to gain attention and concern from the international community. Many Falun Gong practitioners from around the world gathered as they have done in previous years in Washington, DC, to hold large-scale activities to raise awareness about the brutality of the persecution. A number of U.S. Congressional Representatives sent letters to Falun Gong practitioners to express their support and commend the practitioners for abiding by the spirit of Truthfulness-Compassion-Forbearance. The representatives said that they would continue to make efforts to stop the persecution.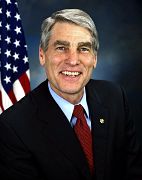 Senator Mark Udall of Colorado
Senator Mark Udall of Colorado stated in his letter, "I remain a strong supporter of your efforts to speak for those Falun Gong practitioners in China being persecuted for their beliefs. As you are well aware, reports indicate that many of those in Chinese 're-education' camps are Falun Gong practitioners sentenced to these camps based solely on the basis of their beliefs. There are also troubling allegations of Falun Gong practitioners subjected to physical and psychiatric abuse."
He continued, "China's persecution of Falun Gong practitioners has intensified since the campaign against Falun Gong began in 1999, including an increase in censorship of Falun Gong sympathetic websites, television stations, and other forms of media. This increased stifling of information about Falun Gong obscures the extent of the persecution of Falun Gong followers, a troubling prospect for those seeking truth and freedom. Your wish and that of the thousands of Falun Gong practitioners in China and around the world is merely the opportunity to peacefully practice your beliefs without fear of persecution, torture or imprisonment. The ability to live in accordance with your beliefs, both in China and in countries around the world, should not be obstructed.
"I know my colleagues in the Senate join me in supporting Falun Gong and its practitioners' quest for religious freedom and tolerance. Thanks to all of you for your relentless commitment to freedom of expression in China."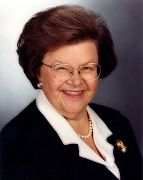 Senator Barbara Mikulski of Maryland
Senator Barbara Mikulski of Maryland stated in her letter that she would continue fighting to protect human rights around the world. She wrote, "The issue of human rights is a basic one and cannot be compromised. We must not tolerate the intimidation, detention, and prosecution of individuals because of their religious, political, or philosophical beliefs.
"China's record on human rights issues has been of particular concern to me. I believe that China's record is intolerable, and much needs to be accomplished there before we can claim progress. We must continue our dialogue with China and urge them to treat people in their country with fairness and dignity.
"Knowing of your concerns will be helpful to me as the Senate seeks ways to influence China to improve its human rights record and to be a better world citizen. You can be sure that I will continue to fight for basic human rights all over the world," concluded Senator Mikulski in her letter.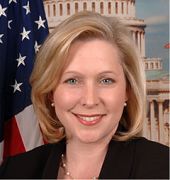 Senator Kirsten E. Gillibrand of New York
Senator Kirsten E. Gillibrand of New York said she was pleased to have the opportunity to send greetings to everyone attending the Falun Dafa Human Rights Rally. She was especially pleased to add her voice to everyone else's in recognizing Mr. Li Hongzhi, the founder of Falun Gong.
She wrote, "Since its inception, Falun Dafa has been the inspiration for the cultivation of peace. Its teachings are of truthfulness, compassion, and forbearance. Falun Dafa aspires to enable its practitioners to ascend spiritually through moral rectitude and the practice of the five exercises--four standing and one seated meditation. It is my hope that your efforts and the collective efforts of all Falun Dafa supporters will inspire others to take part in actions large and small, public and private, to build stronger communities and a better New York."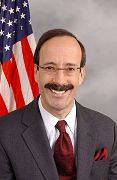 Rep. Eliot Engel (D-New York)
Rep. Eliot Engel of New York wrote, "Since the summer of 1999, the Chinese government has engaged in policies of persecution, intimidation, imprisonment, torture, and even death, all in a concerted effort to break the back of the Falun Gong movement. Today, I recognize your strength and courage in standing up to these horrific acts and commend your persistence. Accordingly, I call on the Chinese government to uphold its responsibility to protect the freedom of belief and the freedom of speech, essential freedoms that the Universal Declaration of Human Rights affords all human beings."
He continued, "In only the first half of this year, there have been no less than 35 reported deaths of Falun Gong practitioners in China. Any physical and psychological torture used against practitioners in custody is appalling and condemnable. It must end."
"Since the persecution began a dozen years ago, Falun Gong practitioners have responded to state-sanctioned violence using entirely peaceful means. Inspired by a belief in the power of truth to enliven people's consciences and drive out hatred and violence, they have sought to educate Chinese citizens on the true nature of their spiritual practice, the persecution against it, and the wider history of the Communist Party of China.
"I congratulate the supporters of Falun Gong for staying true to your pacifistic ideals in the face of such extreme adversity. I admire your courage in assembling here today at the United States Capitol and rising in peaceful unison to be heard. I thank you for continuing to ensure the United States and the rest of the world are aware of your plight. And finally, I hope that this coming year is the year we see significant progress and the reversal of some of these most disturbing actions on the part of the Chinese government."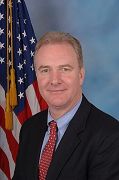 Rep. Chris Van Hollen of Maryland
Rep. Chris Van Hollen of Maryland stated in his letter, "I share the Obama Administration's support for religious freedom in China. I also share its deep concerns about the Chinese government's harsh treatment of individuals who practice Falun Gong. The US continues to raise its concerns with the Chinese government about religious persecution in China of Falun Gong practitioners and others and to urge the Chinese government to be more accountable to its citizens and to treat all its people in accordance with its constitution and with universal human rights standards."

"I join you in urging the government of China to uphold and respect the human and religious rights of its people and I urge the Chinese government to end its persecution of Falun Gong."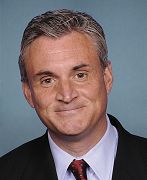 Rep. Robert Andrew of New Jersey
Congressman Rob Andrew wrote, "Twelve years ago, the Chinese government made the decision to persecute the millions of Falun Gong adherents in China, because it viewed the practice of this religion as threatening to its communist ideology. China's lack of religious freedoms had led to its designation as a 'Country of Particular Concern' by the U.S. Secretary of State for over a decade, as China's persecution of its own citizens is not limited to one religious or spiritual group."
He continued, "I support this rally to raise awareness of the twelfth year of persecution of Falun Gong practitioners. This spiritual discipline focuses on gentle meditation and traditional Chinese exercises combined with a philosophy grounded in truthfulness, compassion, and tolerance. Before the government began its persecution, it was estimated that there were 70 million Falun Gong adherents in China; however, the state has killed thousands through torture and police abuse, while hundreds of thousands have been imprisoned, often in labor camps. Some imprisoned Falun Gong adherents have been physically and psychologically coerced into renouncing their belief system. Even those who have not lost their freedom or their lives face discrimination and harassment for their beliefs. Attorneys who represent Falun Gong practitioners can be disbarred or arrested, and even family members of practitioners who do not practice Falun Gong themselves have been arrested."
"It is shocking that religious persecution on such a wide scale still exists in this day and age, so the importance of this rally cannot be overlooked. I join the adherents of Falun Gong in renouncing China's mistreatment of their fellow believers, and urge China to end its official and unofficial policies which have led to the torture, imprisonment, and killing of Falun Gong practitioners whose only crime is their deeply held religious belief," concluded Rep. Robert Andrews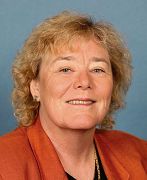 Rep. Zoe Lofgren of California
In her letter, Rep. Zoe Lofgren of California expressed her support for all who seek basic human rights and freedoms on the occasion marking twelve years since the Chinese Communist Party began the persecution of Falun Gong. She wrote, "Particularly as we watch the moving images of young people fighting for democracy in the Middle East, we are reminded of the repression that so many around the world face every day. I commend you for bringing attention to the persecution occurring in China, and for speaking out in favor of tolerance and democratic freedoms."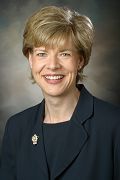 Rep. Tammy Baldwin of Wisconsin
Rep. Tammy Baldwin of Wisconsin wrote, "As you all know, Falun Gong is a traditional Chinese spiritual discipline which consists of moral teachings for daily life, meditation, and exercise based upon the principles of truthfulness, compassion, and tolerance. According to the 2008 Annual Report of the Congressional-Executive Commission on China, tens of millions of Chinese citizens practiced Falun Gong in the 1990s and adherents to the spiritual movement inside of China are estimated to still number in the hundreds of thousands despite the government's ongoing crackdown.
"Since the 1990s, the Communist Party has grown its campaign to eradicate Falun Gong--banning books on Falun Gong, criminalizing its practice, and engaging in mass arrests of its practitioners. Falun Gong practitioners continue to be at particularly high risk of torture and ill-treatment in detention and constitute at least half of the 250, 000 officially recorded inmates in re-education through labor (RTL) camps.

"Today, I add my voice to support the Wisconsin Falun Dafa Association in calling for an end to the persecution of Falun Gong in China, and celebrate the Chinese citizens who are taking a principled and peaceful stand by rejecting the violence and inequity of Communist Party rule."
Background
Falun Gong, also known as Falun Dafa, is a traditional Chinese spiritual discipline for mind and body. The practice involves slow, gentle movements and meditation. It is easy to learn, enjoyable to practice, and free of charge. Its principles are based on Truthfulness-Compassion-Forbearance. The practice was first introduced by Master Li Hongzhi in China in 1992 and quickly spread by word of mouth throughout China and then beyond. Its beneficial effects in uplifting an individual's physical health, spiritual well-being, and moral character, not to mention its positive influence in the community and society as a whole, have been undeniable. In fact, Falun Gong is practiced by over 100 million people in 110 countries. The main works of Falun Gong are available in over 30 languages.
On July 20, 1999, the Chinese Communist Party (CCP) launched a brutal persecution of Falun Gong. Since the start of the persecution, practitioners throughout the world have been speaking out about the truth of Falun Gong and exposing the CCP's crimes in a tireless effort to end the persecution. Facts have proved that the persecution is not only targeted at Falun Gong practitioners' belief in Truthfulness-Compassion-Forbearance, but is also an attempt to destroy everyone's moral principles and spiritual values.