High Voltage Electroshock Torture Tools Used at Panjin Prison
July 15, 2011 | By a practitioner in China
(Clearwisdom.net) On April 19, 2009, Panjin Prison authorities ordered District 5, (now changed to District 2) of Panjin Prison in Liaoning Province, to severely torture Falun Gong practitioners. At 1:00 p.m. that day, guards forcibly took practitioners Mr. Huang Lizhong and Mr. Gong Wanyou to a confinement team that brutally tortured them for four hours. The torture was administered for three consecutive days, and ended at 3:00 p.m. on April 21.
The torture consisted of shocking the practitioners' entire bodies with 1.5 million-volt electric batons, and beating their faces and heads with the soles of shoes.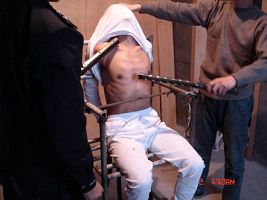 Torture re-enactment: Shocked with an electroshock weapon
As the result of the cruelty, Mr. Huang Lizhong and Mr. Gong Wanyou were covered with cuts and bruises. Their faces, lips, and heads were deformed by the resulting swelling. It was difficult to recognize who they were.
At that time, Falun Gong practitioners Mr. Yang Jiangwei, Mr. Zhao Lu, and Mr. Lu Binggui were also tortured in the same way.
The main participants in the torture were Wang Jianjun, captain of the guards; Wang Hui, chief of discipline and education; and guards Liu Xingyuan, Chen Chao, Sun Yudong, Hao Yuchang, Dou Chun, Wu Dong, Zhang Fude, Liu Jichun, Wang Yulong, Ma Ying, and Liu Wenzhen.
More information about Mr. Huang Lizhong can be found at
The Persecution and Torture of Huang Lizhong Prior to His Death (Photos)
http://www.clearwisdom.net/html/articles/2010/4/20/116209.html