Update: Mr. Wu Yang Sentenced To Seven Years in Prison (Photos)
July 11, 2011 | By a Clearwisdom correspondent from Inner Mongolia Autonomous Region, China
Name: Wu Yang (武阳)
Gender: Male
Age: Unknown
Address: Chifeng, Inner Mongolia
Occupation: Unknown
Date of Most Recent Arrest: April 22, 2009
Most Recent Place of Detention: Inner Mongolia 2nd Men's Prison (内蒙古第二男子监狱)
City: Hohhot
Province: Inner Mongolia
Persecution Suffered: Brainwashing, illegal sentencing, beatings, hung up, imprisonment, torture, home ransacked, interrogation, detention
(Clearwisdom.net) Mr. Wu Yang, also known as Wu Zhijun, is a Falun Gong practitioner from Chifeng, Inner Mongolia. He was arrested while he was distributing Shen Yun Performing Arts DVDs in Beijing on April 22, 2009. Beijing police arrested his wife, Ms. Sun Ming, the same day and tortured her to death, then claimed that she died from jumping off a building. A court held trials of Mr. Wu on February 14, 2010 and April 9, 2010, and sentenced him to seven years in prison. The authorities withheld Mr. Wu's whereabouts from his family until May 2011. Mr. Wu is imprisoned at the Inner Mongolia 2nd Men's Prison.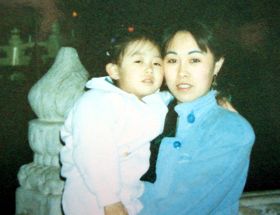 Ms. Sun Ming and her daughter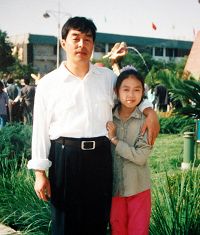 Mr. Wu Yang and his daughter
Beijing Fengtai Court gave no verdict after the April 9, 2010 trial. The court kept saying the case was in process when answering phone inquiries from the lawyers and the family. It wasn't until October 2010, six months after the trial, that the family got an anonymous phone call telling them that Mr. Wu was sentenced to seven years in prison. By then, the appeal grace period was over.
Mr. Wu was detained at the Beijing Xuanwu District Detention Center, the Beijing Dougezhuang Detention Center, and the Fengtai Detention Center. While he was detained at the Dougezhuang Detention Center, his family mailed him 1,000 yuan. Guards signed the mail receipt but refused to give Mr. Wu the money. He had to ask others even for toilet paper [note: basic necessities generally have to be purchased in prison by the detainees]. After Mr. Wu was transferred to the Fengtai Detention Center, the guards there acknowledged the transfer of funds but would not give him the money.
In May 2011, the family was finally informed that Mr. Wu was imprisoned in the Inner Mongolia 2nd Men's Prison in Hohhot. The prison refused to allow his family to visit, claiming it needed approval from the 610 Office. But the 610 Office would not approve it.
Related reports:
http://www.clearwisdom.net/html/articles/2010/10/14/120611.html
http://www.clearwisdom.net/html/articles/2009/8/2/109699.html
http://www.clearwisdom.net/emh/articles/2009/7/6/108888.html
http://www.clearwisdom.net/emh/articles/2009/6/25/108583.html