Family Files Lawsuit for Ms. Su Dan's Torture in Beijing Women's Forced Labor Camp (Photo)
June 29, 2011 | By a Clearwisdom correspondent from Beijing, China
Name: Su Dan (苏丹)
Gender: Female
Age: 31
Address: Sixth Neighborhood in Yulong Community, Shunyi District, Beijing
Occupation: Unknown
Date of Most Recent Arrest: February 20, 2011
Most Recent Place of Detention: Beijing Women's Forced Labor Camp (北京市女子劳教所)
City: Beijing
Persecution Suffered: Detention, interrogation, forced labor, brainwashing, beatings, torture, physical restraint, home ransacked, denied visitation
(Clearwisdom.net) Ms. Su Dan was from Chengde City, Hebei Province. She moved to the Shunyi District of Beijing in 2008. When Ms. Su was home alone on February 20, 2011, neighborhood administrator Liu Dongmei deceived her into opening the door by saying that she needed to check her residential permit. When Ms. Su opened the door, three officers stormed in and ordered her to come to the police station with them to "have a talk." As they showed her an arrest warrant that was not filled out, Ms. Su refused to cooperate. Officers then illegally arrested her. They also ransacked her home and confiscated her family's two laptops and other personal property.
Ms. Su's parents received a notice of Ms. Su's detention on February 24, 2011, but there was no signature on the notice. Ms. Su's husband hired a lawyer on March 1, 2011, but the case officer Ma Xiaoyu refused to let the lawyer meet with Ms. Sun, stating that her case involved "state secrets." Only after Ms. Su's husband and the lawyer filed complaints with the Procuratorate Office and the Appeals Office of the Shunyi District Police Department, did Ma allow the lawyer to meet with Ms. Su.
Ms. Su told her lawyer on March 9, 2011, that the guards at the Shunyu District Detention Center had brutally beaten and severely injured her while her hands and ankles were cuffed together on the afternoon of February 21, 2011. She was taken to the Police Hospital for treatment in the evening of February 24; two guards also beat her in the police vehicle on the way there. She had to be hospitalized over 10 days.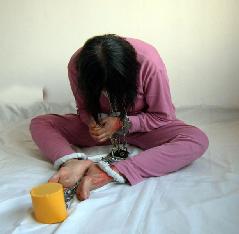 Torture re-enactment: Hands and ankles shackled together
Ms. Su had been given a one-month detention term on February 21, 2011. However, she did not return home and her family did not receive any notices when her term was up. When her elderly parents went to the Shunyi Detention Center on March 21, they were told that she had been transferred to the Huairou County Detention Center on March 20, 2011. The elderly couple then went to that detention center, but director Cai did not allow them to see Ms. Su, saying that he did not have documents required for visitation.
Ms. Su's parents went to the Shunyu Police Department to resolve the issue on March 23. However, office chair Zhao (ID 048330) and another officer (ID 048841) told them to visit the Legal Justice Office. At the Legal Justice Office, in turn, they were told to visit the Pre-trial Office. Officer Wang (ID 057574) in the Pre-trial Office told the elderly couple that the problem had been resolved. The elderly couple then went to the Huairou Detention Center to visit their daughter again, but authorities there again said that they did not have sufficient paperwork to allow visitation.
Ms. Su was sentenced to forced labor on March 29, 2011. She was taken to Ward No. 4 at the Beijing Women's Forced Labor Camp. There, she was forced to sit up straight on a small chair 18 hours per day, with both hands in her lap and without moving. She was not allowed to leave the chair even at meal times. If she moved, three prisoners assigned to watch her would beat her. She was not allowed to have contact with anyone.
In order to protest the unlawful imprisonment, Ms. Su refused to participate in any prison activities designed for criminal inmates, such as "study," morning exercises, labor, and answering roll calls. Deputy warden Tang Jingjing did not allow Ms. Su to use the toilet because she refused to answer roll call. Due to this torture and being forced to sit on a small stool for a long time, she started to pass blood and her buttocks festered.
Ms. Su's husband complained to Yu Zhicheng at the Beijing Forced Labor Bureau about Ms. Sun being tortured at the end of April 2011. Yu ordered Guo Zhaokai, chair of the Oversight Office in Beijing's Women's Forced Labor Camp, to investigate. Guo called a meeting with Ms. Su's family and the labor camp authorities on May 11, 2011. The labor camp authorities asserted that no torture or beatings of any kind took place.
During visitation on June 13, 2011, Ms. Su's family found Ms. Su to be very thin and mentally unclear. Before this visitation, warden Du Jingbin, deputy warden Tang Jingjing, and guard Zhang, who was in charge of brainwashing Ms. Su, threatened Ms. Su's family and tried to find out if any of them practiced Falun Gong. Inspector Zhang in the Shunyi Procuratorate said that Ms. Su did not receive any beatings, but refused to confirm so in writing.
The court requested to have an affidavit from the neighborhood administration on May 23, 2011 of Ms. Su's residence. However, administration chair Li Yuchun said that her boss, Zhou Yujing, chair of the Guangming Community "Anti-cult" Office, ordered her not to issue such a document.
On June 13, 2011, the court called Ms. Su's family and said that the Shunyi Police Department submitted a questionnaire and that the family could obtain a copy the next day. The lawyer was told to provide evidence at 8:30 a.m. on June 21, 2011, at which time the trial date would also be announced.
Parties involved in the persecution:
Li Shuming, representative of the Shunyi Police Department and deputy chair of the Legal Justice Office: 86-10-69424072
Ward No. 4 of Beijing Women's Forced Labor Camp: 86-10-60278899, ext.-5401
Guo Zhaokai, chair of the Oversight Office in Beijing Women's Forced Labor Camp: 86-10-60278899, ext.-6107