Ms. Hu Aiyun Recounts Years of Cruel Torture and Inhumane Treatment
Name: Hu Aiyun (胡爱云)
Gender: Female
Age: 45
Address: Xingfu Township, Xiangfang District, Harbin City, Heilongjiang Province
Occupation: Unknown
Date of Most Recent Arrest: June 21, 2003
Most Recent Place of Detention: Harbin City Women's Prison (哈尔滨市女子监狱)
City: Harbin
Province: Heilongjiang
Persecution Suffered: Electric shock, sleep deprivation, forced labor, illegal sentencing, solitary confinement, torture, force-feedings, home ransacked, interrogation, detention, denied visitation rights
Key Persecutors: Zhang Jun (张军), Zhao Fengxia (赵凤霞), Sheng Shuwei (胜书伟), Lu Jinghua (吕晶华), Tao Dandan (陶丹丹), Cao Zhaiyun (曹玷云), Li Tian (李田), Lu Chunguang (吕春光), Liu Zhiqiang (刘志强)
(Clearwisdom.net) My name is Hu Aiyun, and I am 45 years old. I was arrested on June 21, 2003 at Jiaohua Electronics Square in Harbin with fellow practitioners Guo Jun, Li Haoming and Fu Wenying. Our heads were covered and we were taken to a building in the Diaoli District.
I was forced to sit in a metal chair with my hands cuffed behind the back of the chair. Officer Zhang Jun, from the First Division of Harbin Police Department, and other officers then started to torture me.
Head of the section Xiao wrapped two copper wires around each big toe and connected the other end to an electric baton. I was shocked for more than half an hour at a time. They also poured mustard oil and horseradish up my nose. When they released me from the handcuffs, my hands were severely swollen and I had no feeling in my fingers. They then shocked the soles of my feet and the inside of my thighs. I was tortured from about 6:00 p.m. on June 21, 2003, until after 3:00 a.m. the next day. I was later transferred to the Harbin Second Detention Center.
The police ransacked my home while I was detained, and they confiscated my car, bank book, two computers, two printers and 81,000 yuan in cash. Despite my family's repeated requests for the return of all the confiscated items, they only returned part of the money from the bank book.
When I shouted, "Falun Dafa is good" in the detention center, the head of the section Zhao Fengxia and guard Sheng Shuwei dragged me inside a room and beat me with metal batons. My body was severely bruised all over. I was sent to the First Detention Center on September 21, 2003, and the scars and bruises were still visible, and were documented during the admissions process at the detention center.
Taken outside the detention center to be interrogated
I was removed from the detention center at around 5:00 p.m. on December 21, 2003, by two officers from the Dongli Police Department in Harbin. I was handcuffed and my head was covered, so I couldn't see. After a long drive, I was taken inside a building and locked in a metal cage. A local person hired to do the cooking there told me that we were in Wanggang Town in Harbin. They interrogated me every night. When I asked them why they covered my head when I was brought here and where I was, they refused to answer. I began a hunger strike to protest the persecution, and was taken back to the First Detention Center six days later.
Put in solitary confinement at Harbin Women's Prison
On May 12, 2004, I was sent to the Harbin Women's Prison. When I refused to wear the prison uniform, guard Lu Jinghua and Tao Dandan ordered over a dozen inmates to take me to the washroom and beat me. I was pushed to the ground and kicked all over my body. My face was bleeding and swollen, and I had difficulty breathing. They sealed my mouth with tape, cuffed my hands behind my back and then they cut off my hair. I was then put in solitary confinement, with my handcuffs fastened to a hook in the ground, and was left like this for long periods of time. I was only released to use the restroom. My hands were severely swollen, and I had lost all feeling in my fingers. When the handcuffs were removed, my arms were in so much pain that I could not move them.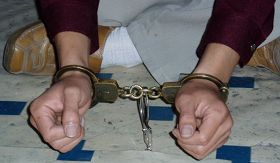 Torture re-enactment: Handcuffed to the ground
The solitary confinement cell was dark and damp with no window. There were insects all over the ground, and mosquitoes and flies were in the air. At night, I could feel mice scurrying over me. The ground was too cold to sleep, and we were initially not given any bedding.
When I talked to Ms. Wang Hongjie, a practitioner in the cell next to me, guards Cao Zhaiyun and Li Tian ordered inmate Lu Chunguang to torture us. She sealed our mouths very tightly with tape, and we were handcuffed to the ground with our hands behind our backs for the whole night.
The guards would not allow us to wash our hair, feet or clothes. We smelled terrible! Once my hair was so itchy that I used the water given for washing my face to wash my hair. When Lu Chunguang saw what I had done, she poured all of the water on the ground and cursed at me. She also slapped Ms. Wang for washing her hair.
Placed in solitary confinement five times
On August 12, 2004 I started a hunger strike to protest the persecution. Nurse Shang Xiaomei, an inmate imprisoned for medical crimes, tortured me while I was being force-fed. She purposefully used a lot of force to insert the feeding tube and then remove it to make my nose bleed. She used the same tube for every practitioner without ever cleaning it.
I was released from solitary confinement on August 21, 2004, after spending more than three months in detention. However, I was sent back there three days later, until October 10, 2004.
Lu Jinghua had me put in solitary confinement again in December 2004. The water on the ground was frozen, and my face, hands and feet were very cold and swollen. The bedding was damp and it was too cold to sleep at night. We were not allowed to dry the bedding and had to fold them up to use them again the following night. Fungus had even started to grow on the bedding.
Practitioners had to work until 10:00 p.m. every day, whereas other inmates stopped working at 8:00 p.m. When I was released a bit earlier from work one time, guard Yuan Jing took my bedding away, and I had to sleep without it that night. I was so cold that I urinated blood and had diarrhea the next morning.
Inmates Lu Chunguang, Song Shubo, Ren Xiuli and Shen Fushan often beat us and swore at us. The prison rules stipulate that inmates should not be left in solitary confinement for more than 15 days. However, head of the prison, Liu Zhiqiang, always ordered practitioners to stay in solitary confinement for longer than that. To protest the persecution, Ms. Zhang Yanfang, Ms. Lu Ronghua, Ms. Chen Weijun and I started a hunger strike in May 2005. During that time the inmates continued to beat us and swear at us. They pulled our hair and slapped our faces. Shang Xiaomei once sat on me and forcefully inserted a tube up my nose to force-feed me, causing my nose to bleed severely.
Due to the poor condition of my cell and my long-term hunger strike, I became very weak and was bedridden. Forty days later, in July 2005, I was released from solitary confinement. This detention lasted for over eight months.
Lu Jinghua ordered inmates Zhang Jing and Xiao Lihua to handcuff me to the bed in February 2006, because I did the Falun Gong exercises. I was taken to solitary confinement the same day, and immediately went on a hunger strike. When I was released from the cell 15 days later, several inmates were ordered to monitor me.
When the head of the section Tao Shuping ordered for me to be put in solitary confinement on July 12, 2006, Liu Zhiqiang insisted that I was only to be fed porridge. I then started another hunger strike. In September 2006, I was sent to the 11th Division of the prison, which was set up specifically to persecute practitioners.
The head of the 11th division Wang Yali ordered nine inmates to monitor me 24 hours a day. They forbade me from doing the exercises. I was forced to wear a uniform and sit on a small stool for long periods of time. Even when I went to the restroom, five or six inmates followed me.
From May 2004 to September 2006, I was put in solitary confinement five times, in total for about 18 months.
Tortured in the First Division of Harbin Women's Prison
I was transferred to the First Division in December 2006. Guards ordered inmates Sheng Qiaomei, Wang Baoxiang, Wang Fengzhi and Guo Lanying to closely monitor me, and I was not allowed to talk to other practitioners. When I meditated on a bed one morning, guard Deng Yu ordered inmates to torture me. They pushed me onto the bed and grabbed me by the neck. I couldn't breathe. Then they tied me to the bed and left me there for three days.
On July 11, 2007, I began a hunger strike and requested to be released. Sheng Qiaomei force-fed me with salt water on the fifth day, making me severely dehydrated. I felt dizzy, had diarrhea and kept vomiting. Shang Xiaomei gave me an IV injection at 8:00 p.m. that evening, which gave me severe heartburn and I could not sleep the entire night.
When I held another hunger strike on March 8, 2008, inmate Li Yanping force-fed me while I was tortured. My body was covered with bruises. Inmate Zhang Xiuyuan grabbed me by the neck and poked her fingers into my eye sockets.
By September 5, 2008, I had been on hunger strike and brutally force-fed for over six months, and had become extremely weak. However, inmate He Yingjie and Zhang Xiuyuan still beat me and brutally tortured me during forced-feeding. Zhang Xiuyuan grabbed my hair and pushed me onto the bed, and then punched me in the face. He Yingjie punched me in the head and pinched my body. A lot of my hair fell out. I reported my mistreatment to the division head Wu Yanjie, but he ignored me. When I told my family members about the torture during their visit, guard Liu Xiaofang immediately dragged me out of the visiting room. I was then deprived of visitation rights and have not seen my family for more than two years.
On October 21, 2008, He Yingjie forced-fed me with hot water. She used a disposable tube that had been used on other practitioners many times.
I will pursue legal action against those who have persecuted me.