Anhui Province Governor Wang Sanyun Sued in Taiwan for Human Rights Violations (Photos)
April 30, 2011 | By a Falun Gong practitioner in Taiwan
(Clearwisdom.net) Wang Sanyun, the governor of Anhui Province in China, is a human rights violator active in the persecution of Falun Gong. He is being sued in Taiwan for persecuting Falun Gong practitioners in China. Wang was faced with protests by the Taiwanese people and left the country, having clearly gotten the message that human rights violators are not welcome in Taiwan.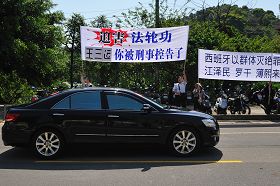 "You are being accused of a criminal act." On the morning of April 20, when Anhui Governor Wang Sanyun's motorcade traveled to Ming Chuan University in Taoyuan, Falun Gong practitioners staged a peaceful protest in front of the campus.
Wang Sanyun left Taiwan on April 25, 2011. That day happened to be the 12th anniversary of Falun Gong practitioners' peaceful petition to the State Council Appeals Office in Beijing, which is adjacent to the Zhongnanhai central government compound. Twelve years ago, the international community admired the calm and rational April 25 peaceful appeal. But the Chinese Communist Party (CCP) framed the peaceful appeal as a "siege of the Zhongnanhai Compound by Falun Gong practitioners" and launched a full scale persecution of the practice. Since July 20, 1999, the CCP has used the state-run media, judiciary, party, government, and the foreign affairs departments to fabricate lies and discredit Falun Gong in order to carry out their repression of the practice.
At 1:47 p.m. on April 25, Wang Sanyun appeared at the airport. A large contingent of security personnel surrounded him when he entered the main hall. Falun Gong practitioners shouted to him: "Wang Sanyun, you are being sued in court. Stop the persecution of Falun Gong. Good will be rewarded with good and evil will meet with retribution. Falun Dafa is good, Truthfulness-Compassion-Forbearance is good." Wang Sanyun rushed to customs.
Elected Officials Express Support for Falun Gong
Governor Wang Sanyun, who has been persecuting Falun Gong practitioners across Fujian, Sichuan, and Anhui provinces, personally directed the so-called "Hurricane Faction" to conduct mass arrests of practitioners in Sichuan Province.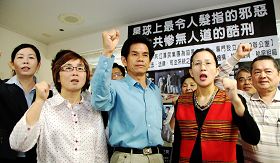 Tainan City council members Mr. Zhuang Yuzhu (left front), Ms. Li Wenzheng, and Ms. Zeng Xiujuan called out, "We protest human rights' violator Wang Sanyun," and "Wang Sanyu is not welcome."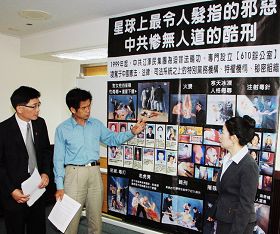 Councilman Lee Wenzheng discussed the CCP's inhuman torture of Falun Gong practitioners.
Tainan City councilman Li Wenjuan invited city officials to attend a press conference on April 20. He pointed out that Wang Sanyun is a "human rights scoundrel," who personally initiated the illegal arrest of 19,000 Falun Gong practitioners. Such an official is not welcome in Taiwan, even if he brings money with him to buy goods in Taiwan. When Wang Sanyun held the "Project Hope" donation activity in Pingdong County, people said they were not willing to accept Wang Sanyun's money.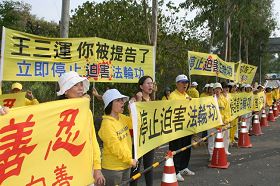 Tainan Councilwoman Zeng Xiujuan (3rd from left) lent her support to Falun Gong practitioners, holding up a banner with the practitioners and calling for an end to the persecution
On the afternoon of April 21, Ms. Zeng Xiujuan went to Zoumalai Farm in Tainan to support practitioners in protesting the persecution. She stressed that she wanted to protest Wang Sanyu's visit to Taiwan. She knows that Falun Gong practitioners are being persecuted ruthlessly and their organs are being harvested for profit. Ms. Zeng said that this is unimaginable in democratic Taiwan.
Ms. Zeng said, "Knowing that Wang Sanyun is coming to Taiwan, I feel that I need to express my opinion that we do not welcome anyone who is a violator of human rights. I am very moved to see Falun Gong practitioners' efforts in defending human rights. Today I want to express my personal support and I hope that Wang Sanyun hears the demands and will release the detained Falun Gong practitioners."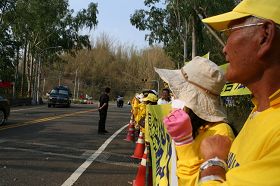 Tainan Falun Gong practitioners display protest banners at the entrance to the Zoumalai Farm
Wang Sanyun offended the media by changing his trip itinerary
Fearful of Falun Gong practitioners' protest activities, Wang Sanyun changed his itinerary for his visit to Zoumalai Farm and ordered the tightening of security measures. After City Councilwoman Zeng Xiujuan made a strong public protest, Wang Sanyun did not travel to Kaohsiung to attend a contract signing ceremony.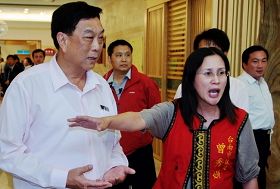 On April 22, Tainan Councilwoman Zeng Xiujuan (right) publicly demanded that Wang Sanyun release Mr. Jiang Feng.
Waiting for an appointment to see Wang Sanyun at 2 p.m. that day, Ms. Zeng protested indignantly in the venue lobby. "Is it so difficult for Governor Wang Sanyun to just meet me for 30 seconds?"
Wang Sanyun never appeared in the lobby and didn't meet with Ms. Zeng. She was very angry. She believes that a human rights issue is very important as it relates to human life. She said, "I only want to give Wang Sanyun a full account of the petition and ask him to take human rights seriously and release Mr. Jiang Feng, who is currently imprisoned in Xuancheng Baofeng Forced Labor Camp in Anhui Province."
Ms. Zeng said afterwards, "Mr. Jiang Feng was taken away and is being held in prison. He and his wife have been separated for several years, and they cannot visit each other." She said with a catch in her voice, "This is a case of extreme human rights abuse. The CCP uses such hateful means, but I use the most peaceful way to express my concern. They said they had no time for me and turned me down; I think they are outrageous."
Ms. Tian Qiujin, a legislator concerned about human rights in China, said, "Wang Sanyun being sued is a warning, an inspiration, and an education for Chinese officials." She stressed that the government should let people have freedom without fear. "If a nation and a government harm its citizens, and people's lives are at risk, then people can be deprived of liberty at any time. Then what is the meaning of a country to its citizens? It will only harm the people no matter how much power it has. I hope Chinese officials will fully understand this."