Doctor Chen Lian from Guanghan City, Sichuan Province Repeatedly Imprisoned and Tortured (Photo)
March 21, 2011 | By a Clearwisdom correspondent from Sichuan Province
(Clearwisdom.net) Mr. Chen Lian(陈炼), 50, is a doctor from Fuli Hospital in Guanghan City, Sichuan Province. He is highly skilled and regarded as a good doctor. However he has been sent to a brainwashing center and a forced labor camp, and has been tortured and beaten in prison. He lost his job after he was released from prison in 2010. His salary has been withheld since 2001.
One evening in July 2000, police officer Ren Qingyong from Chengbei Police Station in Guanghan City broke into Chen Lian's house at around 6:00 p.m. and confiscated his Dafa books. He was subsequently detained for ten days.
On the afternoon of April 28, 2001, Tang Qianming, head of the Guanghan City 610 Office, instructed officer Ren Qingyong to arrest Mr. Chen and send him to a brainwashing center in Deyang City. Eighteen practitioners were also detained in the same brainwashing center. He was watched daily by officer Huang Yong. He was beaten by Huang Yong and another officer, kicked in the stomach, and forced to march in the hot sun.
In mid-December 2001, Mr. Chen returned to his workplace, but Yuan Xiuquan, the head of the hospital at the time, refused to take him back.
In 2002, he was sent to the Xinhua Forced Labor Camp in Mianyang City and tortured.
On August 22, 2002, Mr. Chen was illegally arrested by officers from the Chengbei Police Station in Guanghan City. In late September the same year, he was taken to the Xinhua Forced Labor Camp in Mianyang City. Officer Fu Weidong ordered two prison inmates to watch over him around the clock. He was not allowed to talk to other practitioners and was forced to do military squats every day.
He was once forced to stand from dusk until 3:00 a.m. because he refused to write a report on his thoughts. In the afternoon, guard Fu Weidong and three other inmates took him to the office, pulled off his clothes, and tied both arms behind his back with a thin rope. He was tortured like this for a long time, and when his arms were untied they were numb and could not be moved. There was also a deep gash in his flesh. The guards shocked his chest with electric batons until the batteries ran out. He was also forced to watch videos defaming Falun Dafa.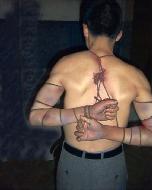 |
Torture Demonstration: Victims tied with thin rope
On December 11, 2006, Mr. Chen was sentenced to three and a half years in prison by the Jinniu District Court in Chengdu City for clarifying the facts about Falun Gong. He was detained in Wumaping Prison in Leshan City and was only given eight minutes to eat, one to two minutes to use the toilet, and three minutes to wash up. Once a week, inmates were given a small basin of hot water to bathe in. He was taken away to be persecuted further for a week by political head Gao Hu and deputy political head Wang. He was forced to sit on the floor and only given a small amount of food every day.
Mr. Chen was detained in the "strictly controlled group" on November 11, 2008. In winter, he was forced to wear only a pair of pants and a layer of autumn clothing. In the morning, he was given only a bun, a small amount of porridge, and a little bit of rice and water for lunch and dinner. Every morning he had to stand in a military position. At night, he had to sit until between 2:00-4:00 in the morning before he was allowed to sleep. He then had to get up at around 6:00 a.m. Prison warden Wang Jianqing forced him to take a cold bath and ordered several prison convicts to pour cold water on him, which was so cold that he could hardly breathe as it was happening. He was tortured for 42 days and forced to write statements renouncing his faith in Falun Gong. Prison warden Tong Lin kicked him viciously in the chest and handcuffed his hands behind his back, then made him sit cross-legged on the floor.
In June 2009, Mr. Chen was detained in the "strictly controlled group" again for 20 days, for practicing the Falun Gong exercises. He was made to stand in the military position day and night, and allowed to sleep for only an hour after 5:00 a.m. before he was forced to get up at 6:00 a.m. His legs became swollen from standing for long periods of time. He continued to receive only a meager amount of food.
Mr. Chen was released from prison on June 11, 2010. He was brought home by Zhang Yunzhong, deputy secretary of the Guanghan City Civil Administration Bureau, who told him that he had been dismissed from his job in 2008. All of his wages have been withheld since April 28, 2001.
Main perpetrators:
Deyang City 610 Office
Liu Hongqing, head: 86-838-2208660, 86-838-2510866, 86-13909027383
Zhou Zhihong, Huang Yong, Chen: Deyang brainwashing session
Huang Ruosong, former head of the Guanghan City 610 Office: 86-13700917236, 86-838-5227234, 86-838-5246806
Li Jianxin, head of the Guanghan City Domestic Security Division: 86-838-5226128, 86-838-5239599, 86-13981079996
Yang Yongbin, political head of the Domestic Security Division: 86-838-5224885, 86-13808107516
Dong, Fu Weidong: Xinhua Labor Camp in Mianyang City
Gao Hu, Wang, Zhou Xianlin, Tang Xiande, Li Songlin, Tong Lin, Wang Jianqing: guards in Wumaping Prison