Doctor Liu Deqing from Hailun, Heilongjiang, Persecuted in Prison (Photos)
February 26, 2011 | By a Clearwisdom correspondent from Heilongjiang Province, China
Name: Liu Deqing (刘德清)
Gender: Female
Age: About 60
Address: Hailun City, Heilongjiang Province
Occupation: Doctor
Date of Most Recent Arrest: December 10, 2007
Most Recent Place of Detention: Heilongjiang Women's Prison (黑龙江省女子监狱)
City: Harbin
Province: Heilongjiang
Persecution Suffered: Detention, forced labor reform, extortion, illegal sentencing, long-term standing, beating, sleep deprivation, denial of restroom use, torture
(Clearwisdom.net) Ms. Liu Deqing, a doctor in Hailun Health Hospital, Heilongjiang, was persecuted in Heilongjiang Women's Prison for more than two years. Her whole body swelled up. The prison sent her back to Hailun at 11:30 p.m. on February 1, 2011.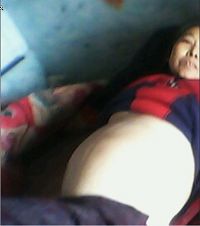 As a result of being persecuted, Liu Deqing looked eight months pregnant.
Heilongjiang Women's Prison has persecuted Falun Gong practitioners for many years and it has caused many practitioners' death or disability. It reduces sentences for prisoners who beat Dafa practitioners, so the prisoners torture practitioners, tear off their clothes in winter and then splash cold water on them and let them stand in the wind. They needle practitioners, inject them with unknown drugs, shock them with electric batons, hang heavy things off them, cuff them, deprive them of sleep, force them to stand still and squat still, put unknown drugs in their meals, put them into small rooms, hang them by their legs, hang heavy cuffs on their backs for 24 hours or more, hang them by cuffs, force them to sit on a bench, stab their eyelids with toothpicks, hit their faces with plastic rulers (width 7cm, 8cm and length more than 30cm), deny them restroom use, force them to sit on the floor, force them to read CCP books, force them to eat, beat and abuse them whenever they want, and pressure them to write three statements to give up their belief.
Ms. Liu Deqing benefitted a great deal after she started practicing Falun Gong in 1996. She has been incarcerated in two forced labor camps since 1999, when the persecution of Falun Gong began. She was given a five-year prison sentence.
Forced to lie down for eight months in detention
When Ms. Liu was working in March 2000, several people came in to question her. After saying "Falun Dafa is good" only once, they took her to a detention center for eight months and she was forced to lie down and only could get up to eat or go to the restroom. Ming Liang from the 610 Office did this to her.
Forced labor twice in four years of detainment
The second time Ms. Liu was arrested by the CCP, she was sent to forced labor for one year. Her son sold his car, which he used to make his living, and gave the authorities ten thousand yuan, but they still wouldn't let her go. Xie Hongpeng, Xiao Ye, Lan Jian, and others were involved in this incident.
The third time Ms. Liu was arrested she was sent to forced labor for three years and then sentenced to four months more because she read Falun Gong articles. During these three years, she was only paid 40% of her salary, which was fifteen thousand yuan. The CCP confiscated twelve thousand of it. (Xie Hongpeng went to her company and took two thousand; Li Min was in the middle of this.) Zhang Xiaochun from the 610 Office and Zhao Yunfeng from the Political Security Department were the ones primarily responsible for this incident of persecution.
Imprisoned and persecuted for five years
The fourth time Ms. Liu was arrested, she was sentenced to five years in prison. She was arrested on December 10, 2007, and transferred to the Ninth Division of Heilongjiang Women's Prison in Harbin on July 23, 2008. The guards there forced her to stand on one brick and stay there. Zhao Tiexia was in charge of this team. With a word or even a look from Zhao, several others would go over and beat Ms. Liu. Zhao Tiexia stepped on Ms. Liu's mouth. She would not let Ms. Liu sleep for more than ten days. If she tried to sleep, Zhao would use a toothpick to stab her or beat her with a stick and brush or grab her hair and smack her into the wall, kick her, or not let her use the restroom. If she urinated on the floor, she had to use a cloth to wipe it up. She was only allowed to wear a sweater in the winter and had to sit on the floor. If she lost consciousness things, just got worse. They also force-fed her.
She was forced to sit on a plastic bench. After a while, the bench pressed into her body. She sat there more than 12 hours a day. Because of the long term persecution and the fact that she was old and unhealthy, she couldn't sit still. When she swayed, prisoners Ding Xia, Song Guimei, and Si Xiaohong in the same room beat her and abused her. In the end her belly swelled as if she were eight months pregnant, and she couldn't bend over. Wang Yajuan and Zhao Xiaohong tried to force her to write the three statements. She refused, so they tortured her till 1:00 a.m. every day.
Liu Deqing found a chance to speak with the guard about the torture. The guard did not want to be held responsible and sent her to the prison hospital. She was diagnosed with cirrhotic ascites too late to do anything about it. Ms. Liu's daughter saw what was going on, called them, and said, "My mother was very healthy before, so now you have to take responsibility for this. If my mother has something bad, we won't let you get away with it."
Ms. Liu's belly became bigger and bigger by the day, until she couldn't normally go to the restroom and her whole body was swollen. Harbin No. 2 Hospital said she has anemia and mid-stage cirrhosis. Team Leader Zheng was afraid she wasn't able to make it through the New Year, so they sent her back to Hailun at 11:30 p.m. on February 1, 2011. Zhao Tiexia, Zhao Kuangchang, Ding Xia, Yu Liping, Xu Guihai, and Wang Yajuan persecuted her in prison.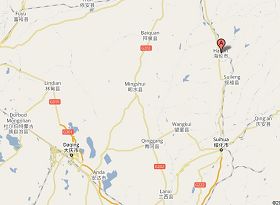 Hailun, Heilongjiang