Mr. Tao Yuan about to Complete a Four-year Unjust Prison Term; Mother Still Detained at Brainwashing Center (Photo)
February 20, 2011 | By a Clearwisdom correspondent from Sichuan Province, China
Name: Tao Yuan (陶渊)
Gender: Male
Age: 40s
Address: Hongyun Garden, Wuhou District, Chengdu
Date of Most Recent Arrest: January 28, 2007
Most Recent Place of Detention: Wumaping Forced Labor Camp (五马坪监狱)
City: Leshan
Province: Sichuan
Persecution Suffered: Illegal sentencing, imprisonment, torture, home ransacked, detention
(Clearwisdom.net) Mr. Tao Yuan was taken into custody by police officers from Jinyang Police Station and illegally sentenced to prison on January 28, 2007. He has been imprisoned for four years. Tao's mother Ms. Zhang Shengrong, who is over seventy years old, tried to hire a lawyer to help her son to obtain medical parole and to investigate his case. At that time, Mr. Tao had a dislocated cervical vertebra. However, officials from the Jinyang neighborhood 610 Office detained Ms. Zhang and took her to a brainwashing center. It has been one year and eight months, and she is still being held at the Jinhua Brainwashing Center in Wuhou District.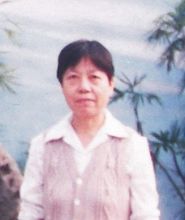 Ms. Zhang Shengrong, Tao Yuan's mother
The condition of both the mother and the son are currently unknown.
Mr. Tao Yuan was a graduate student at Beijing Normal University. He started practicing Falun Dafa in May 1996. In 1997, he moved to Chengdu City and was manager of two companies. He was dedicated to his work and highly praised by his supervisor. He also had a good relationship with his colleagues.
After the persecution started on July 20, 1999, Mr. Tao was repeatedly detained and sent to forced labor camps because of his firm belief in Truthfulness-Compassion-Forbearance. He was brutally mistreated, and during the past eleven years, he has spent a total of about ten years in detention. Even his mother has been detained at the Jinhua Detention Center for over three years total, and was under surveillance for a long time.
On January 28, 2007, Mr. Tao Yuan was arrested on his way to work. Police officers from the Jinyang Police Station searched his home, but refused to tell his family where he was, let alone display any legal documents.
Tao's father was over eighty years old at the time and very sick. He went to Jinyang Police Station and demanded Tao's release, but officials from the Public Security Bureau, Procuratorate and courts in Wuhou District threatened him and pushed the responsibility toward each other for over six months. Later, Tao Yuan was sentenced to four years in prison without his family being notified. On September 19, his family received a "Notice of Imprisonment" from Guangyuan Prison.
After Tao Yuan was imprisoned, authorities from the Guangyuan Prison refused to let his mother see him, claiming that the local 610 Office had not sent the certification. Yet the 610 Office in Jinyang refused to provide this certification.
In March 2009, officials from the Guangyuan Prison phoned Tao's mother, Ms. Zhang Shengrong, asking her to sign a permission form for surgery because Tao had a cervical vertebra dislocation. In order to find out the truth, Ms. Zhang, who was still closely monitored, asked lawyer Chen Hai from Beijing to investigate and help her son be released on bail for medical treatment. When Chen Hai and another lawyer arrived at Ms. Zhang's home, they were beaten by people from the Comprehensive Administration Office in Jinyang.
Lawyer Chen Hai filed a lawsuit against the people who were responsible for putting Ms. Zhang Shengrong under surveillance but received no reply.
Because Ms. Zhang hired a lawyer for her son, she is being even more closely monitored. She was again sent to the Jinhua Brainwashing Center in May 2009; it's been one year and eight months now.
Reportedly, Mr. Tao Yuan was transferred to the Wumaping Forced Labor Camp at Leshan last year, and has been at the No. 6 Ward ever since.
One of the perpetrators:
Gong Daoquang, the director of the Jinyang Comprehensive Administration Office: 13981970353 (cell), 86-2887433573 (office)