Liaoning Province Governor Served with a Lawsuit Upon Entering Taiwan (Photos)
February 18, 2011 | By Li Huirong, a Clearwisdom correspondent from Taiwan
(Clearwisdom.net) Liaoning Province governor Chen Zhenggao, a documented human rights villain, arrived in Taiwan at 11 p.m., on February 15, 2011. When he left airport customs after a one-hour delay, almost 60 Falun Gong practitioners met him and told him, "Chen Zhenggao, you have been served with criminal charges. Stop persecuting Falun Gong!" Chen is the seventh Chinese Communist Party (CCP) high official sued in Taiwan for genocide. Taiwanese Falun Dafa Association Chair Zhang Qingxi (张清溪) met with the Internal Procurator of the Higher Procuratorate on the morning of February 15, and requested the arrest of Chen Zhenggao.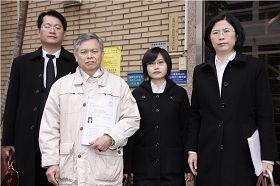 The Taiwanese Falun Dafa Association filed a lawsuit against Chen Zhenggao, for crimes of genocide and violation of the International Human Rights Convention.
The "welcome" group, organized to greet Chen Zhenggao and his delegation, heard that Chen had been sued, and quickly left. The Chinese delegation hurried to their tour bus, leaving their bouquets of flowers on the ground. Police officers on the bus shouted to the driver, "Shut the door quickly! Drive off now!" The whole process took less than five minutes. Others waiting outside the customs office laughed, "Are they refugees?"
Falun Gong practitioners held banners at the airport as CCP official Chen Zhenggao arrived in Taiwan, to protest his involvement in the persecution of Falun Gong
The Taiwanese Legislative Yuan and twelve local councils have passed resolutions banning the entry of Chinese human rights violators into Taiwan. Half a month before Chen Zhenggao visited Taiwan, the Office of Legislator Chen Tingfei and the Taiwanese Falun Dafa Association submitted a list of names of over ten thousand Chinese officials actively involved in the persecution of Falun Gong to the Immigration Bureau, the Mainland China Committee, and the Legal Service Ministry.
Ms. Zhu Wanqi (朱婉琪), speaker for the Falun Gong legal group pointed out, "Chen Zhenggao has had complete involvement in twelve years of persecution of Falun Gong. Just as Hitler's army generals and main officials, after World War II, were held responsible for the genocide of the Jewish people, we believe that all suppressed people in China eagerly hope that the free and democratic Taiwan can bring these murderers and torturers to justice. We hope that all Chinese can encourage the Taiwan government to do well."
According to reports from the World Organization to Investigate the Persecution of Falun Gong (WOIPF) and the Minghui website (Chinese version of Clearwisdom), Liaoning Province is one of the provinces where Falun Gong practitioners are most severely persecuted. Based on incomplete statistics, as of February 2011, 409 practitioners have died as a result of the persecution in Liaoning Province.
* * * * * * * * *
Abuse and torture cases reported at the notorious Masanjia Forced Labor Camp, Liaoning Province
| | | |
| --- | --- | --- |
| | Year/Month | Abuse and Torture Cases in Masanjia |
| 1 | 2000/10 | Labor camp authorities ordered 18 female Falun Gong practitioners to be stripped, then thrown in male cells. In the resulting cruel torture of the practitioners, at least five died, seven suffered a mental collapse, and many were injured. Ms. Sun Yan was stripped, beaten, shocked with electric batons, and tortured with chili pepper applied to her vagina, among other brutal, sexual assault. |
| 2 | 2001/6 | Ms. Zhao Suhuan was locked in solitary confinement, tortured, and brutally beaten. She was subjected to sleep deprivation and electric baton shocks. |
| 3 | 2005/6 | Ms. Gao Rongrong was shocked with electric batons on the face for seven hours by guards in Longshan Forced Labor Camp. She escaped with the help of fellow practitioners, and photos of her disfigured face were exposed overseas, causing great concern in the international community. Ms. Gao was later arrested again, secretly locked in Masanjia Forced Labor Camp, and tortured to death. |
| 4 | 2006/5 | Guard Ma Qishan and Camp Director Cao tortured Ms. Shi Guirong by hanging her up, tying her to a death bed and force-feeding her unknown drugs. |
| 5 | 2008/5 | Guards tortured Mr. Li Hailong with painful stretching. They also tortured Mr. Cai Chao with electric baton shocks his neck, hands, stomach and back. It took him more than one month to recover. |
| 6 | 2008/6 | Second Section warden You Ran of Masanjia Second Ward slammed Mr. Cui Guohua's head against the wall, severely injuring him. He was later beaten, shocked with electric batons, and hung up by handcuffs. |
| 7 | 2008/6 | Guards shocked Mr. Luo Chunzhong in his mouth for 30 minutes with electric batons, resulting in his mouth swelling severely and his teeth becoming loosened. He was then shocked for another two hours in other places on his body, and later forced to stand for an extended period of time. |
| 8 | 2008/6 | Five to six guards shocked Mr. Zheng Xujun with electric batons for more than one hour, then forced Mr. Zheng Xujun, Mr. Chen Yan, and Mr. Sun Shuchen to stand for one week. Mr. Sun Shuchen suffered a mental collapse after being electrically shocked. The guards also used high-voltage electric batons to shock Mr. Zheng Haitao, Mr. Zhao Jian, Mr. Cui Dejun, Mr. Du Zhiying, Mr. Zhao Liankai, and Mr. Liu Yu. |
| 9 | 2008/6 | Guards brutally beat Mr. Yu Ming, shocked him with electric batons, and hung him up by handcuffs for several days. They locked him in a metal cage for three months, in a position in which he could not stand up or lie down. They electric baton-shocked his penis, poured cold water onto him, then tied him up while continuing to abuse him sexually. This torture almost killed him. |
| 10 | 2008/9 | Female guards pried open Ms. Zhang Lianying's mouth to force-feed her, and hung her up for three whole days by handcuffs. They also shocked her with electric batons, forced her to stand a long time, and beat her with wooden sticks. Third Ward warden Zhang Zhuohui tortured Ms. Qiu Shuqin with hanging up and electric baton shocks, resulting in Ms. Qiu suffering a severe headache. She had to be rushed to the hospital. Guards also tortured Ms. Wu Juan, Ms. Zhang Yinying, Ms. Zhang Min, Ms. Jia Yahui with hanging up, and electric baton shocks over several days. |
| 11 | 2009/10 | First Ward warden Gao Hongchang and Third Section chiefs Jing Hongbo and Yu Jiang tortured Mr. Wang Haihui for 24 hours with electric baton shocks and stretching. During the day they hung him up or stretched him, and during the night, they handcuffed him on the "dead person's bed." |
| 12 | 2009/12 | Mr. Sun Yi also was tortured with electric baton shocks and stretching, then forced to stand for two months. This torture caused his legs to swell and bleeding to occur under the skin. He became emaciated and extremely weak as a result of this torture. |